The spread of the coronavirus pandemic and President Donald Trump's handling of the crisis may have caused his favorability among seniors, the age group most vulnerable to the coronavirus, to fall substantially. In April just over four in ten (42%) seniors said they have a mostly or very favorable view of Trump compared to a 57% majority who are mostly or very unfavorable to the president.[1] This represents a 14 percentage point drop since mid-March when a majority (56%) of seniors said they view Trump favorably[2] A "rally around the flag" effect in reaction to the coronavirus pandemic likely contributed to Trump's higher favorability in March, but by April, favorability among seniors dropped as the total number of coronavirus cases in the United States climbed.
Trump's current favorability rating among seniors is similar to his favorability among the same group in February (45%) and 2019 (46%).[3] But seniors are less likely to say they are very favorable to Trump in April (20%) than they were in March (32%), February (30%), or 2019 (26%).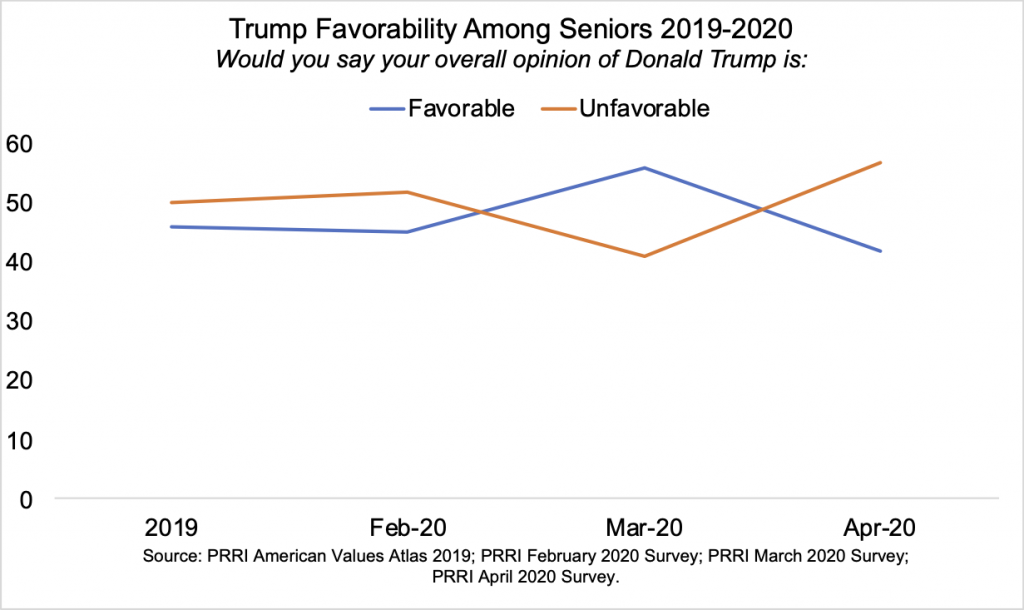 Demographics
Currently, seniors display a notable divide in their views on Trump based on age. Older Baby Boomers represent a majority (59%) of seniors, while 41% are ages 75 and over.[4] Members of the Silent Generation (ages 75 and over) are less likely than older Baby Boomers (ages 65-74) to hold a favorable view of Trump (34% vs. 45%, respectively).[5] This stands in sharp contrast with previous findings where the Silent Generation and older Baby Boomers were in lockstep in their views on Trump in March (56% vs. 54%), February (46% vs. 43%), and 2019 (47% vs. 46%).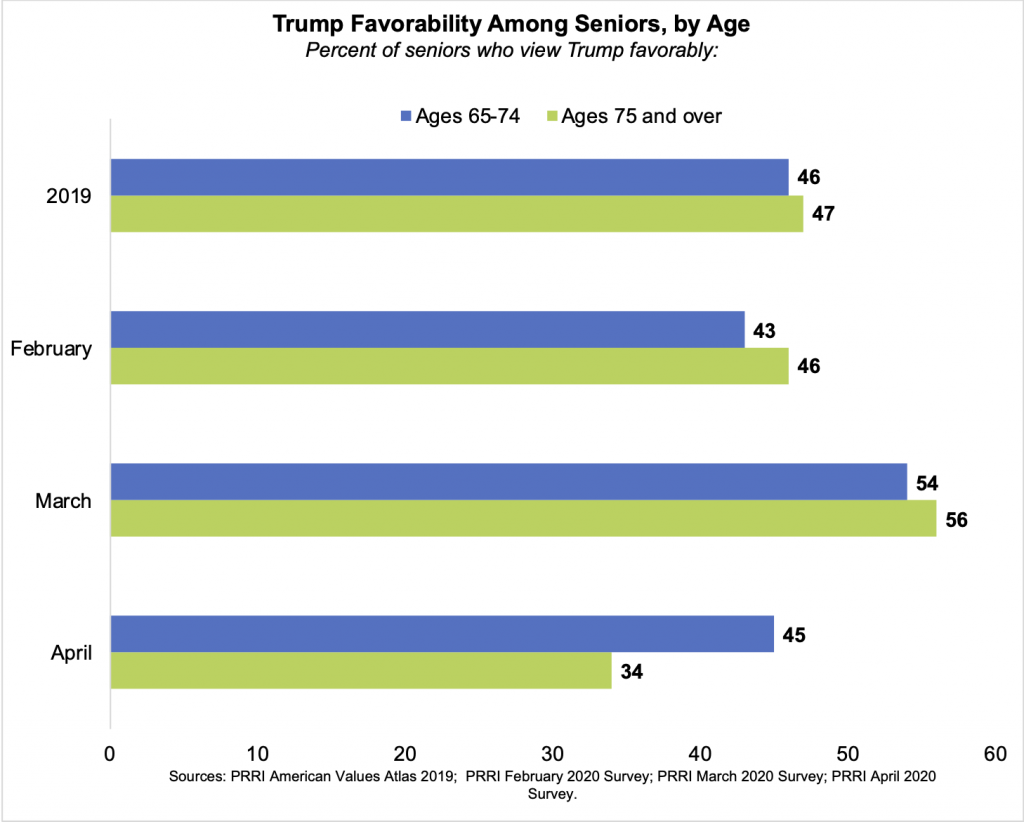 A higher level of concern regarding the coronavirus pandemic might have contributed to the drop in Trump's favorability among the Silent Generation. Americans ages 75 and over are at higher risk from the coronavirus and account for a majority (59%) of coronavirus related deaths. About one in five (21%) COVID-19 deaths are among people ages 65-74.[6] Trump's support for reopening states in late April contrary to the advice of many public health experts also might have influenced his declining favorability among people ages 75 and over.
Among seniors, about one-third identify as Republican (34%) or Democratic (34%), while less than three in ten (27%) say they are independent. In April, just over one-third (36%) of independent seniors hold favorable views of Trump, about ten percentage points down from March (48%), February (47%), and 2019 (44%), though the difference is not statistically significant.[7]More than nine in ten (92%) Republican seniors say they are favorable to Trump, up from 84% in 2019 and nearly identical to March 2020 (90%).[8] Trump's favorability levels among Democratic seniors (14%) have remained fairly consistent since 2019 (12%).
Women make up a majority (55%) of seniors compared to 45% who are men. There is an especially large gender gap in April, with senior women less likely than men to view Trump favorably (31% vs. 55%). Trump's favorability among senior women dropped notably since March (53%) and is down 10 percentage points from 2019 (41%). But his level of favorability among senior men has not notably shifted since 2019 (52%).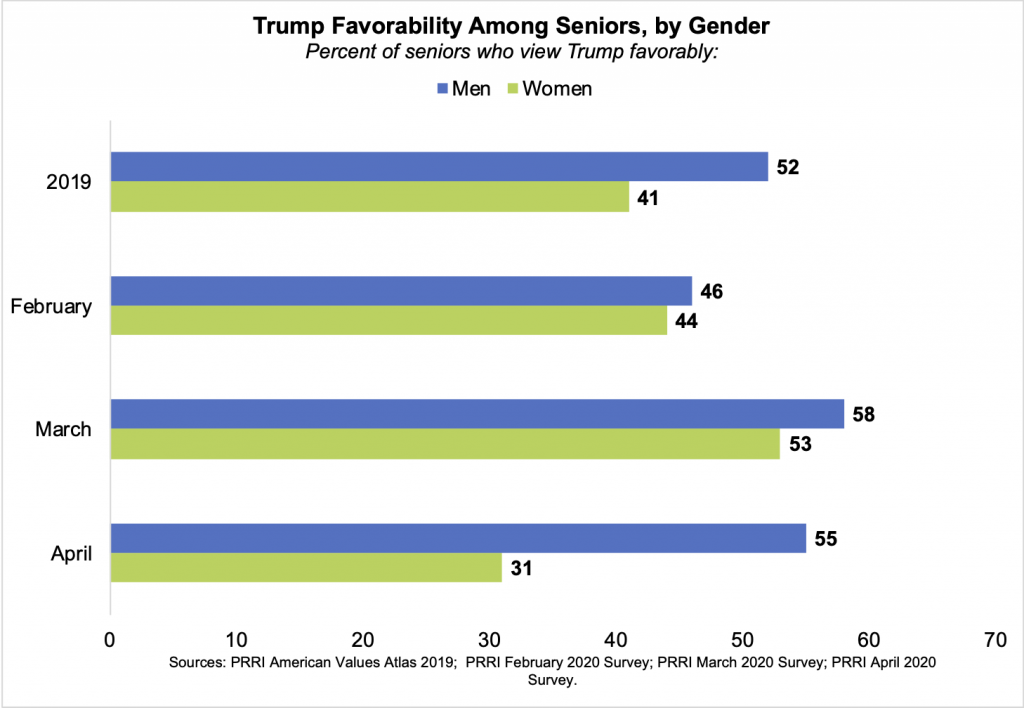 American seniors are twice as likely to not have a four-year college degree (66%) as they are to have one (33%). Favorable views of Trump have declined substantially among senior Americans without a four-year college degree (46%) since March (61%), but is quite similar to his favorability from 2019 (48%). About one-third (34%) of seniors with a college degree view Trump favorably, which is down from the 44% who were favorable to him in 2019.
Seniors show some divides in their views about Trump depending on where they live. A plurality (44%) of seniors live in suburban areas compared to one-third (33%) urban and one in four (24%) rural residents. Three in ten (30%) seniors living in urban areas view Trump favorably, which is notably less than in March (49%) or 2019 (40%). But Trump's favorability among suburban seniors has remained mostly consistent from 2019 (47%) to April (48%). Rural seniors have not displayed any notable shifts in their views on Trump.
[1]PRRI April 2020 Survey.
[2]PRRI March 2020 Survey.
[3]PRRI February 2020 Survey and PRRI 2019 American Values Atlas.
[4]PRRI American Values Atlas 2019.
[5]The Silent Generation includes people born between 1928 and 1945.
[6]Provisional Death Counts for Coronavirus Disease as of May 7, 2020. https://www.cdc.gov/nchs/nvss/vsrr/covid19/index.htm. 
[7] The sample size for independent seniors is less than 100 in March and April. Interpret these results with caution.
[8]The sample size for Republican seniors is less than 100 in February and April. Interpret these results with caution.