From the earliest days of his campaign, President Donald Trump has framed his concerns over illegal immigration in terms of the personal threat they pose to American communities. And in the waning days of the campaign, Trump returned to the issue of immigrant crime when speaking to predominantly white audiences.
As president, he has continued to forefront this issue in a number of ways, by meeting with victims of crimes perpetrated by immigrants residing in the country illegally, by creating the Victims of Immigration Crime Engagement office, and by stressing the need for a wall along the U.S.-Mexico border.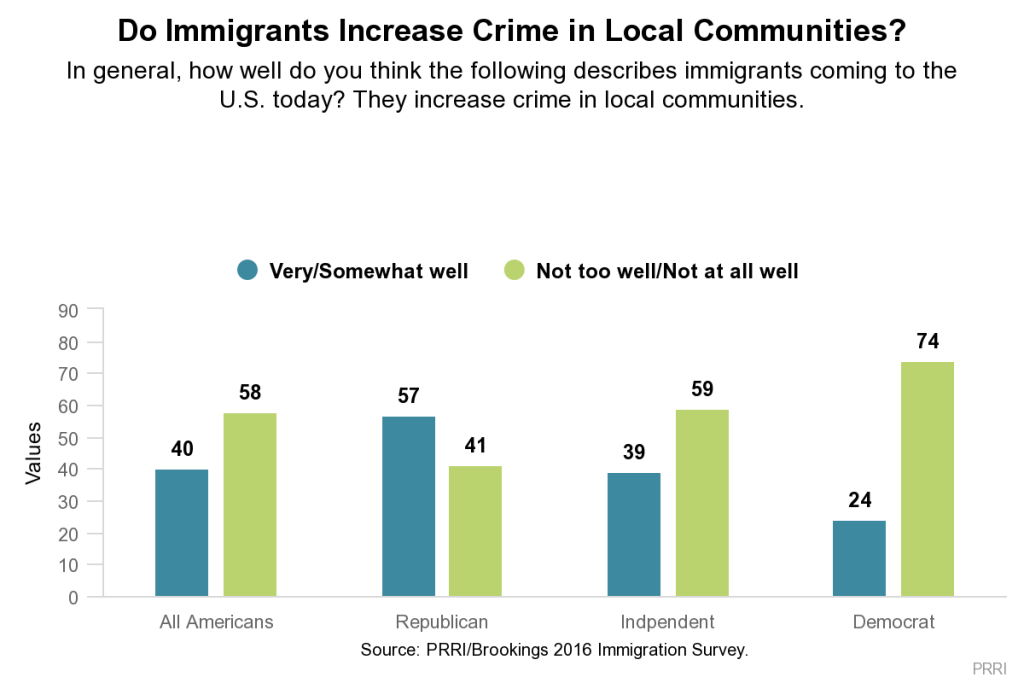 Even at the height of Trump's presidential campaign, Americans were dubious about the extent to which immigrants increase crime in local communities. In 2016, nearly six in ten (58 percent) Americans said the phrase "increase crime in local communities" describes immigrants not too well or not at all well. Four in ten (40 percent) said it describes immigrants somewhat or very well.
There are stark partisan divisions in perceptions of crimes committed by immigrants. Nearly three-quarters (74 percent) of Democrats and about six in ten (59 percent) independents said that immigrants do not increase crime in local communities, while a majority (57 percent) of Republicans said that immigrants are responsible for increasing crime.
A majority of white working-class Americans (52 percent) and white evangelical Protestants (52 percent)—two important parts of Trump's political base—also believe immigrants increase crime in local communities.
For more, read the PRRI/Brookings 2016 Immigration Survey.