When Jon Stewart tapes the final episode of "The Daily Show with Jon Stewart" on August 6, he will have hosted the Comedy Central news parody show for 16 years. This longevity means Stewart was present in the lives of many young adults—and some view him and his show as the most trusted news source.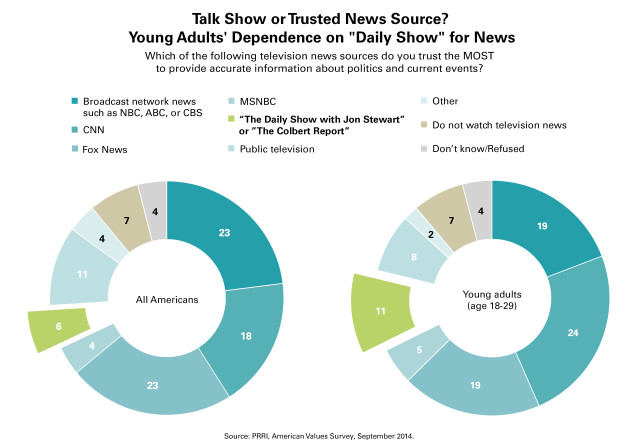 More than one in ten (11 percent) young adults (ages 18-29) say they trust "The Daily Show" or "The Colbert Report" the most to provide them with accurate information about politics and current events—an amount nearly double that of Americans overall (6 percent). More young adults trust Stewart or Colbert's shows than public television (8 percent) or MSNBC (5 percent); the shows ranked fourth in trustworthiness behind CNN (24 percent), broadcast network news programs (19 percent), and Fox News (19 percent).
Young adults are more likely than any other age group to place the most trust in Stewart or Colbert—just 6 percent of Americans ages 30-49, four percent of 50-64 year olds, and one percent of Americans 65 and older report turning to these programs for the most accurate news.
So where will young adults turn now that both Jon Stewart and Stephen Colbert are off the news circuit? They'll most likely tune into CNN, broadcast network news programs, and Fox News, news sources that scored high in dependability among young adults.
For the full report, check out the 2014 Pre-Election American Values Survey.
Stay up to date with PRRI's research.