A new PRRI survey finds white evangelical support for President Trump at an all-time high, with 75 percent holding a favorable view of the president and just 22 percent holding an unfavorable view. This level of support is far above support in the general population, where Trump's favorability is at 42 percent.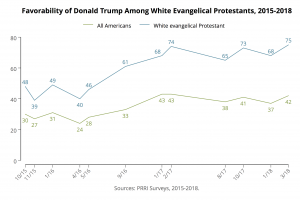 White evangelical support for Donald Trump has steadily increased over time. Notably, Trump's favorability among white evangelicals never reached 50 percent during the 2016 primary season. By the early fall of 2016, however, his favorability among white evangelicals had jumped to 61 percent. By the inauguration it increased to 68 percent, and shortly after the inauguration in February 2017 it jumped again to 74 percent. Over the course of 2017, there were minor fluctuations, but Trump's favorability among white evangelicals never dipped below 65 percent during this time.
Trump's support among white evangelicals at this stage of his presidency is strikingly solid. While there are modest differences by gender, Trump's favorability among white evangelical women is still a robust 71 percent, compared to 81 percent among white evangelical men. And Trump's favorability is still a strong 68 percent among college-educated white evangelicals, compared to 78 percent among those without a college degree.
Looking ahead to the 2020 election, Trump's support among white evangelicals is also strong. White evangelical Protestants who identify with or lean toward the Republican Party say they would prefer Donald Trump, rather than another candidate, to be the GOP nominee for president in 2020 (69 percent vs. 23 percent).