The U.S. Supreme Court has ruled in Dobbs v. Jackson Women's Health Organization, overturning Roe v. Wade and Planned Parenthood v. Casey, in a case that challenged a Mississippi law banning abortion after 15 weeks of pregnancy.
The ruling flies in the face of public opinion; according to PRRI's March 2022 poll, only 36% of Americans support overturning Roe while 61% believe that Roe should remain the law of the land. More than three out of four Democrats oppose overturning Roe (74%), including 56% who strongly oppose this move; a solid majority of independents — 61% — also oppose a Roe overturn. Even Republicans were mixed on this possibility, with 48% saying the nearly-50-year-old decision should stand.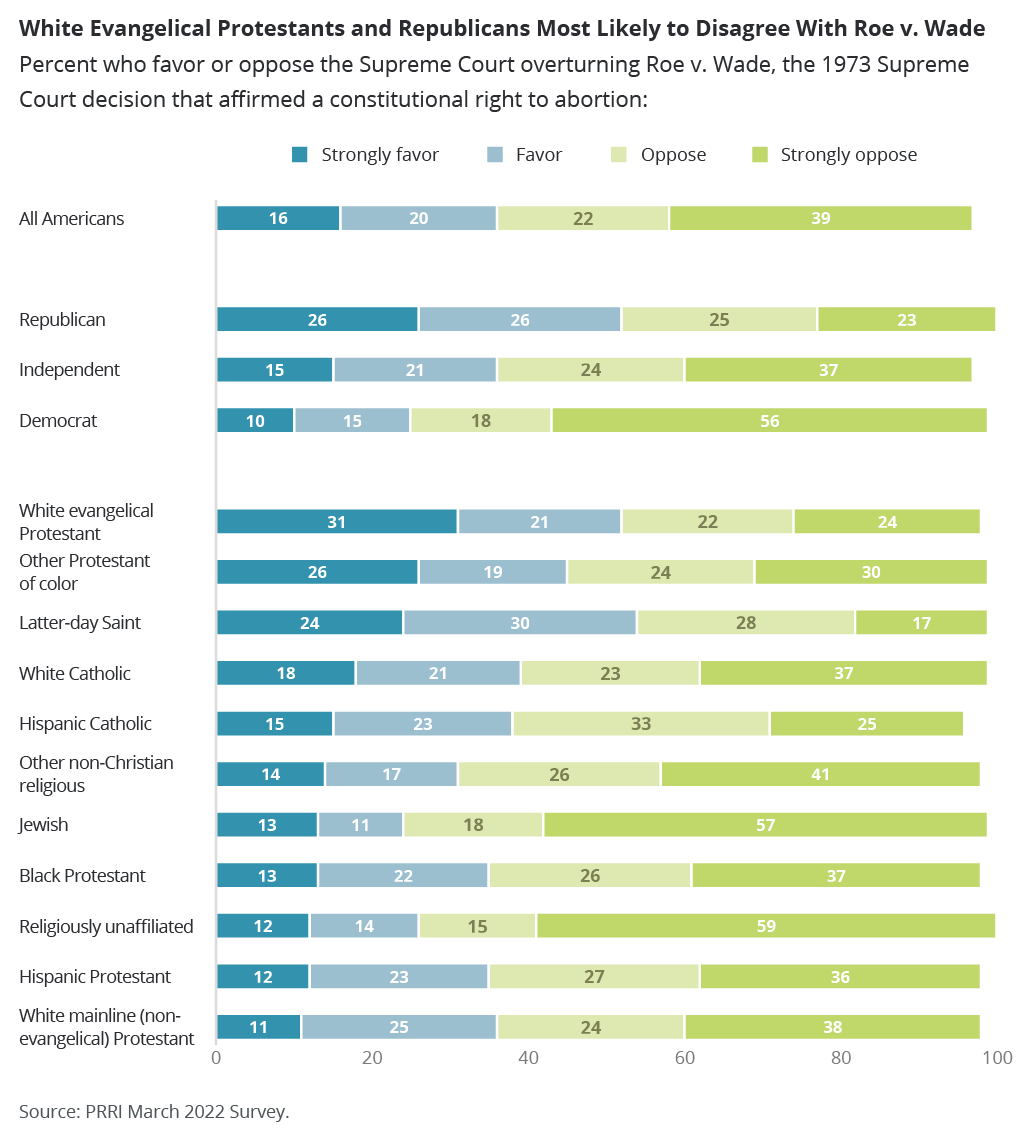 Notably, our survey also shows that most religious Americans would like to see Roe upheld. White evangelical Protestants and Latter-day Saints are the only major religious group in which most adherents support overturning Roe.  Among white evangelical Protestants, however, we find that just 52% support removing the constitutional right to abortion; even 45% of Latter-day Saints believe that Roe should stand.  By contrast, 62% of white mainline Protestants, 63% of Black Protestants, 60% of white Catholics, and 58% of Hispanic Catholics would like to see Roe remain the law of the land. Moreover, 74% of religiously unaffiliated Americans oppose overturning Roe.
With Roe overturned, regulation of abortion will be returned to the states. Experts estimate that 26 states are certain or likely to ban abortion in all or most cases; indeed, 13 states have "trigger" laws in place that will ban the procedure with Roe's reversal. While opinions about abortion's legality do differ depending on the state, in no state does more than one in four Americans say abortion should be illegal in all cases, according to data from our 2018 Americans Values Atlas.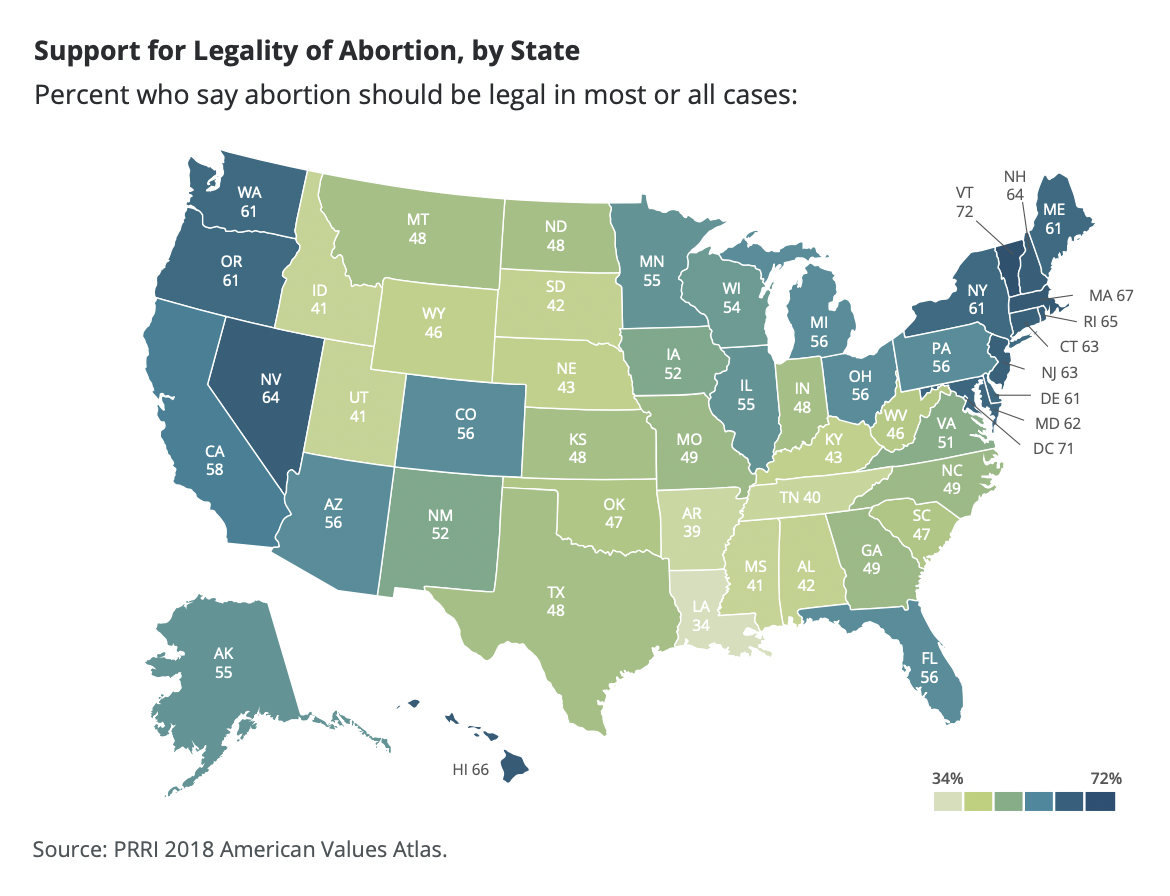 Banning abortion, which may indeed become the new law of the land for many states in the country with Roe overturned, simply does not have close to majority support nationally — and never has.  Looking at PRRI data over the past decade, most Americans say that abortion should be legal in all or most cases. Only 9% say that abortion should be illegal in all cases in the March 2022 data, and over the past decade that has not been higher than one in five.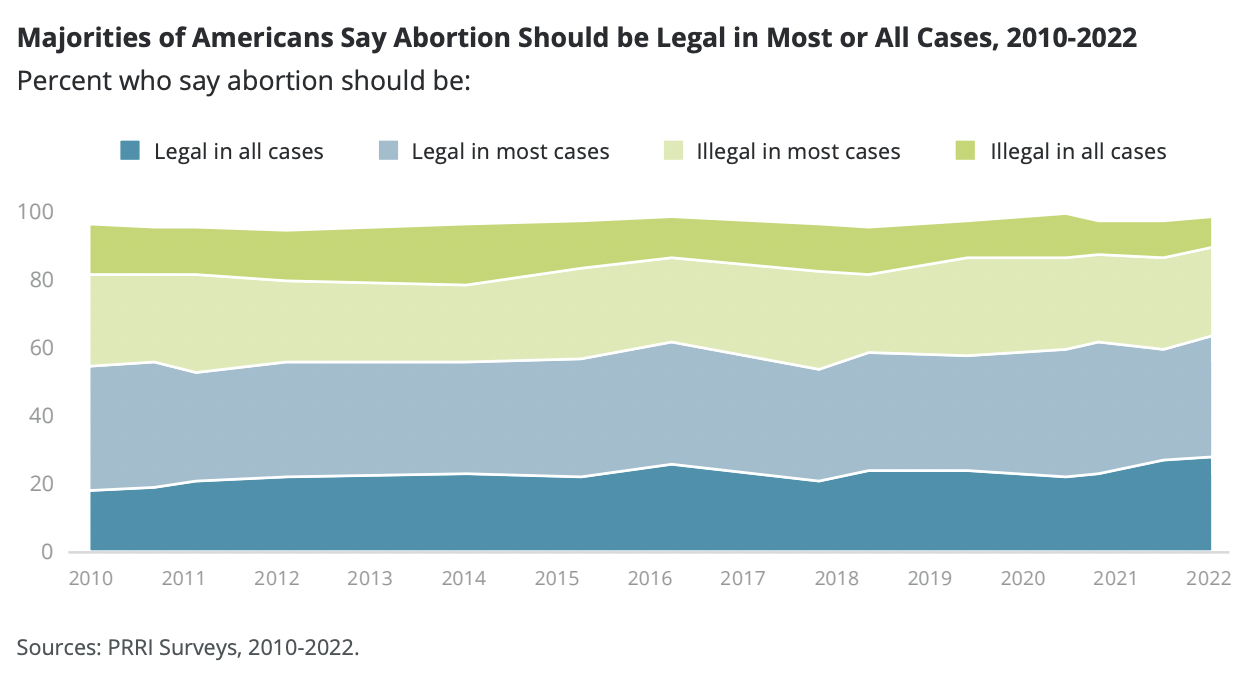 Currently, many Americans are unaware of the status of abortion's legality in their own states.  Our March 2022 survey finds that almost half of Americans (48%) are unaware of whether abortion would remain legal or illegal if Roe is overturned.  With the Supreme Court overturning Roe, many Americans may soon be learning for the first time where their states lie when it comes to the availability of abortion.

Moreover, while abortion attitudes have been remarkably stable over time, under that stability are important trends that may impact the fall's election. For instance, younger Americans, those aged 18 to 29, are the group most likely to say that abortion should be legal in all cases (37% percent), compared with about 1 in 4 older Americans (26%).  Support for abortion's legality in all cases is highest among young women at 40%. Roe's overturning could result in higher than expected turnout rates for young women, who already vote at higher rates than their male counterparts.
Of course, whether abortion weighs into voters' calculus this fall remains an open question; our surveys at PRRI have shown only small proportions of Americans (around one in five) say a candidate must share their views to get their vote.  We'll soon see come November how abortion, with Roe overturned, factors into voters' choices.