The Public Religion Research Institute (PRRI) and SSRS are excited to announce the beta launch of the American Values Atlas (AVA), a powerful new online tool for understanding the complex demographic, political, and religious changes occurring in the United States today.
The AVA is a dynamic interactive online map of the United States' cultural landscape, created from 50,000 telephone interviews among a random sample of Americans. Because of its large sample size and wide scope, the AVA allows users to explore the increasing diversity of census regions, states, and even 30 major metropolitan areas, while providing a rare portrait of smaller religious communities and ethnic groups.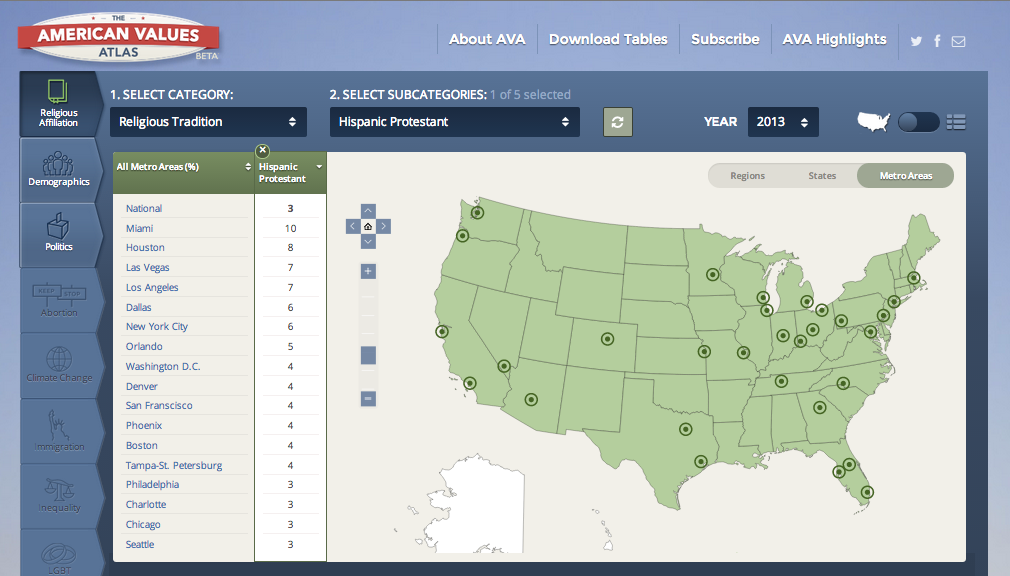 With the click of your mouse, compare:
Religious affiliation, by religious tradition or Christian denominations
Demographic information, by traits such as race and ethnicity, age, gender, marital status, educational attainment, household income, and health insurance status
Political information, by party identification, political ideology, and voter registration status
Categories can be compared by census regions, states, or metro areas:
What percentage of Southerners have college degrees? Are 65 years of age or older?
Colorado or North Carolina: who has the most Moderates? The highest percentage of registered voters?
How many Buddhists live in Chicago? In Washington, D.C.?
The AVA is an invaluable tool for journalists, teachers, clergy, policymakers, and anyone who is interested in exploring the changing American landscape. The best part: the AVA is a dynamic, ongoing project. Each year, PRRI and SSRS will update the AVA with a new wave of approximately 50,000 interviews, providing a real-time portrait of American identity and diversity.
Visit ava.publicreligion.org to experience the AVA.