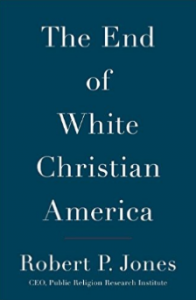 In The End of White Christian America, PRRI CEO Robert P. Jones combines findings from one of the largest troves of survey data on contemporary politics and religion with incisive analysis to tell the story of how—and why—White Christian America lost its place at the center of the country's political and social consciousness.
For most of the nation's history, White Christian America—the cultural and political edifice built primarily by white Protestant Christians—set the tone for our national policy and shaped American ideals. But in recent decades, a combination of immigration patterns, differential birth rates, and religious disaffiliation has transformed the American landscape. By 1993, white Protestants had lost their religious majority status. Less than a quarter-century later, at the end of Barack Obama's presidency, even with Catholics included, white Christians no longer constitute a majority of Americans. Jones argues that the visceral nature of today's most heated debates—including the strident rise of a white "politics of nostalgia" following the election of the nation's first black president, the apocalyptic tone of the arguments around same-sex marriage and religious liberty, and stark disagreements between black and white Americans over the fairness of the criminal justice system—can be fully understood only against the backdrop of anxieties white Christians feel as the racial, religious, and cultural topography transforms around them.
Pre-order the book and add PRRI as your Amazon Smile nonprofit organization.