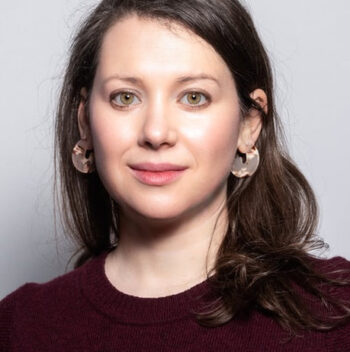 Ruth Braunstein is Associate Professor of Sociology at the University of Connecticut and Director of the Meanings of Democracy Lab. A cultural sociologist interested in the role of religion and morality in American political life, Ruth's award-winning research has been published in the American Sociological Review, the American Journal of Cultural Sociology, Contexts, the Journal for the Scientific Study of Religion, Political Power and Social Theory, Sociology of Religion, Theory and Society, and Qualitative Sociology, among other outlets.
Her first book, Prophets and Patriots: Faith in Democracy Across the Political Divide, is a comparative ethnographic study of progressive faith-based community organizing and Tea Party activism, published by the University of California Press. She is also the co-editor of a volume exploring the role of religion in progressive politics, entitled Religion and Progressive Activism: New Stories About Faith and Politics, published by NYU Press.
Her current research project on the moral meanings of taxpaying explores how the practices of taxpaying and tax resisting are linked to contested understandings of political community, good citizenship and morality in the United States. This project is supported by grants from the Louisville Institute, the Society for the Scientific Study of Religion (SSSR), the Swarthmore College Peace Collection, and the University of Connecticut. She is currently working on a series of articles and a book project tentatively titled, My Tax Dollars.
Ruth's research, writing and teaching have been recognized by numerous awards and fellowships. She received the inaugural Early Career Award from the American Sociological Association's Religion Section, and her department's 2021 Faculty Mentor Award. She is a Faculty Fellow at the Center for Cultural Sociology at Yale University, and has previously been a Visiting Fellow at Princeton University's Center for the Study of Religion; a Public Religion Research Institute (PRRI) Public Fellow; a Public Discourse Project Faculty Fellow; and an American Fellow of AAUW. She was also a core faculty member of the UConn Humanities Institute's Humility and Conviction in Public Life Project.
Ruth is an Associate Editor of Sociology of Religion, and serves on the Editorial Boards of the American Sociological Review, the Journal for the Scientific Study of Religion, Sociological Forum, and Qualitative Sociology. She served for several years on the inaugural editorial board of The Immanent Frame, a digital forum on secularism, religion and the public sphere published by the Social Science Research Council.
She holds an M.A. and Ph.D. in sociology from New York University and a B.S. in Foreign Service from Georgetown University, where she studied international culture and politics. She is originally from Atlanta, GA.