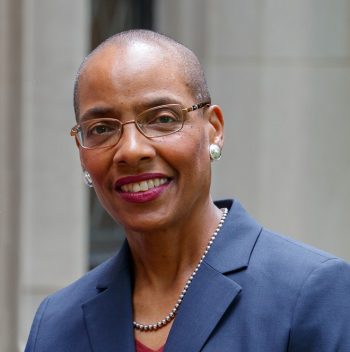 The Very Rev. Dr. Kelly Brown Douglas was named Dean of the Episcopal Divinity School at Union Theological Seminary and Professor of Theology at Union in September 2017.  She was named the Bill and Judith Moyers Chair in Theology in November 2019.  She also serves as the Canon Theologian at the Washington National Cathedral and Theologian in Residence at Trinity Church Wall Street.
Prior to Union, Douglas served as Professor of Religion at Goucher College where she held the Susan D. Morgan Professorship of Religion and is now Professor Emeritus.  Before Goucher, she was Associate Professor of Theology at Howard University School of Divinity (1987-2001) and Assistant Professor of Religion at Edward Waters College (1986-1987).
Ordained as an Episcopal priest in 1983, Douglas holds a master's degree in theology and a Ph.D. in systematic theology from Union.  
Douglas is the author of many articles and five books, including Sexuality and the Black Church: A Womanist Perspective and Stand Your Ground: Black Bodies and the Justice of God.  Her academic work has focused on womanist theology, sexuality and the black church.