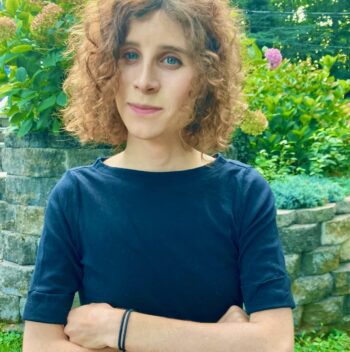 Dr. Joanna Wuest (she/her) is an Assistant Professor of Politics at Mount Holyoke College in Massachusetts where she teaches constitutional law, American politics, and gender and sexuality politics. 
Wuest is a sociolegal scholar specializing in LGBTQ+ and reproductive rights, religion, and health, whose research has been supported by the National Endowment for the Humanities, the Social Science Research Council, the American Association of University Women, and the American Political Science Association.
She is the author of Born This Way: Science, Citizenship, and Inequality in the American LGBTQ+ Movement (University of Chicago Press, 2023), and is currently writing a book on "dark money" and religious liberty legal organizations. Her popular writing has appeared in outlets including The Nation, Boston Review, and Dissent, and her academic work has or will appear in Perspectives on Politics, Law & Social Inquiry, The Journal of Law, Medicine and Ethics, and other peer-reviewed journals and edited volumes.
Research Area: LGBTQ Rights