Despite continued appeals to the Black community and hyperbolic statements that he has done more for Black Americans in the U.S. than any other president, President Donald Trump has never gained much traction with the group. PRRI polls have consistently found that fewer than one in five Black Americans view the president favorably, with an average of around 16% viewing him favorably throughout his presidency.
The president's lowest ratings — 6% favorable among Black Americans — occurred in January 2018 amid Trump making claims that he was responsible for low unemployment rates among Black Americans and falsely claiming increased approval ratings among Black Americans. Trump's highest numbers among Black Americans occurred in March 2020 at the beginning of the COVID-19 pandemic in the U.S., when almost three in ten (29%) viewed the president favorably, but quickly fell back to previous levels. As of July 2020, 14% of Black Americans have a favorable view of the president, in line with his numbers throughout his term as president.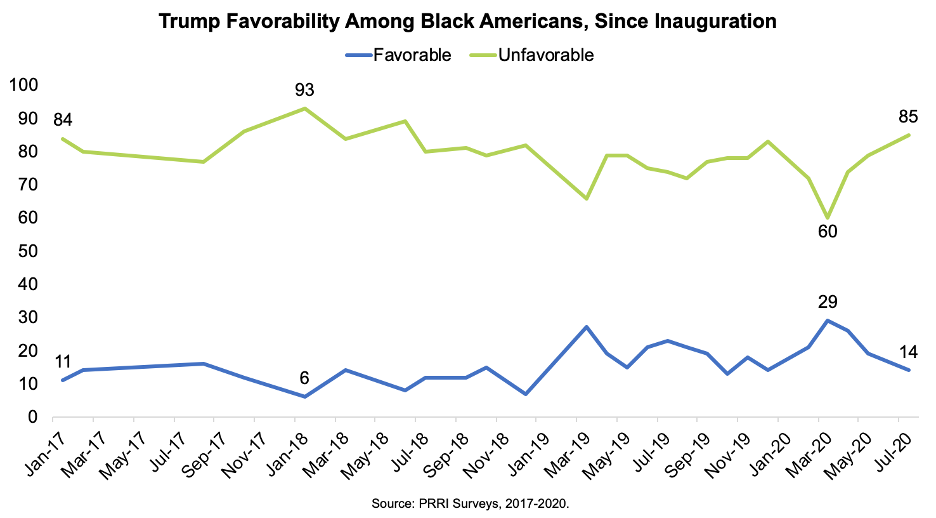 As easy as it would be to believe that Trump's numbers with Black Americans are historically bad, that is actually not the case. Black Americans have been largely sour on Republican presidents for at least the last four decades, and much of the modern polling era. Even when President George W. Bush got a large bump in approval in the aftermath of the Sept. 11, 2001, terrorist attacks, his approval among Black Americans remained under 50%. It sunk back to an average of 11% in his second term, according to Gallup.
Some GOP presidents have managed better approval ratings, but Black Americans have not awarded any Republican presidential candidate more than 17% of the vote (for Gerald Ford in 1976) since 1964. In 2008, John McCain only won 4% of Black voters against Barack Obama, the nation's first Black candidate, and in 2012 Mitt Romney fared little better against Obama, receiving 6% of the Black vote. Trump's 8% in 2016 was right in line with these recent trends, and similar to the 11% George W. Bush received in 2004 (the last time prior to 2016 Obama was not on the ballot).
In the combined May–July surveys, Trump does not fare well in any subgroup of Black Americans, although views of the president do significantly differ by gender, age, and education. Black women (10%) are less likely than Black men (23%) to view Trump favorably. Nine in ten (90%) Black women hold unfavorable views of the president, including nearly two-thirds (65%) who view him very unfavorably. Among Black men, 75% view the president unfavorably, including a slim majority (52%) view him very unfavorably.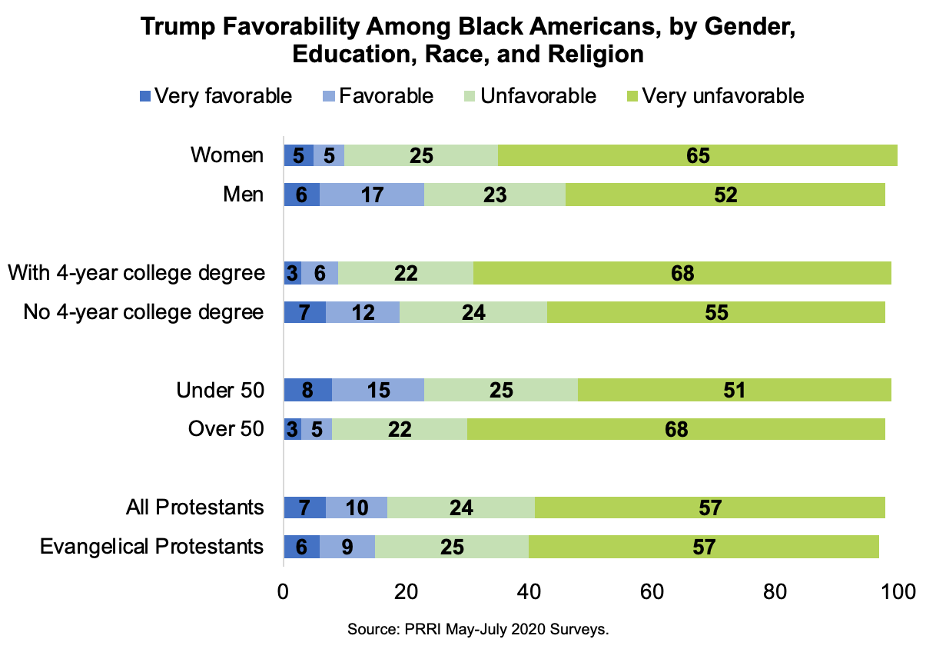 The education gap is similar. Among Black Americans with at least a four-year college degree, only 9% report favorable views of Trump. Nine in ten (90%) are unfavorable toward him, with a full two-thirds (68%) reporting very unfavorable views. Almost one in five (19%) Black Americans without a four-year college degree hold favorable views of the president, with a total of 79% reporting unfavorable views, which includes 55% very unfavorable.
Interestingly, older Black Americans over age 50 (8%) are less likely than younger Black Americans under age 50 (23%) to hold favorable views of Trump. This is the opposite of the pattern in the full population. Among all Americans, 34% of those under 50 view the president favorably, compared to 44% of those over age 50. This age gap could be because Black Americans over age 50 are more likely than those under 50 to identify as Democrats (60% vs. 50%, respectively), although they are also less likely than those under 50 to identify as liberal (28% vs. 39% respectively). This reverse age gap among Black Americans has also been noted historically — The New York Times noted that in a 1985 poll of Black Americans, Ronald Reagan received his highest ratings by age from the youngest subgroup (ages 18-29).
Religion, and in particular evangelical status, does not elicit differences in opinion on Trump among Black Americans. Similar proportions of Black Protestants (17%) and the subset of Black evangelicals (15%) hold favorable views of Trump. While white evangelicalism is associated with increased positive views of Trump relative to non-evangelical whites, the president does not attract additional support from Black evangelicals.
There is no indication in current favorability numbers that Trump is likely to make inroads with Black Americans in November. Although favorability does not equate to votes, it is worth considering that as of July former vice president Joe Biden is viewed favorably by 71% of Black Americans. Overall, 67% of Black Americans are favorable toward Biden but not Trump, compared to 15% who are favorable toward Trump but not Biden. A handful (4%) are favorable toward both, and 11% are unfavorable toward both.