The state of Texas has taken executive action against transgender youth and their families. Texas Attorney General Ken Paxton issued an opinion on February 18 that said gender reassignment procedures and treatments, "when performed on children, can legally constitute child abuse under … Texas Family Code." Then, on February 22, Gov. Greg Abbott wrote a letter to the commissioner of the Texas Department of Family and Protective Services, calling on the department to perform "prompt and thorough investigation of any reported instances" of child abuse regarding the use of gender-affirming health care. Along with this, "licensed professionals who have direct contact with children" are also required to report on suspected abuse.[1] On March 21, the Texas Third Court of Appeals restored an injunction preventing the Texas DFPS from conducting these investigations. Regardless, many parents with transgender children fear being accused of allowing their children to receive health care, and there has been vocal backlash from those who support transgender youth advocacy.
Texans and Nondiscrimination Laws to Protect LGBTQ People
The PRRI 2021 American Values Atlas analyzes how favorably Americans feel toward nondiscrimination laws that protect LGBTQ people. Nearly eight in ten Americans (79%) support laws that would protect gay, lesbian, bisexual, and transgender people against discrimination in jobs, public accommodations, and housing. Support for nondiscrimination laws among Texans is slightly lower, at 72%. Majorities of both major political parties in the state support such laws: 54% of Texas Republicans and 81% of Texas Democrats. Around six in ten white evangelical Protestants in Texas (61%) and over eight in ten religiously unaffiliated Texans (84%) favor these protections.
What If Their Children Were Transgender?
A majority of Americans (55%) would be comfortable if their own children told them they were transgender. Texans in general would be less comfortable with learning their children were transgender, but still half (49%) say they would be okay with it. Republicans in the state are significantly less likely to say they would be comfortable with a transgender child than Democrats are (27% and 65%, respectively). The same contrast is seen between white evangelical Protestants and those who are religiously unaffiliated in the state (21% and 76%, respectively).
Texan Support for Transgender People in Their Communities
The survey also asked how comfortable Americans are with transgender people in different roles within their communities. Majorities of all Americans and Texans are comfortable with a co-worker (75% and 66%, respectively), a close friend (70% and 61%, respectively), a fellow church member (70% and 61%, respectively), and a local elementary school teacher (66% and 57%, respectively) being transgender.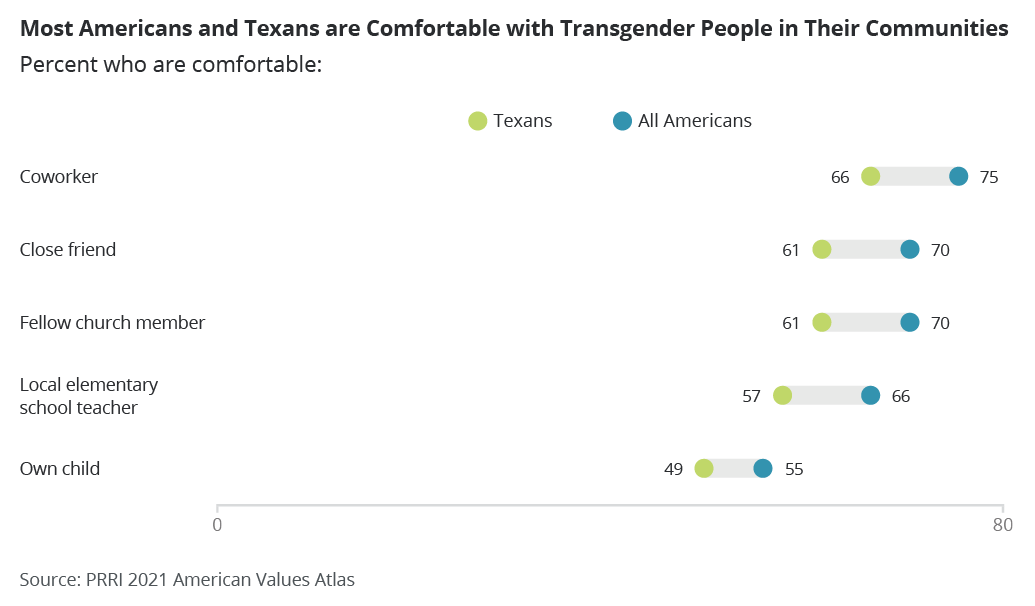 Despite broad support for nondiscrimination laws and comfort with transgender people in the state, Texas has pushed to label providing gender-reaffirming procedures and treatment to transgender children as child abuse. Many opponents of the directive believe that it is being used to target transgender children and their families, and Gov. Abbott is using it to win Republican support for reelection in November.
[1] https://gov.texas.gov/uploads/files/press/O-MastersJaime202202221358.pdf