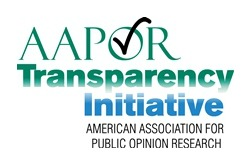 This week, PRRI was honored to become a charter member of the American Association for Public Opinion Research's (AAPOR) Transparency Initiative, joining companies like The Washington Post, Kaiser Family Foundation, and Langer Research Associates.
AAPOR launched the Transparency Initiative in October 2014 to encourage broader and more effective disclosure of research methods by all organizations. Its goal is to promote methodological disclosure through a proactive, educational approach that assists survey organizations to develop simple and efficient means for routinely disclosing the research methods associated with their publicly-released studies.
This means you'll see clearer samples sizes from PRRI's public opinion polling, as well as an easy way to get in touch with us. And we'll start here: have a question? Shoot us an email at info@publicreligion.org.
Click here for more information on AAPOR's Transparency Initiative and here to see a list of charter members.