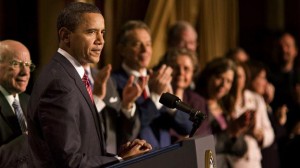 In his speech at the annual National Prayer Breakfast yesterday morning, President Obama added a controversial twist to his recent emphasis on economic fairness: he added a religious imperative.
"I think to myself, if I'm willing to give something up as somebody who's been extraordinarily blessed, and give up some of the tax breaks that I enjoy, I actually think that's going to make economic sense," Obama told the audience. "But for me, as a Christian, it also coincides with Jesus's teaching that 'for unto whom much is given, much shall be required.' "
Obama's remarks, like his State of the Union, contrasted sharply with GOP front-runner Mitt Romney's stance on Americans' financial struggles (lest you forget, the reverberations from Romney's declaration that he is not choosing to focus on the "very poor" are still resounding through the blogosphere). But his appeal to religion may draw Americans from some faith backgrounds closer to his message – while leaving others out in the cold.
The new PRRI/RNS Religion News Survey shows the extent to which voters from different Christian denominations believe that the growing gap between the rich and the poor is a critical issue facing the country:
Approximately half of white mainline Protestant (48%) and Catholic (47%) voters cite the growing gap between the rich and the poor as a critical issue.
Only one-third (33%) of white evangelical Protestant voters see the growing gap between the rich and the poor as a critical issue—the lowest of any religious group.
If Obama continues to rely on his faith to promote a more populist agenda, it may also results in an increasing level of awareness about his own religious background. As of last July, only 38% of Americans knew that Obama actually was a Christian. Four-in-ten said that they did not know what Obama's religious beliefs are, while nearly 1-in-5 (18%) wrongly identified him as a Muslim. White mainline Protestants and Catholics are two key religious swing groups, so Obama's new accent on the role of his Christian faith in advocating for economic fairness measures may resonate with some of these folks. But this speech isn't likely to bring more white evangelical Protestants into Obama's corner.