After an historic eight years in office, President Obama will offer a farewell address to the nation and final insight on the state of the union this week. Using the 2016 American Values Survey, we took a look at where Americans of different religious, racial, class, and political stripes stand on their views of the outgoing president.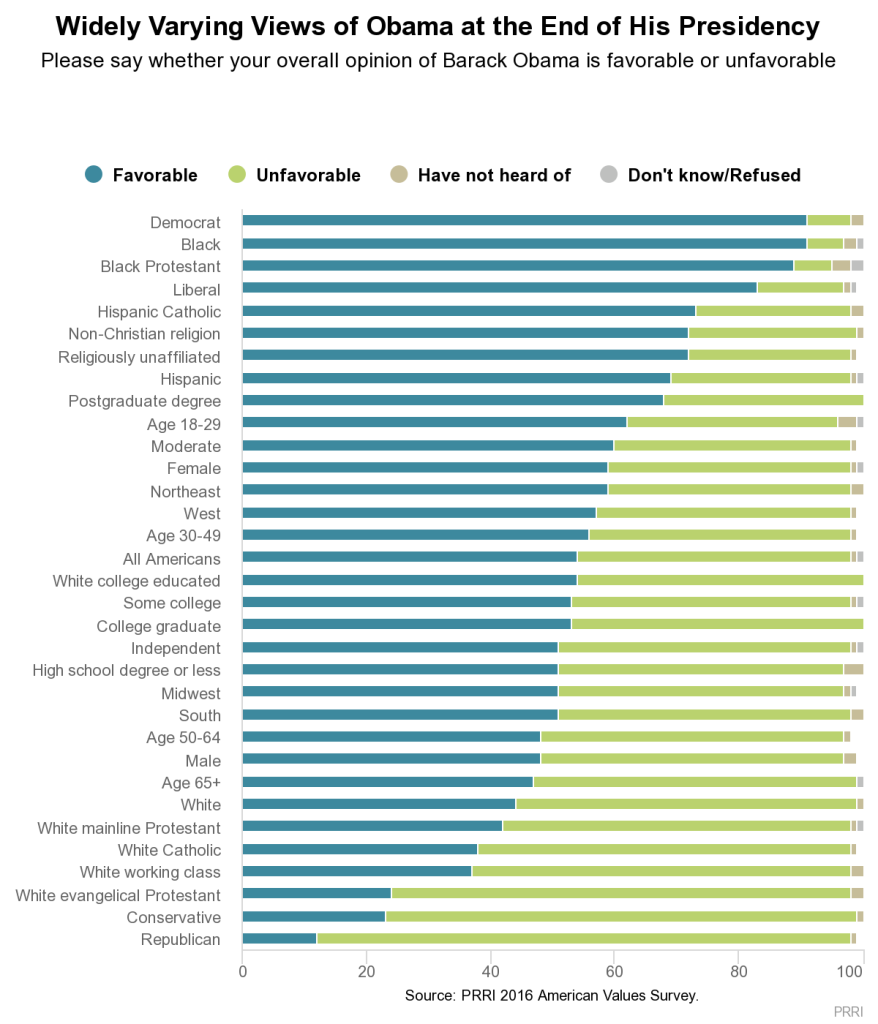 A majority (54 percent) of Americans view President Obama at least somewhat favorably, a high number for an outgoing president. Forty-four percent view the president mostly or very unfavorably. Democrats and Republicans show steadfast party loyalty on the question and the most extreme views: About nine in ten (91 percent) Democrats view Obama favorably, while more than eight in ten (86 percent) Republicans view him unfavorably, including 63 percent who view Obama very unfavorably.
There are notable racial divides. Over nine in ten (91 percent) blacks and nearly seven in ten (69 percent) Hispanics view Obama favorably, compared to a majority (55 percent) of whites overall who report an unfavorable view of the retiring president. Among whites, socioeconomic class reveals a stark divide on the issue. About six in ten (61 percent) white working-class Americans report an unfavorable view of President Obama, while a majority (54 percent) of white college-educated Americans view him favorably.
White Christians are far more likely to view Obama unfavorably than non-white Christians, with most white evangelical Protestants (74 percent), white Catholics (60 percent), and white mainline Protestants (56 percent) reporting a mostly or very unfavorable view of the president. In contrast, black Protestants and Hispanic Catholics show overwhelming support for the outgoing commander-in-chief (89 percent and 73 percent, respectively). Equal numbers of religiously unaffiliated Americans (72 percent) and Americans practicing non-Christian religions (72 percent) report viewing Obama favorably.
Young Americans are more likely to view the outgoing president favorably than their older counterparts. More than six in ten (62 percent) young adults (ages 18-29) say they hold a mostly or very favorable view of Obama, while a slim majority (52 percent) of seniors (ages 65+) view him mostly or very unfavorably.
Education on a whole has little bearing on views of the departing president. Majorities of Americans with a high school degree or less (51 percent), some college education (53 percent), and a college degree (53 percent) view Obama mostly or very favorably. Notably, more than two-thirds (68 percent) of Americans with a postgraduate education say the same.
For more, read through PRRI's American Values Survey.