Nondiscrimination laws that protect lesbian, gay, bisexual, and transgender (LGBT) Americans are widely supported across the U.S. today. Seventy percent of Americans, including majorities in every state, favor laws that would protect LGBT people against discrimination in jobs, public accommodations, and housing. Yet despite strong national support, only 22 states have passed some type of legislation protecting LGBT people from discrimination.
A new analysis shows that public support for nondiscrimination laws is strongly associated with the passage of legislation aimed at protecting LGBT people. Of the 22 states whose residents support legal nondiscrimination protections at the average national rate—70 percent—or higher, 19 have laws protecting against discrimination for sexual orientation and/or gender identity. However, of the 28 states whose residents support legal nondiscrimination protections at levels below the national average, only three—Delaware (68 percent), Iowa (68 percent), and New Mexico (64 percent)—have these legal protections in place.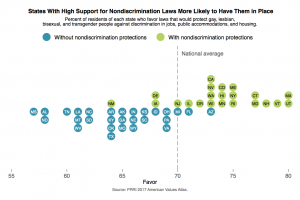 The states expressing the highest levels of support for nondiscrimination laws, which tend to be clustered in New England, include New Hampshire (78 percent), Vermont (79 percent), and Massachusetts (80 percent), which was the first state to legalize same-sex marriage in 2003. Notably, Utah stands out for its strong support for nondiscrimination laws for LGBT residents—especially considering that only about half (54 percent) of Utahns favor same-sex marriage, and fewer than half (48 percent) oppose religiously based service refusals for gay and lesbian people. In 2015, Utah's legislature passed a law, backed by the Mormon church, that banned discrimination against LGBT individuals in employment and housing. Today, eight in ten (80 percent) residents of Utah support legal nondiscrimination protections for LGBT individuals.