Since the 1980s, conventional wisdom about Hispanic Americans suggests that although they tend to vote primarily for Democrats, they do so primarily for economic reasons because the Democratic Party is out of step with Hispanic Americans on social issues. Republican candidates could thus peel off Hispanic American voters by appealing to issues like abortion or same-sex marriage, or so the argument went. But how socially conservative are Hispanic Americans, how persuadable are Hispanic Americans on social issues, and how important are these issues to Hispanic American voters?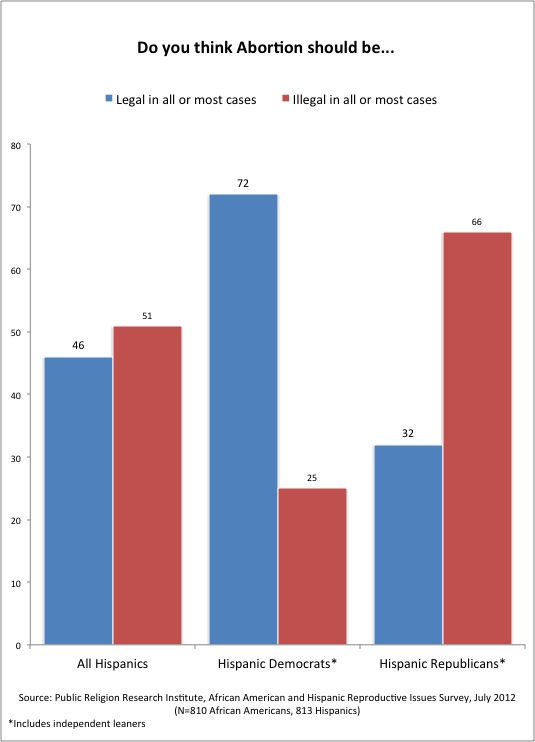 One way to test the extent of Hispanic American social conservatism is by measuring Hispanic Americans' attitudes toward abortion and same-sex marriage. On these issues, Hispanic Americans are assumed to be more conservative than Americans in general. The 2012 African American & Hispanic American Reproductive Issues survey found that a slim majority of Hispanic Americans (51%) believe that abortion should be illegal in all or most cases, compared to the 43% of Americans who reported that abortion should be illegal in all or most cases during the 2011 American Values Survey.  On same-sex marriage, Hispanic Americans are divided, with 50% in favor of allowing gay and lesbian people to marry and 47% opposed.
However, on social issues Hispanic Americans show the same pattern of partisan polarization that is evident among the general public. When we explore the opinions of Hispanic American registered voters, the stark differences between Hispanic Democrats (and independents who lean Democratic) and Hispanic Republicans  (and independents who lean Republican) suggest that social issues are not a wedge issue among Hispanic partisans. The Hispanic partisan sorting on social issues suggests that Hispanic voters are part of the mainstream of their respective parties and not susceptible to being cross-pressured on these issues.
Vast majorities of Hispanic Democrats and Hispanic Republicans support their party's majority position. On the issue of abortion, almost three-quarters (72%) of registered Hispanic Democrats believe abortion should be legal in all or most cases while nearly two-thirds (66%) of registered Hispanic Republicans say it should be illegal. In this regard, registered Hispanic Democrats are slightly more liberal than Democrats overall: 64% of registered Democrats think abortion should be legal. The opposite is true for registered Hispanic Republicans, who are are more conservative than registered Republicans (just 54% of registered Republicans oppose abortion).
The same polarization appears on the issue of same-sex marriage. Around two-thirds of registered Hispanic Democrats (66%) and nearly 6-in-10 registered Democrats (58%) favor allowing gay and lesbian couples to marry legally. By contrast, over 7-in-10 (71%) registered Hispanic Republicans and over 6-in-10 (63%) of all registered Republicans oppose same-sex marriage.
As Election Day approaches, the interest on Hispanic voters will only increase. The Democrats recently tapped San Antonio Mayor Julián Castro as the keynote speaker for their convention in Charlotte, North Carolina. Meanwhile, Hispanic Republicans have been getting attention thanks to Ted Cruz's victory in the Texas GOP primary runoff, as well as the naming of New Mexico Governor Susana Martínez and Florida Senator Marco Rubio as  featured speakers at the Republican National Convention in Tampa, Florida.
Pundits will continue to stress the importance of courting the growing Hispanic vote, but the more important question is what issues they can be successfully courted. These findings suggest that social issues may excite partisans, but are ultimately unlikely to move most Hispanic Americans one way or the other. What's more, the vast majority of Hispanic voters (78%) report that the economy is a critical issue in the country today, far more than mention abortion or same-sex marriage (25% each). The parties will have to do their wooing on economic issues, because when it comes to social issues it seems that the heavy lifting is already done: Hispanic Democrats are socially liberal and Hispanic Republicans are socially conservative.