On Wednesday, Public Religion Research Institute (PRRI) launched the American Values Atlas (AVA), a new, online tool that allows users to explore not only the changing religious, political, and demographic landscape of the United States, but also Americans' attitudes toward key political issues, such as immigration reform, immigrants, same-sex marriage, and the legality and availability of abortion.
The AVA provides an unprecedented level of detail about the cultural and religious landscape of the United States, drawing upon data from 50,000 bilingual telephone interviews conducted among a random sample of Americans in 2014. Roughly 1,000 interviews were conducted every week, with 40,000 interviews on political issue areas. Because of the vast amount of data and large sample size, users have the ability to use the AVA's dynamic online map to explore specific census regions, all 50 states, and 30 major metropolitan areas. The AVA also provides a rare look into smaller religious communities and ethnic groups, such as Mormons, Jews, Muslims, Buddhists, and more.
So what can you discover with the AVA? Well, just about anything:
Find out how each major metro area feels about same-sex marriage—and see how each state feels about the issue;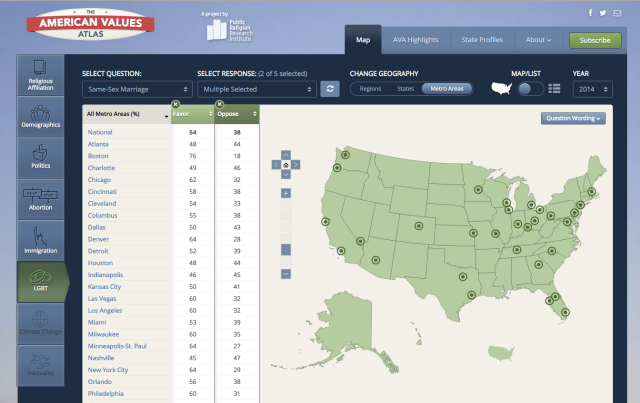 Take a look at how each state views immigrants;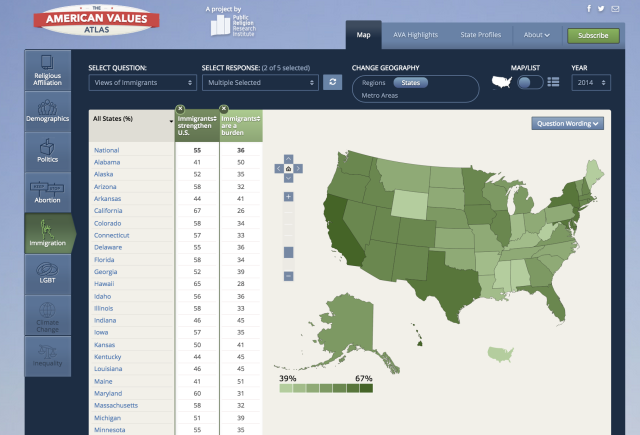 Find the religious breakdown of every state;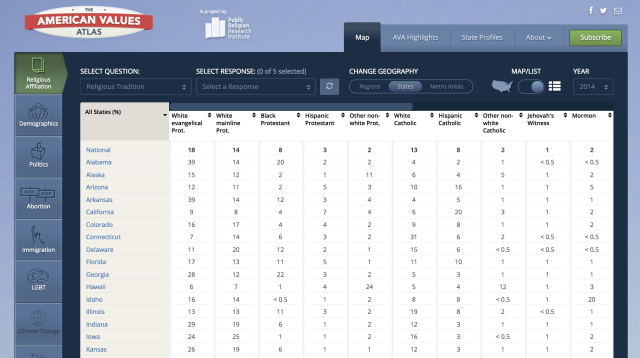 And see your own state's unique religious, political, and issue-specific profile.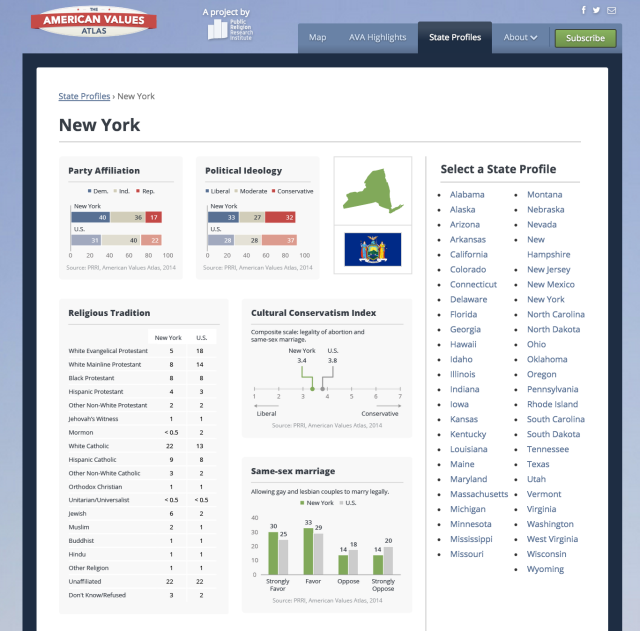 The AVA is an invaluable tool for researchers, teachers, policymakers, members of the media, and anyone interested in the changing American landscape. The AVA is a unique, ongoing project—moving forward, PRRI will conduct a new wave of approximately 50,000 interviews per year in order to provide an up-to-date window into the United States' changing demographic, cultural, and political environment.
See the data for yourself—take some time to explore the endless possibilities of the AVA!
Read through our easy reference guides on immigration reform, views of immigrants, same-sex marriage, and availability and legality of abortion.
Read more about the AVA's methodology here.