A new poll from Gallup reveals that the number of Americans who currently identify as "pro-choice" (41%) has dropped six points since last July. It's also one point lower than the previous record low recorded by Gallup, which occurred in May 2009. Meanwhile, about half (50%) of Americans identify as "pro-life," one point shy of the record high.
Although people on both sides of the abortion debate will no doubt try to spin these numbers, it's worth taking a step back and offering a few caveats about these labels and what they mean. First, Americans' tendency to identify with "pro-life" and "pro-choice" labels has fluctuated a great deal over the past few years. In 2006, 51% of Americans identified as "pro-choice," while only 41% identified as pro-life. Three years later, the numbers were reversed, with 51% identifying as pro-life, while 42% identified as pro-life. The volatility of these numbers demonstrate that some Americans are not committed to one label or the other; it also suggests that some may feel conflicted about identifying with labels that require them to pledge themselves to one side of the debate or the other. After all, as the Gallup survey shows, relatively few Americans believe that abortion should be legal in any case (25%) or illegal in all cases (20%).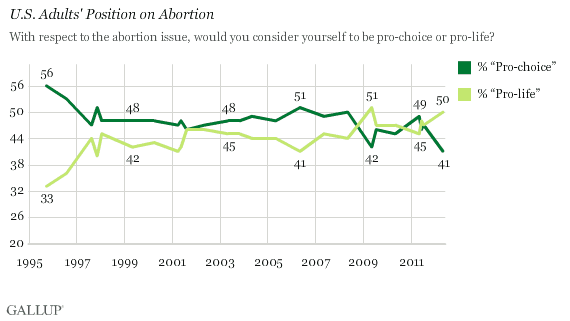 Political scientist John Sides of the Monkey Cage points out that Americans' support for abortion is highly contingent on the circumstances of the pregnancy, which "cannot be summarized with the labels 'pro-choice' and 'pro-life.'" For example, according to a survey conducted by PRRI last summer, Americans are strongly supportive of legal abortion in the case of rape (79%), or if the pregnancy is a serious threat to the woman's mental (74%) or physical (86%) health. Furthermore, Americans make a distinction between abortion's morality and its availability. According to last summer's survey, a slim majority (52%) believe that having an abortion is morally wrong, but nearly 6-in-10 (58%) also agree that at least some health care professionals in their community should provide abortion.
When Americans are not forced to chose between "pro-choice" and "pro-life," but are allowed to report how much they identify with either label, a significant number of Americans actually identify as "pro-choice" and "pro-life." Last summer's PRRI survey found that 7-in-10 Americans say the term "pro-choice" describes them somewhat (32%) or very (38%) well, and nearly two-thirds of Americans simultaneously say the term "pro-life" describes them somewhat (31%) or very (35%) well. And over 4-in-10 (43%) of Americans identify as both  "pro-choice" and "pro-life."
Americans' perspectives on abortion are complex and often conflicted, and the labels "pro-choice" and "pro-life" can elide many of these nuances. The dramatic shift evident in Gallup's numbers is another sign that these labels should not be the last word on Americans' views on abortion.