On the evening of Dec. 6, 2022, Democratic Senator Raphael Warnock took the stage in Atlanta, Georgia, to deliver his victory speech after winning the runoff election against Republican candidate Herschel Walker. Georgia is one of two states that require runoff elections when no candidate receives a majority of the vote. As Warnock waved at his cheering supporters, I noticed the array of diversity represented behind him on the stage, including a woman wearing the hijab. The presence of a Muslim person on the stage may seem surprising at first glance, but it reflects the impact the Muslim vote is having in places like Georgia.
In the 2020 presidential election, Georgia and Pennsylvania voted for Biden by a narrow enough margin that the relatively small Muslim vote in those states could have an impact on the results. In Georgia, which Biden won by 12,000 votes, more than 61,000 Muslims showed up to polls. And he won Pennsylvania by 81,000 votes with 125,000 Muslims coming out to vote. In states where elections are coming down to tens of thousands of votes, it may be time to pay closer attention to the Muslim vote. The 2020 PRRI Census of American Religion has data on religious identity by county level. These maps show that in Arizona, Georgia, and Pennsylvania, all of which had very narrow election results in 2020, the Muslim population is large enough to have an impact on close federal elections. Fulton County, Georgia, which has a population of about 1,064,000, is 2% Muslim — which is a small percentage but, in raw numbers, represents a lot of potential votes. Muslims, along with other minority populations who primarily live in urban areas, have a significant role in countering rural voters and shifting red states toward Democrats.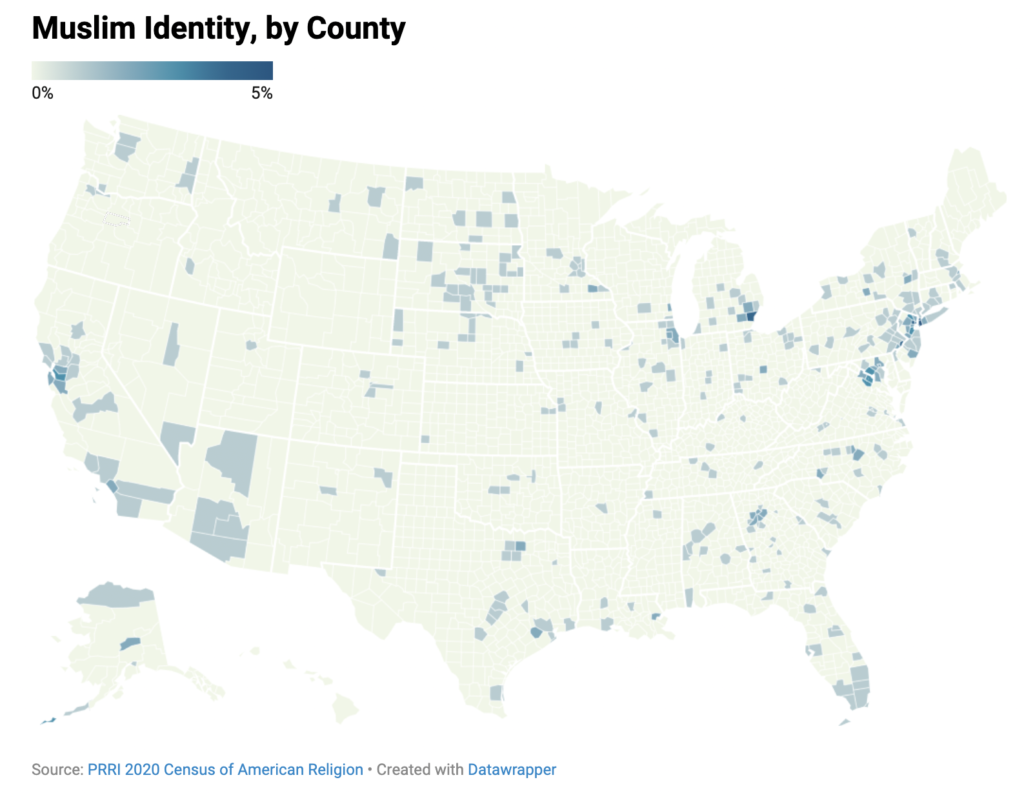 Muslim American civic organizations, such as Emgage, have been working to mobilize the Muslim vote in recent years. According to Emgage's website, the group helped turn out more than a million Muslim voters in the 2020 election through its Million Muslim Vote campaign. Efforts to engage Muslim voters have been on the rise since 9/11, and they accelerated after Donald Trump's election in 2016. Mosques have been participating in this effort by serving as polling sites and hosting voter registration drives for the Muslim community. According to Emgage, the top five domestic issues for Muslim voters are jobs and the economy, civil rights, health care, voting rights and foreign policy. Over the past two years, I have conducted qualitative interviews with 42 Muslims of South Asian, Arab and African American descent. The majority of African American Muslims have told me that the political issues that most motivate them to vote are racial inequality and educational equality. The majority of South Asian and Arab Muslims said abortion is a top issue that motivates them to vote.[1]
In 2000, the Council on American Islamic Relations (CAIR) estimated that more than 70% of Muslims who cast a ballot in the 2000 presidential election voted for George W. Bush. Bush and the Republican Party had courted the Muslim vote in that election. After 9/11, however, the Republican Party's rhetoric became overtly vitriolic against Muslims, which pushed Muslim voters toward the Democratic Party. In a 2017 study, Pew Research estimated that more than two-thirds of Muslims in the United States identify as Democrats.
As we continue to witness historically red states like Georgia voting Democratic by narrow margins in national elections, it is crucial to pay attention to the Muslim vote. Increased civic engagement among Muslims, coupled with a rise in anti-Muslim discrimination and bigotry, is likely to continue pushing these voters to turn out for the Democratic Party.
[1] The majority of the interviews with South Asian and Arab Muslims occurred after the Supreme Court ruled on Dobbs v. Jackson Women's Health Organization to overturn Roe v. Wade.