The battle over reproductive rights has emerged as a major election theme in 2012.  For the first time in several decades, the Democrats offered a strong defense of abortion rights at their national convention in Charlotte, featuring as prominent speakers the presidents of both NARAL and Planned Parenthood and Sandra Fluke, whose congressional testimony last spring in favor of the Obama administration's contraception mandate prompted conservative shock jock Rush Limbaugh to label her a "slut."
In addition to the battle over the contraception mandate, the Democrats claim that the Republican Party's "war on women" stems from GOP attempts to defund Planned Parenthood and to enact a record number of prohibitions on abortion, particularly in states with Republican-dominated legislatures. But perhaps no other single incident has done more to give credence to the Democrats' argument than Missouri Republican Senate candidate Todd Akin and his comments about "legitimate rape".  Akin's remarks drew attention to a bill he and Paul Ryan, Mitt Romney's running mate, co-sponsored in Congress that sought to redefine rape as "forcible," essentially as a means to limit public spending on abortion.  Little wonder that the Democrats are now running ads stating that it's a "scary time to be a woman."
But is the "war on women" strategy a smart move by Democrats to court women voters, especially since it's centered around abortion politics?  The answer is complicated.  The underlying assumptions being made by Democratic campaigns are that (1) abortion is a more salient issue to women voters than men and that (2) women are more likely to be pro-choice than men. But both assumptions warrant further scrutiny.
In its June 2011 survey, PRRI found that just 30 percent of women said that abortion was a critical issue facing the country today, compared with 27 percent of men, so there's no evidence to suggest that women care more about this issue.  What's more, public opinion on abortion has been remarkably stable over time.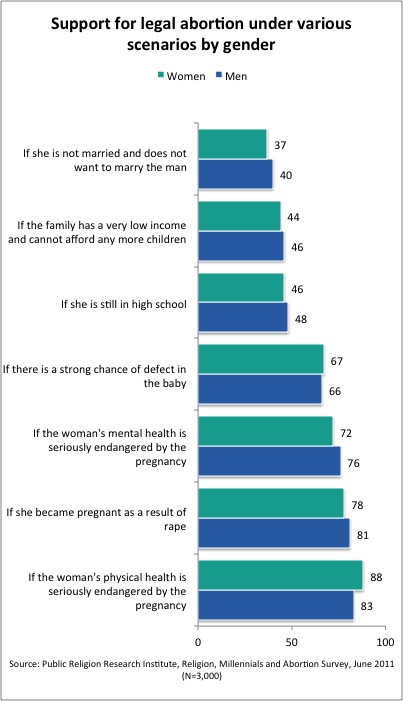 On the issue of the legality, men and women hold remarkably similar positions: 56 percent of women and 56 percent of men believe that abortion should be legal in all or most cases, according to the PRRI data. And, when it comes to the more extreme conditions under which to limit abortion, women actually tend to favor greater restrictions. This chart shows the percentage of women and men who support the legality of abortion under various scenarios.  Although in most of these conditions there are no significant gender differences, the data show that women are somewhat less likely to support access to abortion in these cases than men (the physical health condition notwithstanding).  The one difference between men and women that does elicit a statistically significant difference?  The rape exception: here, we find that women are actually less likely than men to say that abortion should be accessible to women who have become pregnant as the result of rape.
The increasingly conservative position the Republican Party has adopted (see its 2012 platform) and the missteps of prominent candidates create an opening for Democratic candidates to use this issue as a wedge to attract moderate or independent voters. For instance, the vast majority of Americans, no matter their gender or their religious tradition, believe that in some cases abortion should be allowed.  Singling out women voters for the message about the Republican Party's record on abortion, however, may not be as effective as the Democrats hope given that there are lots of pro-life women who vote.  Abortion remains a highly contentious issue that Americans are divided over and are likely to remain divided over.  Indeed, PRRI data show that while a majority of Americans support abortion's legality in most cases, a majority—men and women—also indicate that they think that having an abortion is morally wrong.
For Democrats, campaign talk about broader reproductive health may be a better approach in appealing to women voters than narrowly focusing on abortion rights.  According to this same June 2011 PRRI data, roughly 8-in-10 Americans public favors expanding access to birth control to poor women, which would be one result of the Affordable Care Act.  Moreover, there is a clear gender gap when it comes to salience on this issue: women are significantly more likely to say that they "strongly" favor this policy then men, 54 percent to 38 percent, respectively.   Promoting public policy that allows women more access to pregnancy prevention may prove to be a very winning strategy for Democratic candidates.