A new survey from the Pew Forum on Religion & Public Life investigates how Mormons feel about American society and their place within it amidst increased scrutiny as the result of two Mormon contenders for the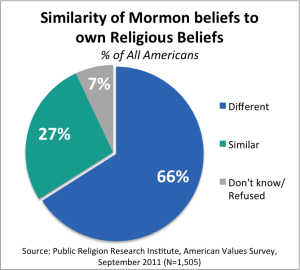 Republican nomination, Mitt Romney and John Huntsman. The Pew Forum found that while some Mormons feel misunderstood and alienated from the American mainstream, others have a sense of optimism that the U.S. is ready to elect a Mormon president.
The Pew Forum's findings are consistent with PRRI's recent findings, which show that there are sharp divides between Mormons' perception of their own faith and Americans' familiarity with Mormonism. For example, nearly all Mormons in the Pew Forum's survey said that they considered Mormonism to be a Christian religion, while just over half of the general public agrees. Pew also found that most Mormons (62%) do not believe the American people as a whole are well informed about Mormonism and more than two-thirds (68%) say the American people do not see Mormonism as part of mainstream American culture. This fits, to some extent, with PRRI's findings from among the general public: only 27% of Americans report that Mormon religious beliefs are similar to their own and only 17% say they know a lot about the religious beliefs and practices of Mormons.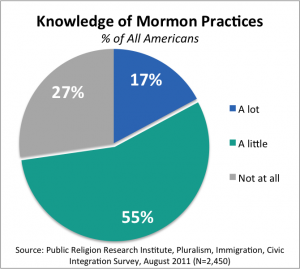 One important aspect of Mormonism's place in American society – and particularly in the 2012 election – was dealt with less directly: the relationship between white evangelical Protestants and Mormons. Pew notes that Mormons and white evangelical Protestants resemble each other both in terms of religious observance and political values, despite the fact that half of the Mormons surveyed by Pew believe that evangelical Christians are generally unfriendly toward Mormons.
PRRI explored this issue in a research note last October titled "Political Parallels between Mormons & White Evangelicals":
Nearly 6-in-10 white evangelicals (58%) and Mormons (58%) identify as politically conservative, while more than 6-in-10 of each group say they are Republican or lean toward the Republican party.
Less than one-third of white evangelicals (29%) and Mormons (24%) believe that abortion should be legal in all or more cases (compared to a majority of the general public).
Three-quarters of white evangelicals and Mormons oppose same-sex marriage.
The similarities between white evangelicals and Mormons on these important political and social issues signals that an important shift may be coming in terms of how Mormons are perceived by Americans in general and evangelicals in particular. The hostility that Mormons feel directed at them from evangelicals may change as the two religious groups find that they have more in common than they imagined.