This week, PRRI's latest survey, conducted in partnership with the Brookings Institution, was featured twice in The New York Times.
Julia Preston's article, "Poll Shows Path to Citizenship Is Favored," was featured on page A13 in Tuesday's print version of the New York Times. The article notes the broad bipartisan and cross-religious support for immigration reform that includes a path to citizenship, which has remained "remarkably steady" across the last year.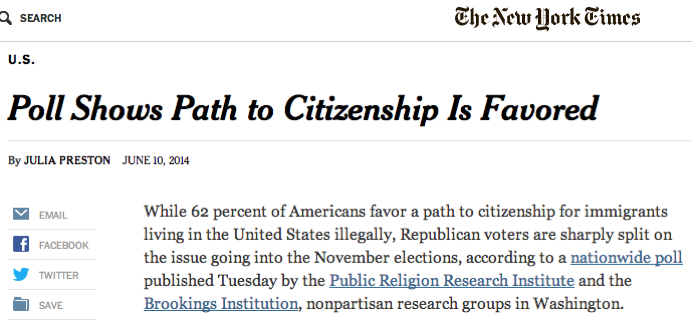 The article features prominent commentary by PRRI CEO Robert P. Jones:
"The big takeaway is the clarity and consistency of support from the general public for a path to citizenship for immigrants in the country illegally," said Robert P. Jones, chief executive of the Public Religion Research Institute. "There is clearly a cost for politicians directly opposing immigration reform. That is not a long-term strategy for success for candidates on either side."
The second article at The Upshot, "Immigration: What Americans Think," compiles a variety of data about American attitudes on immigration, including PRRI's newest numbers on the DREAM Act.
"A poll conducted last month by the Public Religion Research Institute found that 68 percent of the public favored giving legal status to illegal immigrants who were brought to the United States as children if they joined the military or went to college; 30 percent opposed."
To read the articles in their entirety, click here and here.