Media coverage of PRRI's report A Shifting Landscape: A Decade of Change in American Attitudes about Same-sex Marriage and LGBT Issues has been comprehensive following the survey's release in Washington this morning. Not surprising considering it's one of the largest surveys ever conducted about LGBT issues. Here's is a round-up of some great coverage filed today: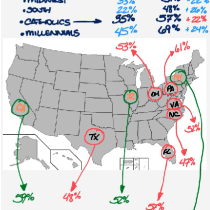 Jonathan Capehart, opinion writer for the Washington Post (and a panelist at the event) posted a same-sex marriage "cheat sheet" over at the Washington Post's Post Partisan blog. To see Capehart's hand-drawn rendering of Americans' support and opposition for same sex marriage from 2003 to 2013 by state, religious affiliation and age, plus the full article, click here.
In the context of the Arizona legislature's passage of a controversial bill to allow businesses to refuse service to any customer if serving them would violate the owners' religious beliefs, Wall Street Journal's Market Watch blog covers key findings of PRRI's report by discussing support for same-sex marriage by religious affiliation, age and the "friends and family effect."
Time Magazine lists 10 takeaways from PRRI's survey. In the number one spot on the list is the finding that a majority of Americans favor the legalization of same-sex marria
Huffington Post focuses on the reasons why Millennials have left organized religion to become unaffiliated, pointing to PRRI's research that "negative teachings" or "negative treatment" related to gay and lesbian people has played a significant role.ge.
More coverage of the survey appeared on the Washington Post's GovBeat. Blogger Niraj Chokshi refers to PRRI's numbers about whether Americans favor a federal or a state approach when it comes to legalizing same-sex marriage, drawing the conclusion that "attitudes on the role of the federal government may be more about pragmatism than philosophy."
In its coverage of PRRI's survey, Reuters includes remarks made by CEO Dr. Robert P. Jones during the event on the dramatic increase in support for legalizing same-sex marriage. "As public opinion goes, we really rarely see this kind of movement on any issue over a decade's time," Jones said. The article also highlights PRRI's findings on Americans' misconceptions about gay and lesbian rights.
Tune in tomorrow for ongoing coverage of the report!