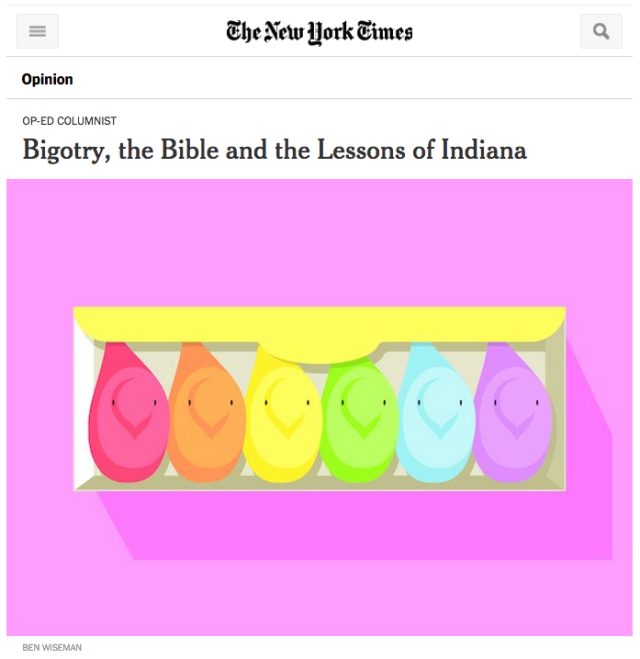 In his latest column, New York Times' Frank Bruni addresses the controversial religious freedom law passed in Indiana last week and the contentious nationwide debate that has unfolded in its aftermath. Bruni uses data from PRRI's American Values Atlas to help explain the evolving relationship between religion and LGBT discrimination.
Bruni argues that, while the public debates have pitted devout Christianity and the LGBT community against each other, they don't have to be incompatible. Just as many religious people have changed their interpretations of other issues such as slavery, contraception, and gender roles, conservative Christians can do the same with regards to LGBT issues. But as it stands:
"Conservative Christian religion is the last bulwark against full acceptance of L.G.B.T. people'… A majority of Americans support marriage equality, including a majority of Catholics and most Jews. But a 2014 survey by the Public Religion Research Institute showed that while 62 percent of white mainline Protestants favor same-sex marriages, only 38 percent of black Protestants, 35 percent of Hispanic Protestants and 28 percent of white evangelical Protestants do."
And, as Bruni has written previously in another piece featuring AVA data, evangelical Protestant voters have a large, disproportionate influence over potential Republican presidential candidates, giving them an amplified voice in political debates.
Click here to read the full article. And be sure to explore the American Values Atlas' vast amount of data on your own.