New from Robert P. Jones:
Taking the story of white supremacy in America back to 1493, and examining contemporary communities in Mississippi, Minnesota, and Oklahoma for models of racial repair, The Hidden Roots of White Supremacy helps chart a new course toward a genuinely pluralistic democracy.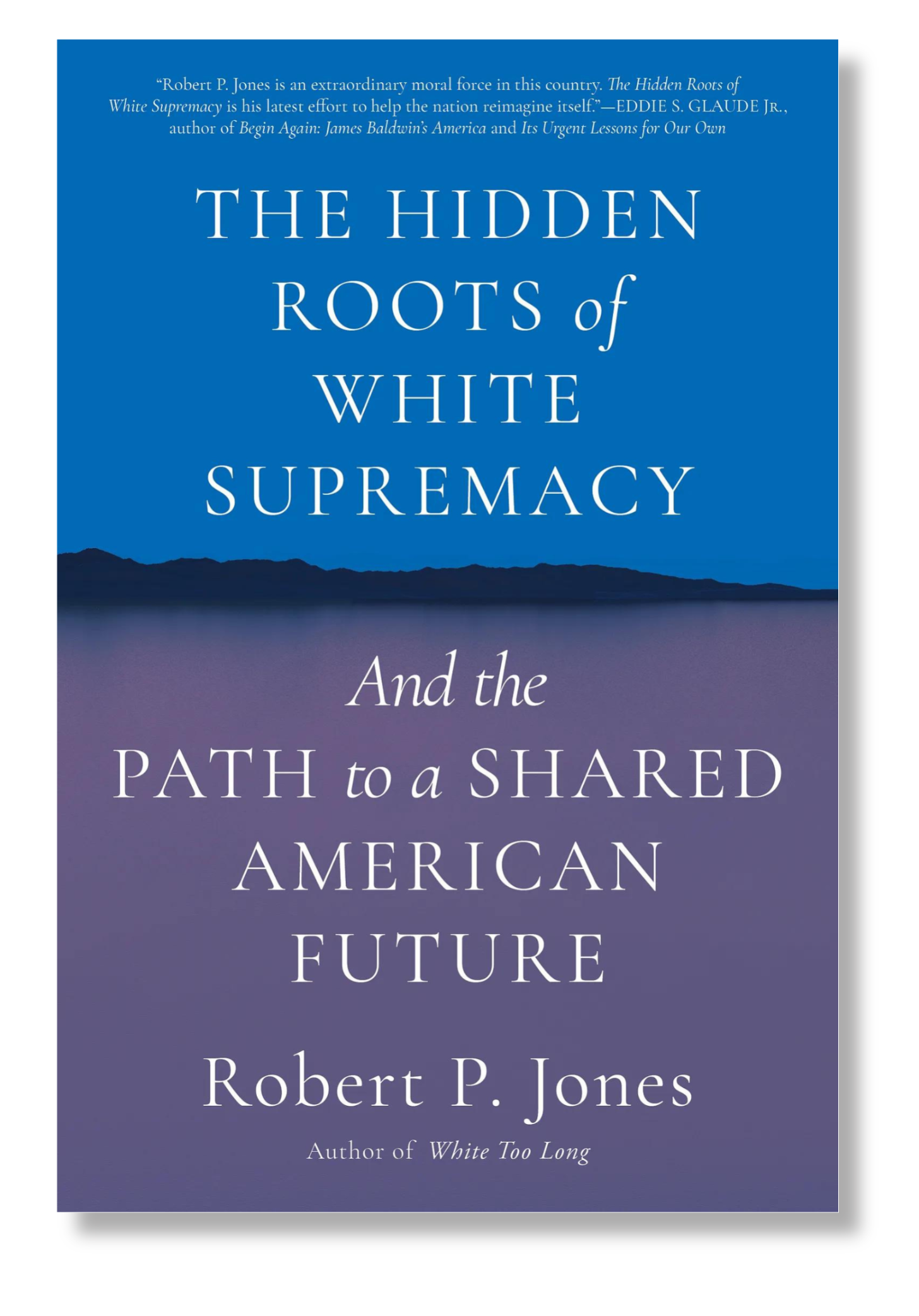 "Through its linking of narratives typically considered separately, the book provides a revelatory view of U.S. history and its guiding assumptions. . . . . A searing, stirring outline of the historical and contemporary significance of white Christian nationalism."
—Kirkus Reviews (Starred Review)
"Arresting and deeply researched, this unique account brings to the fore the deep-rooted sense of 'divine entitlement, of European chosenness' that has shaped so much of American history. It's a rigorous and forceful feat of scholarship."
—Publishers Weekly (Starred Review)
"Blistering, bracing and brave . . . This book couldn't be more timely in the courageous effort to close the gap between what we as a nation say we are and what we truly have been."
—Michael Eric Dyson, author of Tears We Cannot Stop: A Sermon to White America
"In this elegantly crafted book, Robert P. Jones unearths harrowing and long forgotten stories of the racial violence inscribed on our nation's past. Yet it is not a book without hope, for only by confronting our collective history can we begin to heal our nation's wounds."
—Kristin Kobes Du Mez, Professor of History and Gender Studies, Calvin University; author of Jesus and John Wayne: How White Evangelicals Corrupted a Faith and Fractured a Nation
"Robert P. Jones is an extraordinary moral force in this country. The Hidden Roots of White Supremacy is his latest effort to help the nation imagine itself apart from the distorting effects of racism and the violent genocide of Indigenous people at its root. This book is the latest in his own personal journey as a white southerner from Mississippi, and I am thankful that he has shared it with all of us."
—Eddie S. Glaude Jr., James S. McDonnell Distinguished University Professor of African American Studies, Princeton University; author of Begin Again: James Baldwin's America and Its Urgent Lesson for Our Own
"An essential journey into the origins of America's current identity crisis, told through the voices of people working across lines of race to create a truer vision of our shared history, and our future."
—Heather McGhee, author of The Sum of Us: What Racism Costs Everyone and How We Can Prosper Together
"Finally, a book that addresses white supremacy as more than a Black/white binary. Jones artfully moves from the colonial devastation, murder and displacement of American Indian to the degradation, and murder of African Americans in America after emancipation. White supremacy is rooted both legally and socially in the fifteenth-century canon law of Catholic papal bulls. And he demonstrates that this sentiment continues in the subliminal thinking and acting of Americans yet today."
—Tink Tinker (wazhazhe/Osage Nation), Professor Emeritus of American Indian Cultures and Religious Traditions, Iliff School of Theology
"Robert P. Jones has deepened our understanding of how Americans think about religion, justice and oppression. . . . This eloquent volume, by turns personal and analytical, calls us to face up to the past in order to build a more just and democratic future."
—E. J. Dionne Jr., senior fellow, the Brookings Institution; author of Our Divided Political Heart and co-author of 100% Democracy
"With brilliant research, rediscovery, and writing, Robert P. Jones once again demonstrates that it is time for 'white' Americans to uncover the history we have for so long purposefully and shamefully hidden. As Jesus said, and Jones shows, only truth telling can set us free. The work to which Jones calls us—a struggle for the very soul of the nation—will test our commitments to democracy and our faith."
—Jim Wallis, Archbishop Desmond Tutu Chair in Faith and Justice, Georgetown University; author of America's Original Sin: Racism, White Privilege and the Bridge to America
---
Pre-Order The Hidden Roots of White Supremacy at the outlets below:
---
Book Synopsis:
Beginning with contemporary efforts to reckon with the legacy of white supremacy in America, Jones returns to the fateful year when a little-known church doctrine emerged that shaped the way five centuries of European Christians would understand the "discovered" world and the people who populated it. Along the way, he shows us the connections between Emmett Till and the Spanish conquistador Hernando De Soto in the Mississippi Delta, between the lynching of three Black circus workers in Duluth and the mass execution of thirty-eight Dakota men in Mankato, and between the murder of 300 African Americans during the burning of Black Wall Street in Tulsa and the Trail of Tears.
From this vantage point, Jones shows how the enslavement of Africans was not America's original sin but, rather, the continuation of acts of genocide and dispossession flowing from the first European contact with Native Americans. These deeds were justified by people who embraced the 15th century Doctrine of Discovery: the belief that God had designated all territory not inhabited or controlled by Christians as their new promised land.
This reframing of American origins explains how the founders of the United States could build the philosophical framework for a democratic society on a foundation of mass racial violence—and why this paradox survives today in the form of white Christian nationalism. Through stories of people navigating these contradictions in three communities, Jones illuminates the possibility of a new American future in which we finally fulfill the promise of a pluralistic democracy.
---
Also from Robert P. Jones:
---