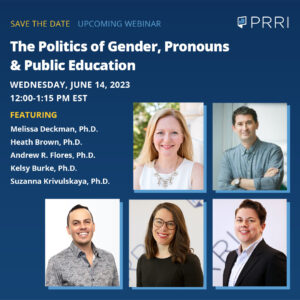 Political debates about gender identity have intensified in recent years, with some state legislatures increasingly looking to restrict transgender rights and others taking steps to protect transgender residents' access to healthcare and legal protections. At the school board level, battles over how sexual orientation and gender identity should be discussed in public schools have erupted, coinciding with larger frustrations around public education emerging in wake of the COVID-19 pandemic and other social tumult.
Join PRRI for a webinar on key findings from a new study of Americans' views on gender identity and what is appropriate to teach in public schools with respect to sexual orientation and gender identity.
Following a presentation of survey results, a panel of experts will discuss the findings and answer questions from the audience.
*This webinar will be recorded and shared with registrants to rewatch at a later time.