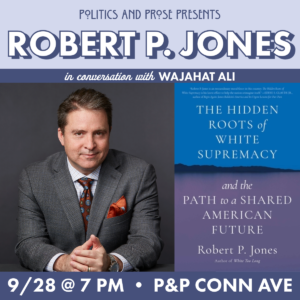 Join Robert P. Jones and Wajahat Ali for a discussion on Jones' new book: The Hidden Roots of White Supremacy and the Path to a Shared American Future Thursday, September 28, 2023 at 7PM.
Robert P. Jones is the president and founder of Public Religion Research Institute (PRRI) and a leading scholar and commentator on religion and politics. Jones writes regularly on politics, culture, and religion for The Atlantic, TIME, and Religion News Service. He is frequently featured in major national media, such as MSNBC, CNN, NPR, The New York Times, The Washington Post, and others. He holds a PhD in religion from Emory University and a MDiv from Southwestern Baptist Theological Seminary. He is the author of White Too Long: The Legacy of White Supremacy in American Christianity, which won a 2021 American Book Award, and The End of White Christian America, which won the 2019 Grawemeyer Award in Religion. He writes a regular Substack newsletter at RobertPJones.substack.com.
Jones will be in conversation with Wajahat Ali, a New York Times contributing op-ed writer, public speaker, recovering attorney, and tired dad of three cute kids. His work has appeared in The Atlantic, Washington Post, Guardian, and New York Review of Books. He lives in the Washington, DC, area.
This event is free with first come, first served seating.
Politics and Prose
5015 Connecticut Ave NW