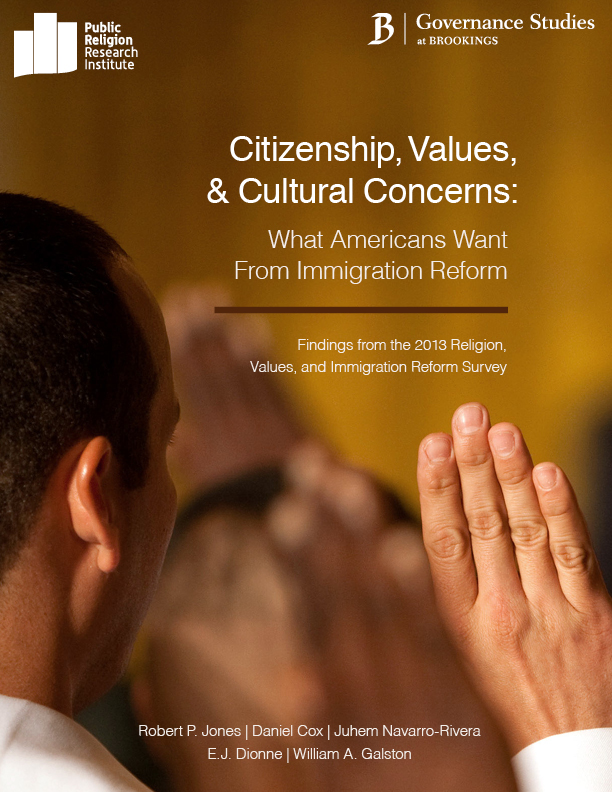 On May 1, 2013, the Center of Migration Studies and the Safe Passage Project at New York Law School will host a dialogue on the results of a national survey on immigration, national identity, values, and cultural issues in the United States. This new survey of nearly 4,500 respondents by the Public Religion Research Institute (PRRI), in partnership with The Brookings Institution, offers an important window on public opinion by religious affiliation, political party, race/ethnicity, gender, age, and level of education. Its major findings include:
63 percent of Americans—including majorities of Democrats and Republicans and members of all major religious groups–agree that immigrants currently living in the country illegally should be allowed to become citizens provided they meet certain requirements.
61 percent of Americans favor allowing immigrants brought to the U.S. illegally as children to gain legal residential status if they join the military or go to college, a policy that comprises the basic elements of the DREAM Act.
Americans rank immigration reform sixth out of seven issues – far behind economic issues – as the highest political priority for the president and Congress.
Roughly one-half of Americans say that continuing America's heritage as a nation of immigrants (52 percent) or following the biblical example of welcoming the stranger (50 percent) should be very or extremely important guides for immigration reform.
There are significant divisions by race in perceptions of whether American culture and way of life has changed since the 1950s: 61 percent of white Americans reporting that American culture has changed for the worse and 56 percent of black and 51 percent of Hispanic-Americans saying that things have changed for the better.
Keynote speaker Robert P. Jones, PRRI's Chief Executive Officer, will discuss the data and explain the potential policy implications as the federal government moves forward in reforming the US immigration system. Thomas B. Edsall, Joseph Pulitzer II and Edith Pulitzer Moore Professor of Journalism at Columbia Journalism School, will offer a short response. Donald Kerwin, CMS's Executive Director, will moderate.
The event will take place on:
Wednesday, May 1, 2013
1pm-3pm
New York Law School
Events Center
185 West Broadway
New York, NY 10013
Registration is required for the event.  To register, please provide your name, title, and organization to Rachel Reyes, CMS Communications Coordinator, at rreyes@cmsny.org.