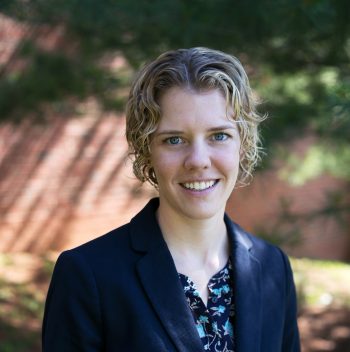 Laura Alexander (she/her) is Assistant Professor of Religious Studies and the Goldstein Family Community Chair in Human Rights at the University of Nebraska at Omaha. 
Alexander is a scholar of comparative religious ethics, specializing in religion and human rights. Her scholarly works, including an edited volume and several articles, have focused on religious hospitality to immigrants and refugees; the laws of war and the principle of Responsibility to Protect; debates about sovereignty and national borders, especially in light of local and regional grassroots and religious movements; and interpretations of religious liberty and aid to migrants in U.S. jurisprudence. Her public-facing work has been featured in The Conversation, the Political Theology Network website, and E-International Relations.
Alexander also holds the role of Community Chair in Human Rights, with a focus on community engagement around human rights education. She teaches courses on religion and human rights, war and peace, public health, and immigration, and has mentored students in research, service learning, and community engagement.
In 2021, she led a cohort of students working to improve COVID-19 vaccine awareness and access in the local community.