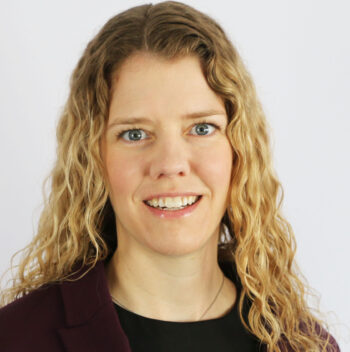 Laura E. Alexander (she/her) is associate professor of religious studies and holds the Goldstein Family Community Chair in Human Rights at the University of Nebraska at Omaha. 
Alexander is a scholar of religious ethics, specializing in religion and human rights. She co-edited the volume The Meaning of My Neighbor's Faith: Interreligious Reflections on Immigration (Fortress Academic, 2018) and has published articles on white Christian nationalism in the debates over Proposition 187 and the 2017 travel ban; Christian realist concepts of idolatry regarding immigration and the nation-state; comparative Christian and Muslim liberation theologies and human rights; and comparative Sikh and Christian ethics of hospitality toward refugees.
Alexander's teaching covers topics in religion and human rights, ranging from immigration to war to public health, as well as world religions and global religious ethics. As Community Chair, she develops community partnerships and promotes education on human rights topics. She organizes Human Rights Week at UNO, a series of Human Rights Forums, an essay contest, and a scholarship for students working in unpaid internships in human rights areas.

This is Alexander's second year as a PRRI Public Fellow. She has engaged in public scholarship for several years, including serving as a guest or invited expert for radio and television segments; publishing op-eds and articles of general interest, including in the Omaha World-Herald, The Conversation, and Political Theology; and highlighting aspects of PRRI's survey research through immigration-focused Spotlight articles on the PRRI website.