Young People Embrace Democratic Socialism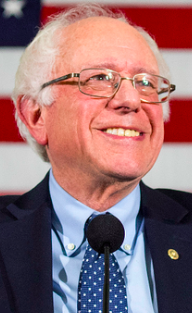 Young People Embrace Democratic Socialism
A recent piece in The New York Times looks at the popularity of democratic socialism among young voters, and why some prefer that to the Democratic Party. Reporter Isabella Grullón Paz highlights the Young Democratic Socialists of America (YDSA) chapter at Ohio State University and how its members approach their politics. "The group's effort to take on an aggressive and expansive agenda reflects the enormous energy on the far left heading into the 2020 election, and part of the appeal of democratic socialism in this cycle: setting an array of big goals to help deepen a movement that goes beyond one-off protest events and marches," she writes. At Ohio State University, the YDSA has seen an uptick in membership during the recent election cycle. In early 2019, PRRI's David Tigabu looked at the rising popularity of socialism thanks to politicians like Sen. Bernie Sanders (I-VT), and how differently people can define it. "Young Americans (age 18 to 29) are the most likely to define socialism as a system of government that provides citizens with health insurance, retirement support, and access to free higher education (58 percent). Conversely, 38 percent of young Americans say socialism is a system where the government controls key parts of the economy, such as utilities, transportation, and communications industries," Tigabu writes.
Dems Talk Bipartisan Relationships At 2020 Debate
During Tuesday night's Democratic primary debate, candidates were asked to describe a friendship that might surprise voters. The question was based on recent criticism of talk show host Ellen DeGeneres and her friendship with former President George W. Bush. Though many viewers expressed their disdain for the question, it provoked anecdotal responses from the candidates. Rep. Tulsi Gabbard (D-HI) spoke of her friendship with former South Carolina Congressman. Trey Gowdy, who is a Republican. "He and I disagree a lot and very strongly on a lot political issues," Gabbard said. "We've developed a friendship that's based on respect." In February, PRRI looked at how Americans interact with people of other political parties. Data shows that Americans are more likely to view their interactions with people who do not share their political affiliation in a negative light. Only 40% of Americans say their interactions with people of a different political persuasion are mostly or somewhat positive, 36% say they are neither positive nor negative, and almost one in five (19%) say these interactions are somewhat or mostly negative. Notably, there are no significant differences between partisans on this question.
Louisiana, the U.S. Supreme Court, and the Future of Abortion Rights
PRRI's latest data shows that among all 50 states, residents in Louisiana are the most likely (23%) to say that abortion should be illegal in all cases. Louisiana has the lowest support for abortion legality with just 34% of residents saying abortions should be legal in all or most cases. CBS News is currently traveling through Louisiana to get a better idea of the state of abortion care in the state. In the first installment of Abortion in America: Louisiana, reporter Kate Smith talks to T.J. Tu, the lead counsel in an abortion rights case that is going from Louisiana to the U.S. Supreme Court. The court will decide whether doctors need to have admitting privileges at local hospitals in order to perform an abortion. If they decide that they do, then there will only be one abortion clinic left in the state that complies with the law. "It puts a tremendous burden on patients," Tu explains. "For many of them, that will mean that there's literally nowhere to go in the state, because of course, one doctor cannot possibly treat all the women in the state. So plenty of women will have no doctor at all."
LGBT Nondiscrimination Protections Could Come to Florida
A recent letter to the editors of the Tampa Bay Times calls on Florida lawmakers to make the state a beacon of LGBT-inclusive policies. John Tonnison of Clearwater, Florida writes in support of the Florida Competitive Workforce Act, a bill would provide LGBT Floridians with nondiscrimination protections. "In fact, a recent Public Religion Research Institute poll shows that 65% of people in the Tampa Bay area favor nondiscrimination laws protecting their LGBT neighbors, with 68%in support statewide," Tonnison writes. According to the author, if Florida does not adopt the Competitive Workforce Act, they will fall behind other states that already have similar laws in place. Local politicians hope to vote on the bill in 2020. "Florida is in competition with other states for quality workers and without the Competitive Workforce Act we are sure to fall behind," state Sen. Darryl Rouson (D) said in September.