Young Conservatives Go Wild Against 'Socialism'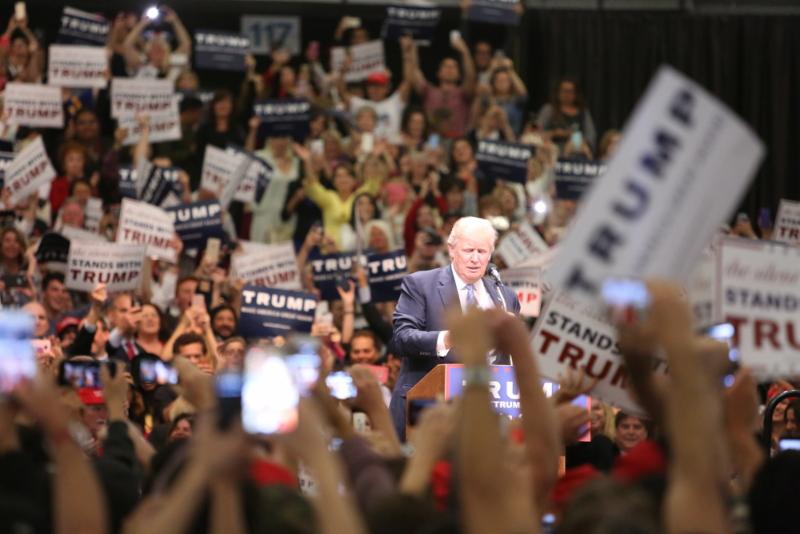 Young Conservatives Go Wild Against 'Socialism'
Forty-seven years after their first event, the Conservative Political Action Conference (CPAC) kicked off outside Washington, D.C. on Thursday. The annual conference is known for drawing an eclectic group of right-leaning media figures, as well as scores of students and journalists. In Politico, Tina Nguyen writes of one of the early themes of the conference: America vs. Socialism. "Team America is led by one man: Donald Trump. The president's emissaries were everywhere at the event, hosting panels focused on teaching the attendees how, exactly, they could help Trump defeat socialism in 2020. The conference was a boot camp for what Trump campaign spokeswoman Kayleigh McEnany called the 'Army of Trump' during a Wednesday panel," she writes. According to the Nguyen, the first day of CPAC was filled with images depicting socialism in the most negative light possible, something that was a common theme from speakers and during information sessions. According to findings from PRRI in 2019, a majority of almost every age group say socialism is a system of government that provides citizens with health insurance, retirement support, and access to free higher education, except for Americans ages 50-64 who are evenly divided (49% vs. 50%) between this description and viewing socialism as a system the government controls key parts of the economy such as utilities, transportation and communication industries, and the banks. Almost six in ten (57%) young Americans (age 18 to 29) describe socialism as a system of government that provides citizens with certain social programs while just over four in ten (38%) young Americans believe that socialism is a system where the government controls major elements of the economy. There is also a major partisan divide on this question with almost two-thirds (65%) of Democrats and a majority (52%) of independents describing socialism as a system that provides citizens with social safety-nets compared to 38% of Republicans. Republicans are more likely than Democrats to say that socialism is governmental control of certain industries (61% vs. 32%). 
High School Student Highlights Problems with Social Media and Misinformation
A 17-year-old high school student in upstate New York says he was "bored" over the holidays when he decided to create a fake politician running for Congress. Andrew Walz is the creation of the unnamed teen. "He" is running for Congress in Rhode Island as a Republican, and touts himself as a proven business leader and advocate for students. The teen in question says he had been learning a lot about misinformation in the media and wanted to see how far he could take his project. The fake congressional hopeful eventually became verified on Twitter, adding legitimacy to his fictional origin. Donie O'Sullivan looks at the ramifications this has in CNN Business. "The fact that a teenager using next to no resources was able to quickly create a fake candidate in his free time and get it verified by Twitter raises questions about the company's preparedness for handling how the 2020 elections will play out on its platform. A Twitter spokesperson recently told one publication, 'Our worst-case scenario is that we verify someone who isn't actually the candidate,'" O'Sullivan writes. Before the account was suspended, it had less than a dozen followers, and had received almost zero promotion from the unnamed teenager. A phony photo, and a fake entry on Ballotpedia were enough to get the blue check after submission. The student tells CNN that he hopes his story leads to increased measures to combat misinformation online. "I had no malicious intent. I just wanted to simply test to see whether this could happen. So in case someone with bad intentions wanted to do this, Twitter now knows and can take steps to fix this," the student says.