Where America's Diverse Religions Stand on Abortion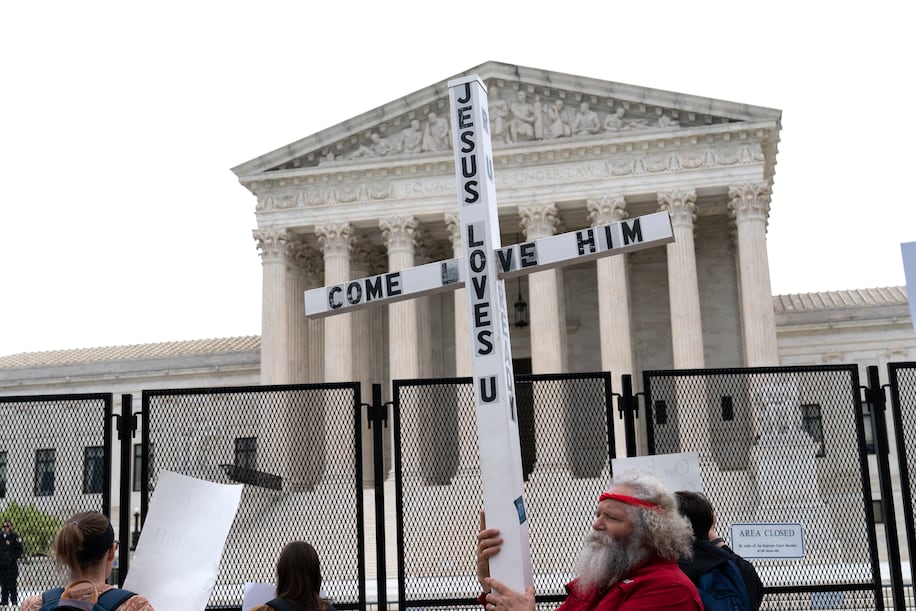 Where America's Diverse Religions Stand on Abortion
Deepa Bharath and Luis Andres Henao of the Associated Press report on responses from groups across the religious spectrum to the leaked draft of a U.S. Supreme Court decision overturning Roe v. Wade. Included in the reporting are groups such as the U.S. Conference of Catholic Bishops, which has long urged followers to pray for Roe to be struck down. Latinx congregations are "heartened by the prospect of Roe's demise," they write, in light of efforts in traditionally conservative Latin American countries to legalize abortion. Bishop Garland R. Hunt Sr., pastor of a predominantly African American church in Georgia, stated, "As a Christian, I believe that God is the one that gives life—not politicians or justices."
Rabbi Danya Ruttenberg of the National Council of Jewish Women provides a different perspective: "This ruling…is basing its concepts of when life begins on someone else's philosophy or theology." Bharath and Henao write that in Judaism "many authorities say abortion is permitted in cases where the woman's life is in danger." Nadiah Mohajir, co-founder of a nonprofit that works with Muslim communities on reproductive rights, stated there is room in Islam for "all aspects of reproductive choice from family planning to abortion." The authors note that both Buddhism and Sikhism cite a need for compassion and personal choice, while some Christian leaders are also emphasizing compassion. The Rev. Kirk Winslow, pastor of a California church who has counseled women about abortion, said that most who are pro-life have not been in his office for those "very real and very difficult" conversations. PRRI research found that a majority of religious groups in the United States believe it should be legal in most cases, with the exception of white evangelical Protestants, 69% of whom said the procedure should be outlawed in most or all cases.
---
Abortion Access: The States on Our Radar 
David Lauter for the Los Angeles Times reports on the possibility of states having full authority to write abortion legislation for the first time in nearly half a century. He describes how abortion has been a "near-perfect issue" for Republicans—at least until now—as it has mobilized antiabortion voters without alienating the rest of the electorate since prohibitions were blocked by courts. Lauter explains that there are roughly 14 states along the West Coast and in the Northeast and mid-Atlantic regions where support for abortion rights runs strong. On the other side of the spectrum, another 14 states, mostly in the South and the interior West, have "so-called trigger laws" that would go into effect as soon as Roe is struck down. It remains to be seen what voters in even the most conservative areas will tolerate from Republican lawmakers should they follow through.
Natalie Jackson, research director at PRRI, stated that even in the most conservative states, "the share of people who think abortion should be illegal all the time maxes out at around 25%." The states where the debate will be the most contentious are the same states that have swung the last several presidential elections and also have elections that likely will determine control of the U.S. Senate: Arizona, Wisconsin, Michigan, Pennsylvania, New Hampshire, and Georgia. According to PRRI research from 2018, support for keeping abortion legal in all or most cases is at 56% in Arizona, 54% in Wisconsin, 56% in Michigan, 56% in Pennsylvania, 64% in New Hampshire, and 49% in Georgia. In most Northeastern states, more than six in ten residents support abortion legality, while the South is the only region in which majorities of most states' residents do not support abortion legality.
---
Jones: Conservative White Christians Work to 'Reassert Their Dominance'
In his latest #WhiteTooLong Substack post, PRRI founder and CEO Robert P. Jones analyzes both public opinion on abortion and the beliefs that are commonly associated with it. "If anything, there has been a slight increase in the proportion of Americans who say abortion should be legal in all cases and a slight decrease in the proportion who say it should be illegal in all cases," he writes. Religious groups supportive of the legality of abortion include both white Catholics (59%) and Latino Catholics (57%), populations that hold these views despite the official opposition of the Roman Catholic Church. The ranks of religious groups supportive of the legality of abortion also include African American Protestants (73% support), who are often mistakenly perceived to be conservative on this issue. Jones also connects the "attacks on teaching kids about systemic racism or LGBTQ identity and families, and renewed challenges to church-state separation" as a "concerted attempt by conservative white Christians to reassert their dominance in a rapidly diversifying America."
Jones goes on to explain that the group leading these efforts, conservative white Christians, has shrunk from 54% of the population in 2008 to 44% today. However, white Christians continue to comprise the vast majority of the Republican Party (73%), and white evangelical Protestants alone—a group that constitutes only 14% of the U.S. population—comprises 31% of self-identified Republicans. Other opinions of white evangelical Protestants that are dramatically out of step with the rest of the nation include that 59% oppose same-sex marriage, 70% disagree that past discrimination impacts outcomes among African Americans today, 68% believe being a Christian is important for being "truly American," and 69% believe American culture and way of life have changed for the worse since the 1950s. Subscribe to Jones' #WhiteTooLong Substack here.