What the Russian Invasion Means to QAnon Believers and Conspiracists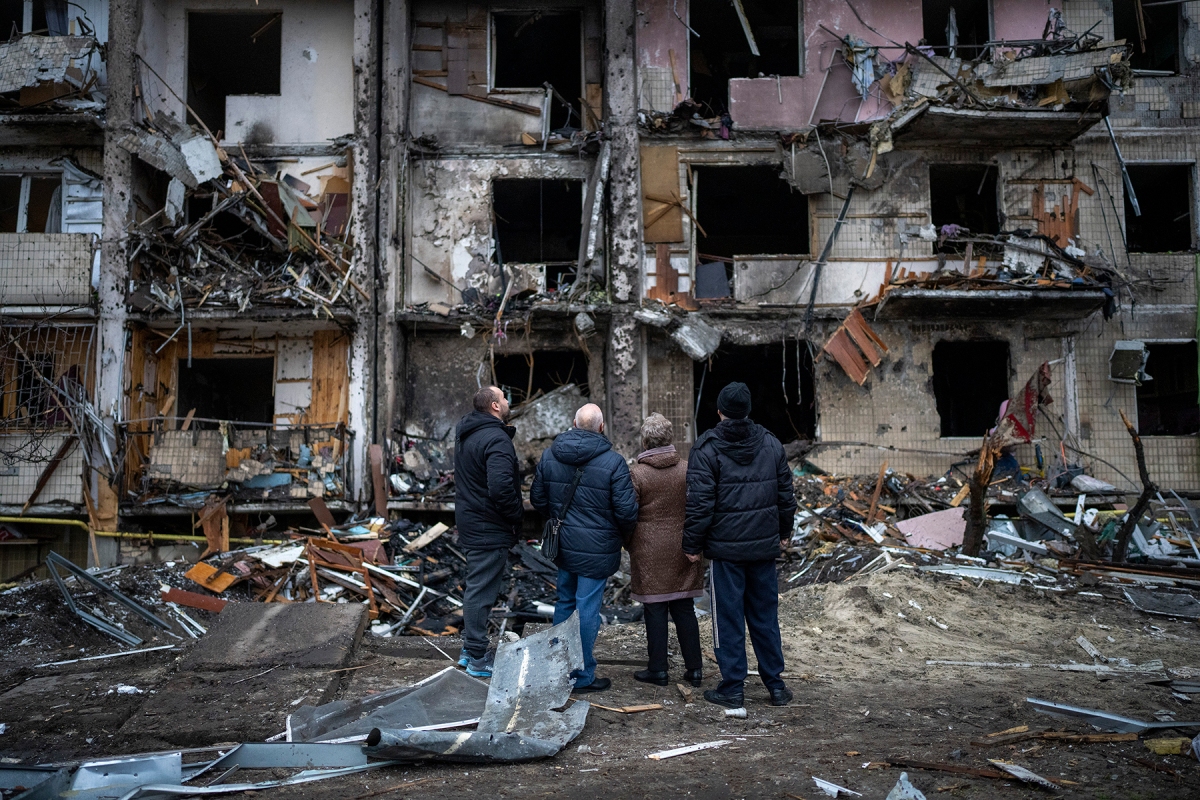 What the Russian Invasion Means to QAnon Believers and Conspiracists 
Peter Wade for Rolling Stone reports on the ongoing Internet argument among conspiracy theorists who continue to invent diverging stories about the invasion of Ukraine. These theories range from Putin attempting to destroy the Deep State—a secret cabal within the federal government working to subvert former President Donald Trump—to a "false flag" operation. Although there have been thousands of deaths over the past week and the invasion has caused Ukrainian leaders to plead with "some of the world's biggest tech companies" according to the New York Times, conspiracy theories continue to emerge and cause real-world problems. Extremism researcher Abbie Richards stated: "It seems like people don't understand why misinformation is so dangerous during a crisis. …It's harmful for people in Ukraine who need an accurate understanding of where there is danger." As an example of the severity of the misinformation, one Instagram user with over 20,000 followers suggested that a video from the New York Times of "newborn infants from the neonatal intensive care unit at a children's hospital in Dnipro, in eastern Ukraine sheltering in a makeshift bomb shelter" was fake. Another influencer with over 50,000 followers who promotes QAnon theories and encourages her viewers to "question everything," stated the Russian invasion was merely a false flag operation to shut down the Internet.
QAnon adherents are actively "celebrating Putin's invasion of Ukraine, which they believe is real and an operation against the Deep State." Wade writes that this "isn't exactly surprising" due to their participation in the insurrection and their support of the coup in Myanmar. Research released by PRRI last week found that QAnon has actually gained followers and support since Trump's defeat in 2020, with nearly a quarter of Americans (22%) believing that a "storm" is coming—a common refrain in QAnon circles that refers to arrests of high-ranking figures and political unrest. Of those surveyed, 18% believe violence may be needed to save the United States and 16% said they believe that Satan-worshiping pedophiles control the government, as well as the media and finance industries.
---
Why Both Parties Are Struggling to Sell the American Dream 
Simon Montake of The Christian Science Monitor writes about "the era of partisan strife" in which both of the nation's main political parties seem "drawn to prophecies of decline." Though framed from different perspectives, Motake writes that "certain touchstones" are shared between Democrats and Republicans—most notably, fear for the direction of the future, especially if the opposing side is running the show. For Republicans, the quickly disappearing control of a Judeo-Christian population and its influence has created a state of national crisis. PRRI research found 8 in 10 Republicans said America was in danger of "losing its culture and identity," compared with 33% of Democrats. Montake also noted that Republicans are five times more likely than Democrats to say racial, religious, and ethnic diversity makes the United States weaker. Among Republicans, 29% are white evangelical Protestants, 22% are white mainline Protestants, and 15% are white Catholics, while among Democrats, those numbers fall to 9%, 16%, and 13%, respectively. "Democrats are leaning into the demographic future of the country, and Republicans are trying to hold onto a 1950s view and composition of America," PRRI founder and CEO Robert P. Jones stated. Even when House Republicans openly participate in a white nationalist's conference, John Della Volpe, director of polling at the Institute of Politics at the Harvard Kennedy School, says young people can give us reason to hope for the future. Volpe notes a "sense of ignition" and the political awakening of Generation Z with attitudes that lean towards inclusion and equality for all.
---
Bill That Would Ban Trans Girls From Youth Sports Goes to Governor of Indiana
Casey Smith for the Associated Press reports that Indiana's HB 1041, a Republican-backed bill that would ban transgender women and girls from participating in school sports that match their gender identity, received final legislative approval Tuesday, putting it on a "fast track" to becoming law with Gov. Eric Holcomb's signature. Though Holcomb hasn't said specifically if he will sign the bill, last week he stated: "I agree adamantly that boys should be playing boys' sports and girls should be playing girls' sports." Trudy Ring for the Advocate wrote: "He wouldn't say, however, if he considers trans girls to be girls, and he said he'd have to see the final language of the bill before deciding if he would sign it. But the language hasn't changed since the January 27 House vote." In an ineffective attempt to prevent the ban from moving forward, five Republicans joined 11 Senate Democrats on Tuesday.
"Representatives from the American Civil Liberties Union have maintained that the group will file a lawsuit if the 'hateful legislation' is signed into law in Indiana," Smith writes. If Holcomb passes the bill, Indiana would become the 11th Republican-dominated state to adopt such a ban on transgender women or girls. In two of those states, Idaho and West Virginia, federal judges have halted the enforcement of law. PRRI research found that 52% of Americans who know a transgender person believe that someone who was assigned male at birth but now identifies as female should be allowed to compete in high school sports with cisgender female students. PRRI also found about half of people who know someone who is transgender (49%) say that discrimination against transgender people has increased in the last 12 months.