What if Obama Had Done It?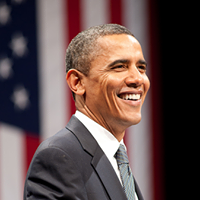 What if Obama Had Done It?
During a recent exchange on Twitter, President Donald Trump and Sen. Lindsey Graham (R-SC) traded barbs over the United States relationship with Iran, showing rare disagreement among the party figureheads. According to Uri Friedman in The Atlantic, this exchange could be emblematic of a greater tear in the Republican seam. "The exchange was a faint sign that a Republican crack-up on foreign policy could be coming over Iran in a way it hasn't yet, incredibly enough, over the president's approach to Afghanistan, Hong Kong, NATO, North Korea, or Russia, and beyond," Friedman writes. "On such issues, Trump hasn't so much remade the Grand Old Party ideologically as he has somehow managed to make Republicans tolerate moves that, had they been carried out by a Democratic president such as Barack Obama, would have afflicted the GOP with a series of collective aneurysms." Friedman lays out a series of recent narratives and imagines a counter-world where President Barack Obama had said and done the same things in public that Trump has. These acts, such as inviting the Taliban to talk on U.S. soil near the anniversary of 9/11, would likely have elicited a different Republican response, had they been committed by the president's predecessor. 
136 Years Later, The Met to Stage An Opera by a Black Composer 
The Metropolitan Opera announced this week that for the first time in their 136-year history, they would stage an opera created by a black composer. Terence Blanchard's "Fire Shut Up in My Bones" could play in the 2021-2022 season. The opera is based on a memoir of the same name by Charles Blow of The New York Times. The show was praised by theater critic Anthony Tommasini when it opened in St. Louis. "His music bears out this description, conducted here stylishly by William Long. Restless vocal lines shift from plaintive lyrical phrases, to sputtered outbursts, to a style that seems a jazz equivalent of Italianate arioso. Often, as characters sing, threads of darting melodic lines run through the orchestra embedded within dense, chromatic harmonies," Tommasini writes. The 136-year omission of black creators at The Met highlights the historical disregard of black composers who have long been crafting musical dramas. PRRI data from 2017 notes that when asked, 66% of young people say that the news and entertainment industry promote negative stereotypes about black people.