Vaccine Rollout for Children Highly Effective So Far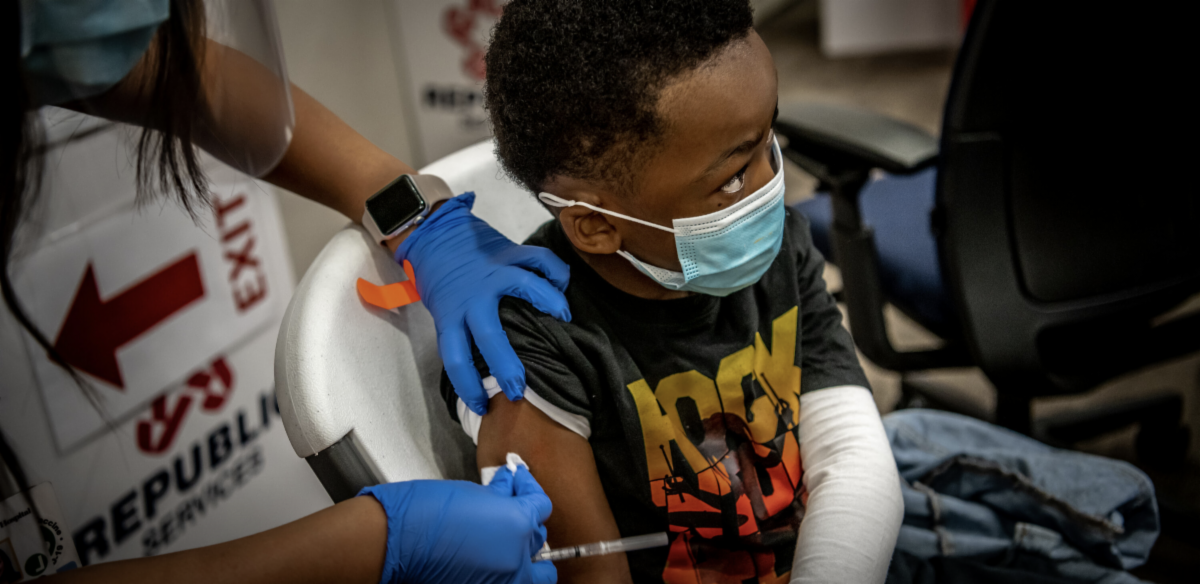 Vaccine Rollout for Children Highly Effective So Far
In the first ten days children ages 5-11 have been eligible to receive COVID-19 vaccines, nearly ten percent of U.S. children in the age group received their first dose of the vaccine, writes Sheryl Gay Stolberg of the New York Times. The pace of the rollout is accelerating, with 1.7 million children vaccinated in the second week, double the rate of the first week. "Just 10 days into our program being in full strength, we're at 10 percent of kids," said Jeff Zients, President Biden's coronavirus response coordinator. "For perspective, it took about 50 days for us to reach 10 percent of adults with one shot. And when the polio vaccine was first rolled out for kids in the 1950s it took about three months to cross two and a half million shots in arms." Additionally, the CDC reports that nearly 80% of Americans aged 12 and older have had at least their first dose of the COVID-19 vaccine. In June, shortly after vaccines became available to people ages 12-15, a PRRI-IFYC survey found that about one third of parents (35%) said they would get their children vaccinated as soon as they can, and another three in ten (27%) said they would wait and see how the vaccine is working for other children.
---
Reasons That False Election Fraud Claims Persist
Tens of millions of Americans still falsely believe that Joe Biden didn't win the 2020 presidential election, a phenomenon that David Byler of The Washington Post attributes to partisanship, conspiratorial thinking, and deliberate efforts by Trump and his allies to spread misinformation. Citing PRRI data, Byler notes that 68% of Republicans believe the election was stolen, compared to 26% of independents and 6% of Democrats. Though the "big lie" has been unusually persistent, a strong historical pattern suggests that supporters of the losing candidate are more likely to decry election processes as rigged or fraudulent. Citing a study in the academic journal Electoral Studies, Byler notes that before most votes were ever cast, nearly half of Americans in both parties said that if their preferred candidate didn't win, the loss would likely be connected to voter fraud. University of Miami political science professor Joseph Uscinski tells Byler some people are naturally more prone than others to see secret plots or plans: "We can think of conspiracy thinking as a lens that people wear with them all the time: everything they see, depending on the thickness of this lens, is going to make sense to them as conspiracies pulled off by people they already don't like." Byler argues that Trump's years-long effort to spread false information about election fraud has transformed claims of a stolen election from a standard response among a segment of the losing party into GOP doctrine.
---
Podcast: Exploring the Legacy of White Supremacy in American Christianity with Robert P. Jones
PRRI founder and CEO Robert P. Jones discusses how white Christian institutions continue to uphold racism and limit progress toward racial equity in the United States on the latest episode of the Tokens podcast with Lee C. Camp. Jones discusses PRRI data that shows that identifying as Christian increases white Americans' probability of holding racially resentful views. To read more from Jones on the legacy of white supremacy in American Christianity, subscribe to his #WhiteTooLong substack here.