Trump vs. Jesus: Christians Can't Follow Both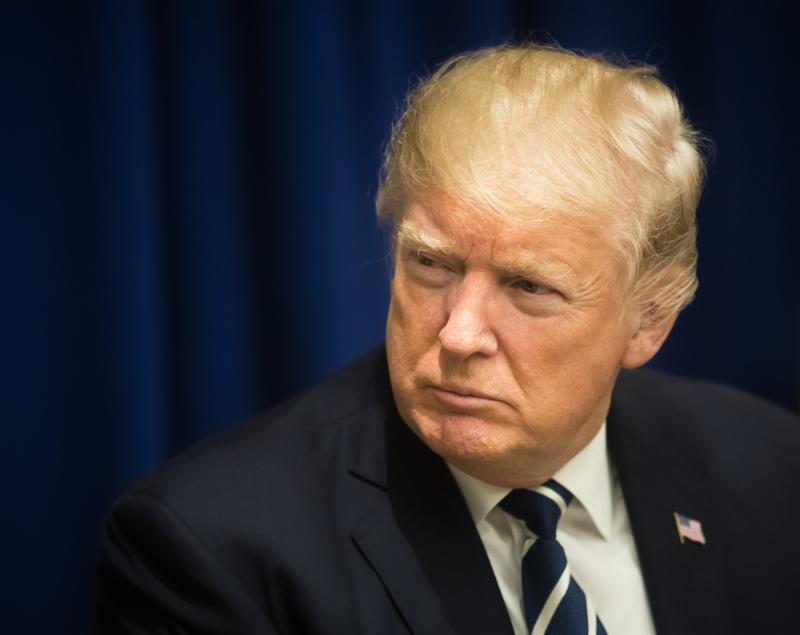 Trump vs. Jesus: Christians Can't Follow Both
A recent piece in the Chicago Sun Times profiles Rev. Jim Wallis, an activist and author who is a harsh critic of President Donald Trump. Wallis is the author of the new book "Christ in Crisis: Why We Need to Reclaim Jesus." In an interview with the Chicago Sun Times, Wallis details his disagreements with Trump, and why he thinks that Trump does not represent Christianity. "Trump appeals to our worst demons," he says. "There really is a worst of America, and he is a marketer for it. He's deliberately dividing our country." Wallis thinks there is a growing shift among some Christians who are beginning to grow wary of Trump's policies, and he wants to bring them back to true biblical teachings. "A lot of white evangelicals are breaking from their parents over climate change, over LGBTQ issues," Wallis says. "There are a growing number of white evangelical suburban Republican women who are shifting, [saying] 'We care about life in the womb, but we also care about life on the southern border, about kids being ripped away from their parents.'"PRRI data shows that family separation is unpopular within white evangelical circles. Only 44% favor this policy while a majority (56%) are opposed. Thirteen percent of white evangelical Protestants express no opinion on the subject of family separation.
Abortion Case Could be Major Test for SCOTUS
With the U.S. Supreme Court set to argue a major abortion case, Linda Greenhouse of The New York Times looks at how they got here. The court will soon debate June Medical Services v. Gee, a case which will decide whether states can block doctors from performing abortions if they do not have admitting privileges at local hospitals. Similar laws have been challenged before. "But Louisiana persisted, and the conservative United States Court of Appeals for the Fifth Circuit went rogue. It upheld the Louisiana law by disregarding the findings of the federal district judge who had struck it down after a six-day trial, by mischaracterizing what the justices did in [Whole Woman's Healthv. Hellerstedt] and by drawing phony distinctions between Texas, where the regulatory onslaught has left the state with 20 abortion clinics, and Louisiana, which now has three clinics and will be left with one if the law goes into effect," Greenhouse writes. Greenhouse goes on to explain the legal ramifications of the case and how its outcome could be an indicator of the ideological direction of the court. Recent PRRI data shows support for abortion legality across the United States. A majority (54%) of Americans believe that abortion should be legal in all (23%) or most (31%) cases, while four in ten (40%) believe that abortion should be illegal in most (25%) or all (15%) cases. Data shows that Louisiana has the highest number of people (23%) who believe abortion should be illegal in all cases. 
Is Trump's Decision on the Kurds the Last Straw for Christians?
In recent days, evangelical leaders such as Pat Robertson and Tony Perkins have criticized President Trump's decision to pull support for Kurdish fighters prior to a military offensive by Turkey. According to Ashty Bahro, former director of the Evangelical Alliance of Kurdistan, a withdrawal of American troops could have religious implications. "It is very possible that the American withdrawal from the region will lead to the extinction of Christianity from the region," Bahro says. Trump is set to speak at the Values Voter Summit on Saturday, an event where he usually receives tremendous applause and fanfare. A lukewarm reception at this event could indicate a changing tide among evangelicals and their opinions of the president. PRRI data indicates that despite some disagreements 25% of white evangelical Protestants say that there is nothing that Trump could do to lose their support.
Join PRRI For The Release of the 10th Annual American Values Survey
On Monday October 21, PRRI CEO and founder Robert P. Jones will lead a discussion at the Brookings Institution for the release of the 10th edition of PRRI's American Values Survey. Joining Jones will be MSNBC host Joy Reid, Washington Post columnist Jennifer Rubin, and Brookings Institution Senior Fellows E.J. Dionne, Jr. and William Galston. The event, co-sponsored by Governance Studies at Brookings, will showcase new PRRI data that highlights what Democratic voters think of the 2020 presidential candidates, the stability of President Trump's base, and public opinion on impeachment. This year's survey, the 10th in the annual American Values Survey series, also highlights long-term trends in partisan and religious affiliation, and how these changes have produced two starkly contrasting visions for the nation. More details on the event can be found here.