Trump Losing Religious Voters Could Threaten Re-election Chances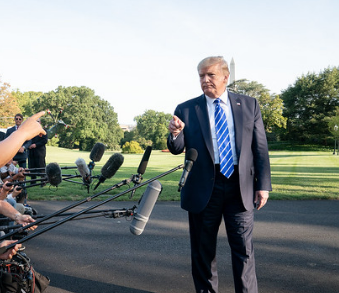 Trump Losing Religious Voters Could Threaten Re-election Chances
PRRI's latest data shows that President Donald Trump's approval rating has fallen among many key religious groups
, including a decline from 48% to 37% favorability among white Catholics. According to Philip Bump of The Washington Post, this could have serious implications for the November presidential election. "The problem with a drop in approval is less losing votes to Biden than losing votes because people stay home. The opposite of wanting to vote for someone isn't necessarily voting for his opponent; it can also be not voting at all. That's the concern Trump's team should worry about. Lose 10 percent of Catholic voters who simply don't feel motivated to vote at all, and you're still shedding 2 percent of your 2016 electorate," Bump 
writes
.
College Football Programs Face Rising Coronavirus Cases
In March, at the beginning of the coronavirus pandemic, 80% of Americans said they would likely avoid 
attending a sporting event if they had the chance to do so. As sports leagues prepare for a return to competition, college football is grappling with the issue from within. According to 
CNN
, university athletics programs are reporting frequent coronavirus infections throughout their athletic departments. In the last several days, student-athletes from Arkansas State, Marshall University, Oklahoma State University, the University of Alabama, and other prominent schools have tested positive.
Coronavirus' Impact on Black and Hispanic Communities
A recent 
PRRI Spotlight Analysis by Ian Huff and David Tigabu looks at how black and Hispanic Americans
 are impacted by the coronavirus pandemic. Prior to the pandemic "more than eight in ten (82%) white part-time workers, compared to 73% of black part-time workers and just 53% of Hispanic part-time workers, say they have health insurance coverage," the authors report. "Many of the first coronavirus testing sites went up in areas that happened to be whiter and more affluent, despite the requests of black leaders. Local governments — sometimes ignoring the pleas of community activists — targeted few of their education campaigns about prevention and social distancing specifically to African Americans, even as conspiracy theories spread that black people were immune to the disease," reports the 
Post
.
Religious Voters Wary of Being Used as a 'Prop'
In a recent conversation with Scott Jennings, former Special Assistant to President George W. Bush, 
CNN's
 Christiane Amanpour 
discussed what PRRI's latest data means for President Trump.
 PRRI data shows Trump dropping in favorability among white Catholics, white evangelical Protestants and white mainline Protestants in recent months. According to Jennings, religious voters are wary of being taken advantage of. "I think appealing to the faith crowd is a right thing. But they won't take it, it won't sit, it won't work if it appears that you are using them as a prop. And so, I think standing in front of a church, holding a bible, that's a step too short."