Trump Lashes Out on Twitter During Obama Speech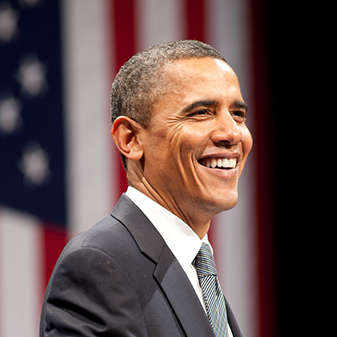 Trump Lashes Out on Twitter During Obama Speech
I
n 2019, nearly three in four (73%) Americans said they wished President Donald Trump's speech and behavior were more consistent with past presidents
. That includes less than half (46%) of Republicans, compared to 74% of independents and 88% of Democrats. On Wednesday night, former President Barack Obama was critical of his successor in his speech at the 2020 Democratic National Convention. During the address, Trump took to Twitter to express his disapproval of Obama's message. "Trump's tweets on Wednesday come as he has attempted to counterprogram the Democratic convention for much of this week, making campaign stops in three potential swing states on Monday and Tuesday while holding a coronavirus briefing earlier Wednesday during which he announced his latest effort to scrap the Iran nuclear deal," 
reports Politico
.
COVID-19 Rocks Hispanic Communities
'White Too Long' Book Talk with Robert P. Jones
Trump to Speak Near Biden's Hometown Before DNC Speech
Religion News Service: Support For Trump is Soft Among Some Christians
A recent piece for 
Religion News Service by Mark Silk 
uses PRRI data to note that support for President Trump among some religious groups might not be very strong. "
A new survey
from PRRI finds that just 38% of white Catholics and 43% of white Mainline Protestants
 view Trump favorably. That suggests that despite both groups supporting Trump over Biden 59-40, their support for his candidacy is soft," Silk writes. The author suggests former Vice President Joe Biden reach out to these religious voters. "White Catholics and mainline Protestants constitute 27% of the U.S. population which indicates If I were Biden, I'd focus my religious outreach on them," Silk notes.