Trump Favorability Among Women Drops Across the Board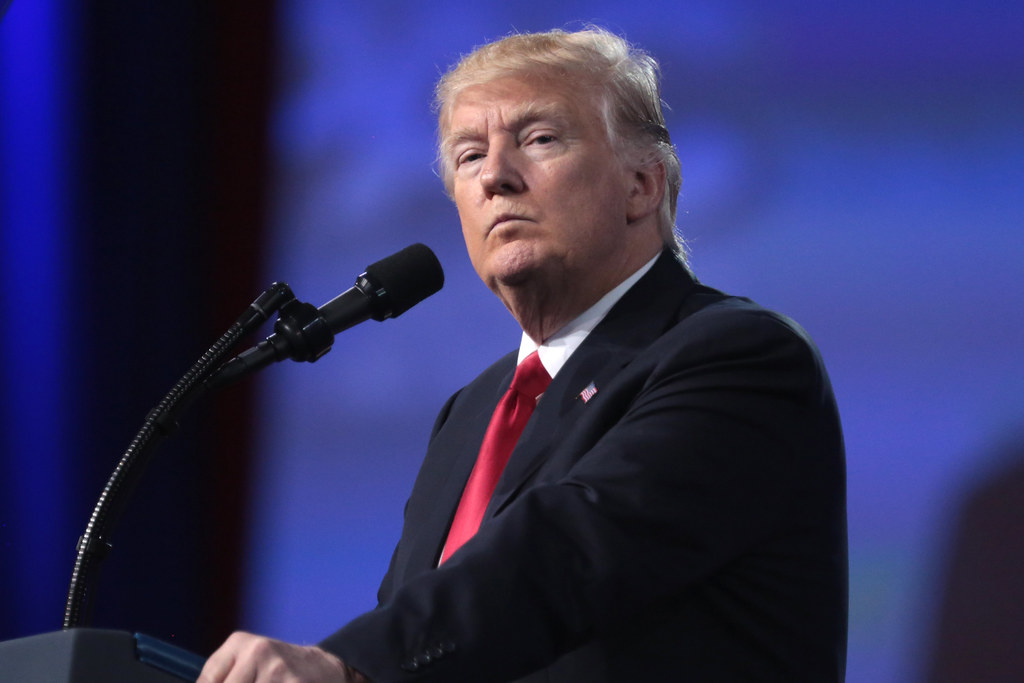 Trump Favorability Among Women Drops Across the Board
PRRI's latest data indicates a consistent drop in women who support President Donald Trump. The study finds that women are 1.5 times less likely to support Trump than men. "It's very consistent across almost every group of women. They are a significant drag on Trump's favorability," PRRI CEO and founder Robert P. Jones tells Ms. magazine. Among the most volatile elements of how women view Trump is what is happening in the news cycle. "There were double-digit dips in favorability in response to events such as the Mueller report and impeachment, indicating vulnerability for Trump," Jones explains. "They're paying attention to the news cycle and being impacted by the news." Jones adds that if he were a Republican strategist, he would find particular concern with the drop in support from white college-educated women.
Trump Ramps Up Efforts to Court Black Voters
Several months after President Trump's re-election campaign launched Black Voices for Trump, the campaign will increase in their focus on black voters in swing states. Fifteen field offices, or "community centers" as the campaign is referring to them, will open up across the United States, including five in Florida and three in North Carolina. According to Stef W. Knight in Axios, the officers will feature pop-up style merchandise such as "Woke" stickers and "Black Voices for Trump" T-shirts, a far cry from the infamous red Make America Great Again Hat. Additionally, "the campaign plans to highlight the administration's efforts on criminal justice reform, funding of Historically Black Colleges and Universities, 'school choice' and reducing African American unemployment," Knight writes. PRRI's most recent survey, illustrates Trump's struggles to court black voters. Just 18% of black Americans hold a favorable view of Trump, including 62% of black Republicans.
Author Examines Why Religious Liberty and LGBT Rights Shouldn't Go Hand in Hand
In a recent piece for The Hill, Guthrie Graves-Fitzsimmons fights back against the notion that LGBT rights and religious liberty must be mutually exclusive elements. On Thursday, the House Committee on Oversight and Reform will convene to look at the Trump administration's history with LGBT rights as it relates to religious liberty — a moment that Graves-Fitzsimmons will bring "much needed accountability," to the administration. "As a gay Christian, my right to religious liberty and my right to marriage equality played an equal role in my marriage being recognized legally by my country and religiously by my church. Conservatives suddenly invented this 'religious liberty' argument as another means of trampling the dignity of other LGBTQ Americans, many of whom are people of faith," he writes. Graves-Fitzsimmons later points to PRRI data which shows the number of religiously affiliated Americans who support LGBT rights. Solid majorities of all major religious groups in the U.S. support laws protecting LGBT people from discrimination in housing, public accommodations, and the workplace. More than three-quarters of Jews (80%), Hindus (79%) and Buddhists (75%) support these protections. Similarly, robust majorities of Mormons (70%), Hispanic Catholics (72%), white mainline Protestants (71%), white Catholics (71%), and Americans who identify with other religions (67%) favor LGBT nondiscrimination protections. Even more white evangelical Protestants (54%) support LGBT rights than those who do not.
Looking at Trump Support State by State
According to Philip Bump in The Washington Post, President Donald Trump will need to hope that more people that dislike him do not vote, rather than hope that he can engage with new voters. Bump uses PRRI's latest data to illustrate this, noting that in 2019, 36 of 50 states viewed Trump more negatively than positively. "He is viewed most favorably in South Dakota, where 59 percent of respondents viewed him positively. He's viewed least positively in the District of Columbia, where he lives," Bump writes. Bump and The Washington Post take PRRI data and map it across the 50 states, visually illustrating where Trump stands with several subgroups. The survey shows that Trump still retains a high level of support among white people with no college degree. "The core of Trump's support in 2016 was working-class white voters, who viewed him overwhelmingly positively. In every state where there were enough white respondents without college degrees to break out their views of Trump, he was viewed more positively than he was among all respondents nationally," Bump writes.