Trump Announces 60-day Suspension on Green Cards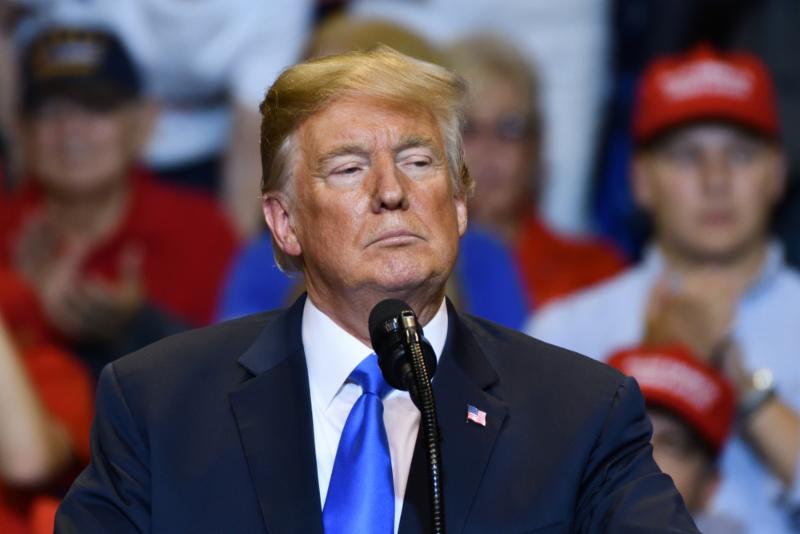 On Monday evening, Donald Trumpannounced that he would be closing the nation's borders to immigrants. A day later, Trump appeared to walk back some of that rhetoric, declaring that his order would only apply to people seeking green cards over a 60-day period. The New York Times points out that even before the announcement, Trump had "expanded travel restrictions, slowed visa processing and moved to swiftly bar asylum seekers and undocumented immigrants from entering the country." Politico also recently reported that the Trump administration continues to proceed with border wall construction in the midst of the pandemic. Critics of these moves accuse the president of using the outbreak to ram through an anti-immigration agenda. "When you're a xenophobe, bans on migration are the only tired, failed, hateful solution you can think of. Suspending immigration won't make the US — which currently leads among COVID cases worldwide — safe. Our policies need to be grounded in public health, not bigotry," Charanya Krishnaswami, advocacy director for the Americas at Amnesty International USA, said in response to Trump's announcement. In a recent survey, PRRI found that support for restrictive immigration policies track along partisan lines. Nearly nine in ten Republicans (89%) moderately support or strongly support restrictive immigration policies. The opposite is true among Democrats: More than three in ten (32%) favor these restrictive immigration policies, while the vast majority (68%) oppose them. Strikingly, the findings also illustrate that those who approve of Trump are 11.5 times more likely than those who do not to support restrictive immigration policies.
2020 Republican National Convention Plans Move Forward
As hundreds of political events and rallies announce cancellations or postponements due to the coronavirus,the 2020 Republican National Convention is proceeding "full steam ahead," according to RNC chairwoman Ronna McDaniel. McDaniel went on to say that she did not anticipate any switch in plans but would adjust if circumstances were to change. The convention, which is set for August 24-27 in Charlotte, would likely see hundreds if not thousands of people converge in the North Carolina city and congregating in the Spectrum Center sports arena. "We're going to take into account the three phases of opening the government and make sure that everybody's safety is in place and we're following the guidelines with the federal government, the state government, the local governments are laying out," McDaniel said. While the city council does not have the power to cancel the event, Gov. Roy Cooper (D) could still implement restrictions on the size of gatherings depending on how the state's COVID-19 cases develop. Interestingly enough, opinions on social distancing have not tracked along partisan lines. According to a March PRRI survey exploring the nation's attitudes on social distancing, 80% of Americans would not attend a concert or sporting event, including about eight in ten Democrats (84%), Republicans (79%), and independents (79%).
Fears of Underrepresentation on Census Distress AAPI Communities
Asian Americans are among the most undercounted populations in the country due to low response rates on census forms. Since federal funding, political apportionment, and government services are distributed on the basis of the Census count, this dynamic has enormous implications. In the census count this year, AAPI community groups such as the Asian Pacific American Complete Count Committee were hoping to address that by targeting neighborhoods with abnormally low census response rates through in-person recruitment. Unfortunately, coronavirus has upended that strategy as activists are forced to rely on digital tools of communication, which are often less reliable. Chuck Park, a civic participation manager at the MinKwon Center for Community Action in Queens, makes the connection between the impact of COVID-19 on these communities and political representation. "I'm not surprised that many of the neighborhoods hardest hit by COVID-19 also had the lowest response rates in the last census," Park said. "These are Hispanic and Asian immigrant [New York City] neighborhoods like Elmhurst, Corona, Jackson Heights. The 2010 undercount starved those communities of resources for 10 years." Last year, a PRRI and AAPI Data survey of California AAPI residents showed that 70% said they are very or extremely likely to respond to the census. Another 18% said they were somewhat likely to respond, and 8% said they were not too likely or not likely at all to respond. At the same time, 89% of AAPI Californians agreed that the census is important because it helps determine funding for public services.
Axios: Why Hasn't Voting Moved Online?
In the wake of coronavirus, the online sphere has taken over almost every aspect of daily life. In an article forAxios, Margaret Harding McGill pens why that online approach hasn't taken hold when it comes to voting. Instead, members of Congress have looked to traditional alternatives to in-person voting. A month ago, Senators Amy Klobuchar (D-MN) and Ron Wyden (D-OR) introduced legislation that would expand early voting and allow for "no-excuse vote-by-mail" nationwide in response to the pandemic. Wyden also recently spoke to concerns he had with an online voting system in a statement. "I'm not aware of any online voting system that has been proven secure and reliable by independent cybersecurity experts. It's not worth risking our democracy on unproven, insecure technology," he said. Nevertheless, there is modest support among some politicians at the state level for an online voting system. West Virginia Secretary of State Mac Warner is one such person, who supports this expansion for military members. "There's a gold standard of voting in person that I will always support. But mobile voting should be developed to the point where it becomes an option at certain times and for certain constituencies," he declared.