Trump Administration Ends Most Asylum Protections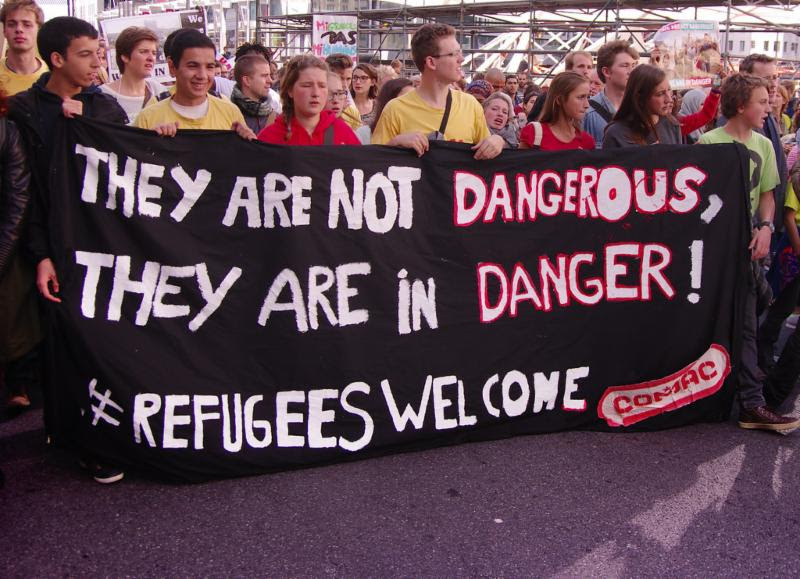 Trump Administration Ends Most Asylum Protections
On Monday, the Trump administration announced that it will move to end asylum protections for most Central American migrants. The new rule now mandates that asylum seekers at the U.S.-Mexico border that pass through another country and don't seek asylum there will not be eligible for protection in the U.S. "Until Congress can act, this interim rule will help reduce a major 'pull' factor driving irregular migration to the United States and enable DHS and DOJ to more quickly and efficiently process cases originating from the southern border, leading to fewer individuals transiting through Mexico on a dangerous journey," acting DHS Secretary Kevin McAleenan said in a statement. Reports are that this decision is a unilateral one and Mexico has not agreed to it. The rule is set to be published in the Federal Register on Tuesday and effective immediately. According to PRRI's 2018 American Values Survey, a majority (60%) oppose passing a law to prevent refugees from entering the U.S. There are stark divisions across partisanship, however. Three-quarters (75%) of Democrats and nearly two-thirds (65%) of independents oppose passing a law that would prevent refugees from entering the country. Only about one-third (36%) of Republicans hold this view. More than six in ten (63%) Republicans favor passing a law that would prevent refugees from entering the U.S.

Do Voters Have More Complicated Views Than Democratic Candidates?
"President Trump's best chance for re-election lies in getting Democrats to approach complicated, tender issues with a tone-deaf, incoherent stridency that approaches his own,"argues Michael Wear in The New York Times. Wear, a Democrat who has worked for former President Barack Obama on religious outreach, worries that policies and rhetoric coming from the Democratic primary could alienate potential voters in the 2020 general election, tipping the election to Trump. Wear also argues that on issues like the Hyde Amendment as well as abortion restrictions, much of the country—including Democratic voters—hold more nuanced views compared to candidates like Elizabeth Warren and Kirsten Gillibrand. In an effort to furnish his point, Wear cites PRRI data. He writes, "A 2018 Public Religion Research Institute survey found that 62 percent of Americans believe abortion is a complicated issue rather than a simple one. An earlier P.R.R.I. survey showed that a majority of both black and Hispanic Americans believe abortion is 'morally wrong.'"
Can the Democratic Party Appeal to the Religious Middle?
Exit polls from 2016 show that only one in six white evangelical voters supported Hillary Clinton, the worst performance of any recent Democratic nominee. This year, Democrats are making a more concerted effort to reach voters whose political preferences are driven by their faith. Two presidential candidates, Sen. Cory Booker (D-NJ) and Mayor Pete Buttigieg, announced that they are actively recruiting faith advisers for their campaigns. The DNC also recently hired Rev. Derrick Harkins as their new "faith engagement" director.  Sen. Chris Coons (D-DE), who also agrees with this approach, says, "there is a misperception in middle America that the folks who are religious and elected are Republican, and the folks who are Democrats and elected are not [religious]." Democrats are hoping to change this perception by reaching out to more religious leaders and organizations around the country and across the political spectrum. According to PRRI's 2016 American Values Survey, religious coalitions of the Democratic and Republican Parties are drifting further apart. In 2006, more than eight in ten (81%) Republicans identified as white and Christian, while half (50%) of Democrats identified as white and Christian. Today, about three-quarters of the Republican Party is white and Christian (73%) but fewer than one-third (29%) of Democrats identify this way.
Majority of Americans Believe Gender is Binary, But Partisan and Gender Divides Remain
In a new spotlight by Molly Igoe, PRRI finds that a majority of Americans believe that gender is binary. According to a 2019 PRRI Survey, over half (55%) of Americans believe there are only two genders, including 43% who say they feel strongly about this. There are notable partisan, gender, and religious divides on this issue, however. Republicans are much more likely than independents and Democrats to say that gender is binary. Nearly three-quarters (73%) of Republicans believe that gender is strictly binary, including 62% who strongly agree, compared to 50% of independents and 45% of Democrats. A majority (52%) of Democrats believe there is a range of possible gender identities, including 30% who say they feel strongly about this. Men are more likely than women to say that only two genders exist (60% vs. 51%), including nearly half (48%) of men who feel strongly, compared to 39% of women. By religious affiliation, white evangelical Protestants are much more likely to say there are only two genders than almost every other religious group. Fifty-nine percent strongly agree that gender is strictly binary, while 40% of white mainline Protestants say this, along with 46% of nonwhite Protestants, 39% of Catholics, and 36% of the religiously unaffiliated.