Transgender Rights Discussions in Primaries Signal Political Shift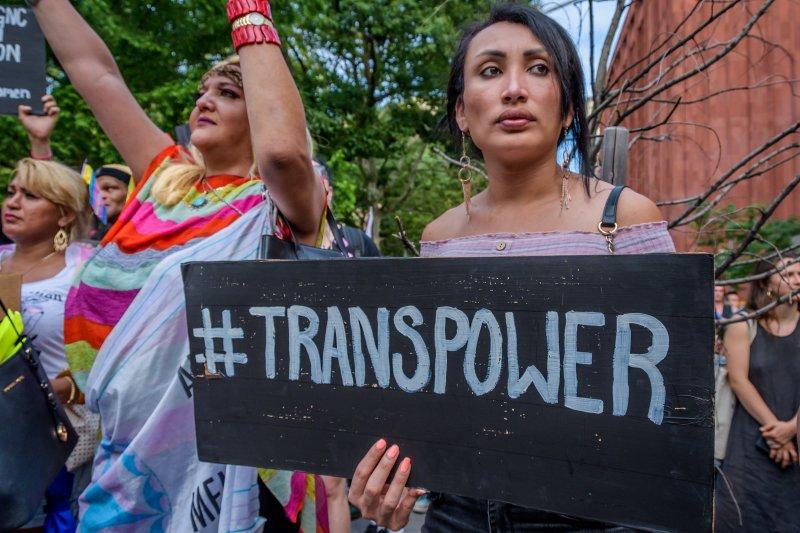 Transgender Rights Discussions in Primaries Signal Political Shift

The prevalence of talk about transgender rights in the Democratic presidential primaries is an indication of a major political shift on the issue, argues Philip Elliott in Time Magazine. That shift, Elliott points out, is representative of a Democratic base that is vocal in its demand for progressive policy. The writer cites the National Center for Transgender Equality Action Fund's forums, which no presidential candidate has declined at this point, which is geared specifically to addressing transgender issues. Elliott points to 2019 PRRI data to give context to broader shifts within the American political landscape. "The non-partisan Public Religion Research Institute's polling released in June shows 62% of all Americans have become more supportive of transgender rights compared to the views they held five years ago, and 76% of Democrats report the same. Eight-in-10 voters oppose Trump's ban on transgender individuals serving in the military, and support of it among Republicans has slipped 10 percentage points since 2017. So, of course, this is a political no-brainer for Democrats chasing the votes of reliable liberals without paying too steep a price among moderates," he writes.
Former Yale Professor Allegedly Sexually Assaulted 5 Students
Eugene Redmond, a former Yale faculty member that taught psychiatry, sexually assaulted five students and engaged in other forms of sexual misconduct, according to an independent report released by the school. Redmond, who had served at the school for 44 years, was accused by undergraduate students as well as interns for incidents that occurred at a research facility, on campus, and in his home. The investigation was initially ordered after an undergraduate student registered a complaint against Redmond in March of last year. The investigation uncovered similar complaints 24 years earlier, the report announced. According to PRRI's 2018 American Values Survey, majorities of Americans say that the Republican Party (63%), churches and places of worship (62%), colleges and universities (55%), and the Democratic Party (51%) are not handling issues of sexual assault and harassment well.
Black Women's Equal Pay Day Illustrates Inequities
August 22 marked Black Women's Equal Pay Day, which marks the point in 2019 at which the average black woman's wages at last equal what their white, male counterparts earned in the 2018 calendar year. "Black women who work full time, year-round in the United States are typically only paid 61 cents for every $1 that is paid out to their male counterparts," Shannon Williams, program director for the Equal Pay Today Campaign, explains. The broader Equal Pay Today! Campaign was launched on the 50th anniversary of the Equal Pay Act of 1963 and calls for an end to the gender wage gap that endures throughout American society. "With Black women leading their households and being paid unfairly and not making the wages of their male counterparts, it really does have to disadvantage, rippling effects on their communities and you can see that impact," Williams goes on to say. A 2018 PRRI poll found that black Americans are much more likely than white or Hispanic Americans to say the gender pay gap is a critical issue. More than four in ten (42%) black Americans see the pay gap between men and women as a critical issue, compared to fewer than three in ten white (29%) and Hispanic (26%) Americans.
Court Rules Electoral College Members Not Bound by Popular Vote
An appeals court in Denver recently said Electoral College members can vote for the presidential candidate of their choice, even if that means they break with the popular vote in their states. The 10th Circuit Court of Appeals ruled that the Colorado secretary of state violated the constitution when he removed an elector because they refused to vote for Hillary Clinton, who won the popular vote in 2016. The ruling only applies to the five other states that make up the 10th Circuit: Kansas, New Mexico, Oklahoma, Utah, and Wyoming. The ruling, which is the only of its kind from a federal appeals court, could have implications moving forward, particularly in close elections. According to a PRRI/The Atlantic poll, nearly two-thirds (65%) of Americans believe that presidential elections should be decided based on the national popular vote, while about one-third (32%) believe they should be decided through the Electoral College.