The Washington Post: Trump Wants Economy to Re-Open In One Month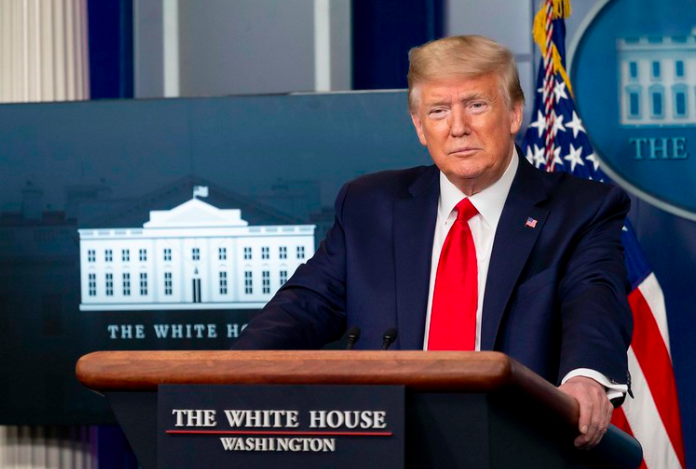 The Washington Post: Trump Wants Economy to Re-Open In One Month

According to a Thursday night report in The Washington Post, President Donald Trump wants the economy to be open for business come May 1st. Trump's wish would assume a radical progression in the fight against coronavirus, which has seen infections slightly decrease in recent days in several American cities. "In phone calls with outside advisers, Trump has even floated trying to reopen much of the country before the end of this month, when the current federal recommendations to avoid social gatherings and work from home expire," sources tell the Post. Despite Trump's apparent desire, it will be up to officials at the state level to decide when to lift guidelines on social distancing, dine-in food service, and remote work for non-essential employees. Much of the credit toward a decrease in coronavirus hospitalizations has been given to adherence to stay-at-home orders across the country to social distancing. PRRI data from March 27th shows that more than three in four Americans say they are likely to avoid activities that involve crowds or groups of people as a result of the coronavirus, including taking a cruise (81%), attending a concert or sporting event (80%), or avoid riding in a taxi, Uber, or Lyft (65%).

Millions of Americans Have Not Paid April Rent

Recent data released by the National Multifamily Housing Council shows that only 69% of Americans paid their rent between April 1 and April 5, down from 82% one year ago. The data provides a small snapshot of rental properties in the United States, and does not include subsidized housing. For many Americans, making rent payments has become a struggle in the wake of the coronavirus pandemic. Despite a ban on evictions in many parts of the country, some property managers are still finding ways to collect. A recent piece in the Los Angeles Times details how some landlords are bending rules to demand tenants sign rent repayment agreements, or have demanded money from their federal stimulus checks. "Pressure from landlords to sign repayment plans before the full effects of the coronavirus are known may lead renters already unsettled by job losses and government stay-at-home orders to sign away their rights and ultimately facilitate their own evictions, tenant advocates say," Liam Dillon reports. Prior to the coronavirus, 37% of California workers who are struggling with poverty said they or someone in their household had difficulty paying their rent or mortgage. 
Tyler Perry Surprises Senior Customers, Pays for Their Groceries

Senior shoppers at 44 Kroger grocery stores in Georgia got a surprise this week when actor and philanthropist Tyler Perry paid their grocery bill. From 7am to 8am, senior and high-risk shoppers are welcomed into the stores so they can shop at their leisure and get the first crack at essential items that may sell out throughout the day. Customers were surprised to find out that their tabs were covered when they went to the register. "I was almost done shopping, so that wasn't a big deal," Phil Kloer, 64, tells theAtlanta Journal-Constitution of his experience. "I was dumbstruck." According to Kloer, an employee quietly told him that he should be at the cashier before 8am. He adds that he used the money saved on groceries to make a donation to the Atlanta Community Food bank. According to the Atlanta Journal-Constitution, Perry also covered tabs at 29 Winn-Dixie stores, in his native Louisiana. 

Asian Stereotypes Increase Backlash During the Coronavirus 

According to Yuhua Wang inThe Washington Post, a recent FBI warning that hate crimes would increase against Asian Americans was a moot prediction. The Asian American community, Wang explains, has already begun to see the impacts of the coronavirus outbreak, due in part because of preconceived stereotypes about Asian Americans. Studies from Princeton University show that people perceive "middle-class white Americans as warm and competent; Asians and Jews as cold but competent, and homeless people as cold and incompetent." Wang believes that this notion of Asians being cold has exacerbated racism against Asian Americans during the virus even further. "They are perceived as competent enough to disrupt society's existing order; the perception that they lack warmth — which can be heightened by wearing a mask, something many East Asian and Asian American people feel is culturally appropriate — can prompt those who are already biased to perceive them as hostile and respond with anger and harm," she writes. In a recent Spotlight Analysis, Jordun Lawrence, PRRI's senior external affairs associate, examines the state of discrimination against Asian Americans in the United States. "These racist and xenophobic incidents demonstrate a larger issue across the country. PRRI's 2018 American Values Survey found that 44% of Americans felt that Asians faced a lot of discrimination in the United States," Lawrence writes.