The Numbers Behind the 'Great Replacement' Conspiracy Theory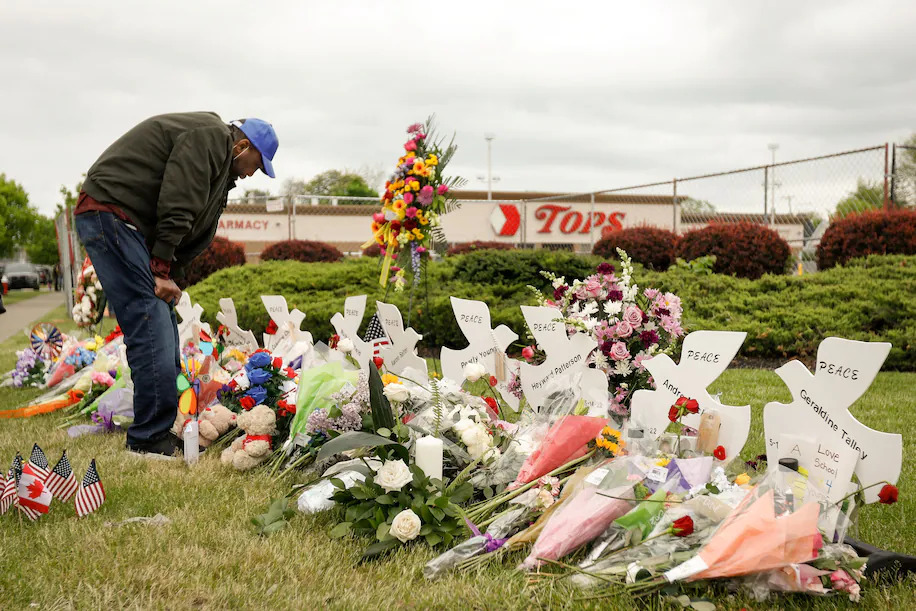 The Numbers Behind the 'Great Replacement' Conspiracy Theory
PRRI Public Fellows Tarah Williams, Nazita Lajevardi, Evan Stewart, and Roy Whitaker recently wrote for The Washington Post's Monkey Cage blog on the "non-trivial segment of the Western population" who have embraced aspects of the "great replacement" conspiracy theory. The authors found that "more than a trivial number of Americans feel threatened by the idea of a diversifying America." Some researchers have also surmised that learning about the growth of the non-white population in the United States has generated "conservative policy positions and party identification." Analyzing multiple survey questions, Williams, Lajevardi, Stewart, and Whitaker found that white people were more likely to fear a diversifying nation. For the statement, "Efforts to increase diversity always come at the expense of whites," 31.2% of all respondents agreed, versus 38.9% of white respondents. As another example, over one-third of respondents either somewhat or strongly agree that "the idea of an America that is not a Christian nation bothers me," with a significantly higher portion of whites agreeing at 40%.
The authors then evaluated PRRI's 2021 American Values Survey for correlation of these beliefs with a tendency to reject pluralism and support political violence. The AVS asked whether respondents believe that demographic change would be "mostly negative," "mostly positive" or that it "doesn't matter either way," with 60% saying the change does not matter. However, of the 19% of respondents who believe demographic change is mostly negative, about one-third agreed that "true American patriots may have to resort to violence in order to save our country." The authors conclude that roughly 6% of American adults "lament diversity and endorse violence," and nearly a third of white American adults are apprehensive about demographic replacement.
---
The Role of Sexual Orientation in Individual Identity
Mitchell Atencio for Sojourners reviews a new PRRI report examining how sexual orientation and gender identity correlate with politics, race, wealth, and religion. The study found that Black and Hispanic Americans are more likely than white Americans to say their sexual orientation is a very important aspect of their identity, regardless of their orientation. Across all orientations, respondents who said their sexual orientation is a "very important identity" were less likely to be white. However, when examining the beliefs of heterosexual Americans, those who said their sexual orientation was a "very important identity" included 20% who were Black, 17% who were Hispanic, and 56% who were white. The fact that so many heterosexuals say their identity as straight people is very important could be the result of a sharp increase in anti-trans and anti-LGBTQ legislation around the country. The most recent example is in Ohio, where a new bill would require a doctor's note to confirm "the participant's internal and external reproductive anatomy" in the event that an athlete's sex is disputed, according to The Washington Post.
The report also found LGBTQ Americans who say their sexual orientation is a very important part of their identity are substantially more likely to be religiously unaffiliated. In examining the friendship networks of adherents of multiple religions, PRRI found that over 65% of Black Protestants, Hispanic Catholics, white Catholics, white mainline Protestants, and white evangelical Protestants say their friendship networks are exclusively heterosexual. Eighty percent of white evangelicals said they did not have any LGBTQ people in their friendship networks, while 56% of religiously unaffiliated people said the same. Finally, the research found that less than 40% of heterosexual Americans "would prefer the U.S. to be made up of people belonging to a wide variety of religions," whereas 60% of LGBTQ Americans support such religious diversity.
---
UUA President: Transphobic and Anti-Abortion Policies Are a Direct Threat to My Religious Freedom
The Rev. Dr. Susan Frederick-Gray, president of the Unitarian Universalist Association, writes for Religion Dispatches about the mounting political and cultural wars over the rights of LGBTQ people, as well as the right to abortion. She cites PRRI research finding that nearly all Unitarian Universalists (97%) support nondiscrimination protections for LGBTQ Americans, as well as widespread support for reproductive choice for women. Frederick-Gray argues that anti-LGBTQ and anti-choice legislation across the country is actually damaging religious freedom protections because they "translate the conservative religious beliefs of one group into law." In Texas, she cites a directive from Gov. Greg Abbott in February requiring doctors, nurses, and teachers to report transgender youth receiving gender-affirming care, which Abbott says is child abuse, to the Department of Family and Protective Services. This puts Unitarian Universalist church members and clergy in an "untenable position" as one of the denomination's central beliefs is to "value diversity of sexuality and gender and see it as a spiritual gift. And we work hard to create inclusive religious communities."
Frederick-Gray also notes that Oklahoma Gov. Kevin Stitt "championed the cause of 'religious liberty' when it comes to exempting church congregations from pandemic-era public health and safety measures." Stitt also recently signed one of the nation's most restrictive abortion laws, which prohibits an abortion if a fetal heartbeat can be detected. She writes that religious freedom is being misused by American conservative Christians "as an excuse for already powerful and privileged religious movements to exclude, oppress, and circumvent the civil and human rights of people with marginalized identities." PRRI found that 73% of Black Protestants, 70% of white mainline Protestants, 59% of white Catholics, 57% of Hispanic Catholics, and 52% of Hispanic Protestants say abortion should be legal in most or all cases.