The History of 'Judeo-Christian' Embedded in White Christian Nationalism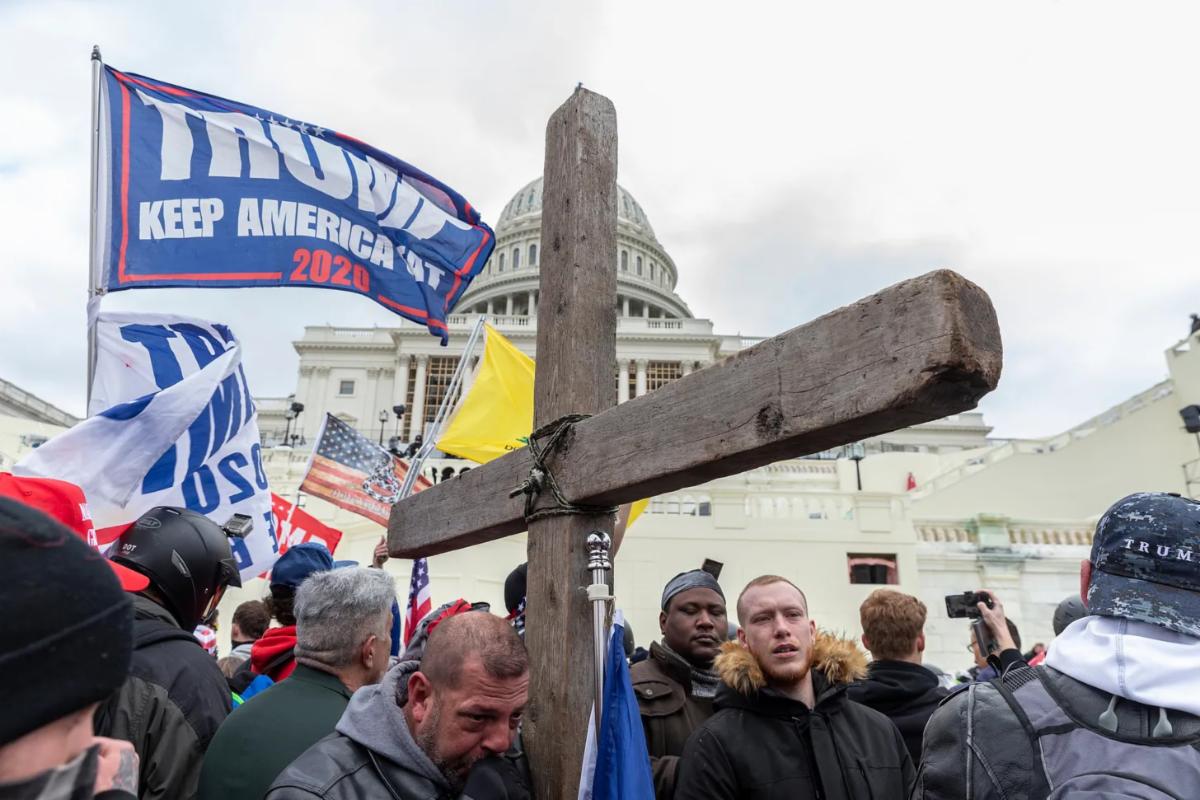 The History of 'Judeo-Christian' Embedded in White Christian Nationalism
PRRI President and Founder Robert P. Jones, Ph.D., and Eboo Patel, Ph.D., founder and president of Interfaith America, recently authored a joint column on white Christian nationalism and the Jan. 6 insurrection at the U.S. Capitol. The scene last year, Jones and Patel write, could be "mistaken for a Ku Klux Klan event from a previous era" if viewed in black and white. The pair reference the summer of 1919, nicknamed the "Red Summer," when white terrorism and violence toward African Americans broke out in more than 36 cities across the nation at a time when the KKK was at its height. "This earlier form of white Christian nationalism was defeated, in part, by a movement of Catholic, Jewish, and Protestant leaders who believed in a more open, inclusive America," they write, noting the origin of the phrase "Judeo-Christian."
In light of events today, if we are to defeat white Christian nationalism, they argue that the notion of "Judeo-Christian" must be expanded to include Americans of all faiths. "Today, there are as many Muslims in the United States as Lutherans, and twice as many Buddhists as Episcopalians. Moreover, the median age of Muslims, Hindus and Buddhists is some twenty years younger than the median age of white Christians." Read the full column on Jones' #WhiteTooLong Substack here.
---
Gen Z Women Lead the Pack on a Host of Abortion Issues
PRRI CEO Melissa Deckman, Ph.D., recently wrote an op-ed for The Hill examining the strong support for abortion rights among Gen Z, and especially Gen Z women. During recent protests, although signs carried by younger abortion opponents read, "I am the pro-life generation," the data show that Gen Z is actually the pro-choice generation, Deckman states. As recently as a decade ago, age did not have a significant impact on people's opinion on abortion, but a PRRI survey fielded immediately after the overturn of Roe v. Wade found that 72% of Americans aged 18-29 (which combines Generation Z with the youngest millennials) believe abortion should be legal in all or most cases, versus 64% for all Americans ages 30 and over.
The survey also found that Gen Z women stand out in a host of topics, including that they are more likely than any other group to believe that abortion should be legal in all cases with 46% support, while only one-third of Americans overall support abortion legality in all cases. Furthermore, almost two-thirds of Gen Z women strongly oppose restrictions on forms of birth control, compared to 50% of Gen Z men. Deckman closes by noting that Gen Z women also stand out in terms of whether abortion will shape their vote decision, which could have a serious impact in the fall midterms.
---
Who are LGBT Muslims? Challenging Myths and Misnomers
In a new spotlight analysis, PRRI Public Fellows Evan Stewart, Ph.D., Nazita Lajevardi, Ph.D., Roy Whitaker, Ph.D., and Tarah Williams, Ph.D., analyze the views of Muslims for acceptance and intersectionality about LGBTQ issues. In former President Donald Trump's nomination acceptance speech six weeks after the 2016 Pulse nightclub mass shooting, he stated: "I will do everything in my power to protect our LGBT citizens from the violence and oppression of a hateful foreign ideology." The scholars emphasize that this comment is demonstrative of "how some politicians, notably on the religious right, have capitalized on the 'homophobic Muslim boogeyman' to intimidate voters." The fellows also note that "while some work has evaluated diversity among U.S. Muslims, paying special attention to the role of religiosity, gender and the hijab, and race, we know less about gender identity and sexuality because it is difficult to draw survey samples that represent both Muslim identity and LGBT identity together." As a result, the four authors specifically examined this gap in understanding.
They note that about one in four LGBT Muslims (24%) have come out to everyone in their lives, and that both LGBT Muslims and non-LGBT Muslims care about religion at similar rates and also are equally attached to both their LGBT and Muslim identities. In 2021, PRRI's American Values Atlas found that 75% of Muslims supported "laws that would protect gay, lesbian, bisexual, and transgender people against discrimination in jobs, public accommodations, and housing."