Some Asian Americans Decry Andrew Yang's Use of Stereotypes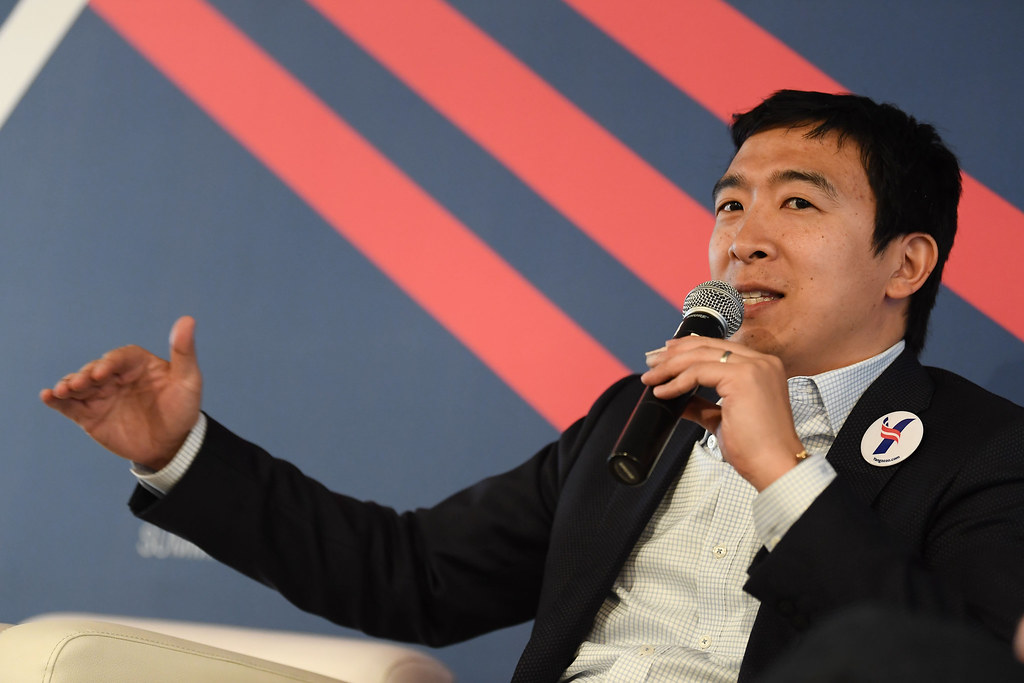 Some Asian Americans Decry Andrew Yang's Use of Stereotypes
Andrew Yang is likely the most visible Asian American candidate running for office in U.S. history, yet some argue that his embrace of Asian stereotypes is detrimental, according to an article in The Washington Post by Amy B. Wang. The Democratic presidential candidate has referred to himself as "an Asian that's good at math," as well as someone that knows "a lot of doctors," leaning into stereotypes about Asian Americans. Critics say that Yang's comments uphold the model minority myth, which stipulates that Asian Americans are a minority group that other minority groups, particularly African Americans, should aspire to be like. PRRI Public Fellow Janelle Wong, who is cited in the piece, says "While it's certainly dangerous to deploy stereotypes, Andrew Yang is also breaking stereotypes by seeking the presidential nomination. It puts even more pressure on him to discuss the ways in which race has mattered for who he is today, including beyond being good at math." According to a 2018 PRRI survey, roughly four in ten white (38%), black (38%), and Hispanic young people (40%) say that Asian people are negatively stereotyped in the media, while an overwhelming majority (71%) of Asian American/Pacific Islander young people agree.
New Report Examines Abuse of Migrant Children
A report on both the psychological and emotional trauma of migrants victimized by family separations was recently released by the Office of Inspector General at the Department of Health and Human Services. Clinicians at 45 shelters were interviewed for this report. In describing conditions on the ground, one official said, "Every single separated kid has been terrified." The Washington Post editorial board notes that "in one instance, a boy thought his father, detained at the border by the authorities, was dead. In other cases, kids were seized with psychosomatic effects of the trauma they had undergone." Some medical groups have gone on record to say that these children are likely to suffer long-term effects from family separations. PRRI's 2018 American Values Survey indicates that only about one-quarter (26%) of Americans favor an immigration border policy that separates children from their parents and charges parents as criminals when they enter the U.S. without permission, while more than seven in ten (72%) are opposed.
Muslim New Jersey Mayor Profiled at JFK Airport
Mohamed Khairullah, Mayor of Prospect Park, NJ since 2005, posted on Facebook in August that U.S. Customs and Border Protection (CBP) agents took his phone after being detained at a NYC airport. The mayor says that CBP agents held his entire family up for three hours, asking questions like "do you know about any terrorist groups forming over there, or did you meet any terrorists?" When he refused to answer questions on account of finding them offensive, the agents seized his phone. On Sunday, he posted a video on YouTube acknowledging receipt of his phone due to the work of Ahmed Mohamed, litigation director for New York's Council on American-Islamic Relations. A PRRI survey of Americans 15-24 years old found 84% say Muslims face a lot of discrimination in the U.S. today, including more than eight in ten black (88%), Asian and Pacific Islander (88%), Hispanic (88%), and white young people (81%).
Austin Moves to Provide Funding for Abortion
"Austin is about to become the first city in the U.S. to fund groups that help women who seek abortions pay for related logistical costs, such as a babysitter, a hotel room or transportation," writes Ashley Lopez for NPR. The law was inspired by a state law that went into effect on September 1st that bans local governments from providing funds to groups that provide abortions, even when those funds aren't allocated for the procedure. In essence, the law is a work-around the Texas law because it sets aside money to pass to nonprofits that do not provide abortion services. "The city has to find creative ways to help vulnerable communities in our city, and I see this as just another way," Delia Garza, Austin's mayor pro tem, tells Lopez. PRRI's 2019 American Values Atlas shows that 59% of Austin residents believe that government health insurance programs, like Medicaid, should cover abortion services, while 36% oppose.