SCOTUS LGBT Nondiscrimination Ruling Could Have 2020 Consequences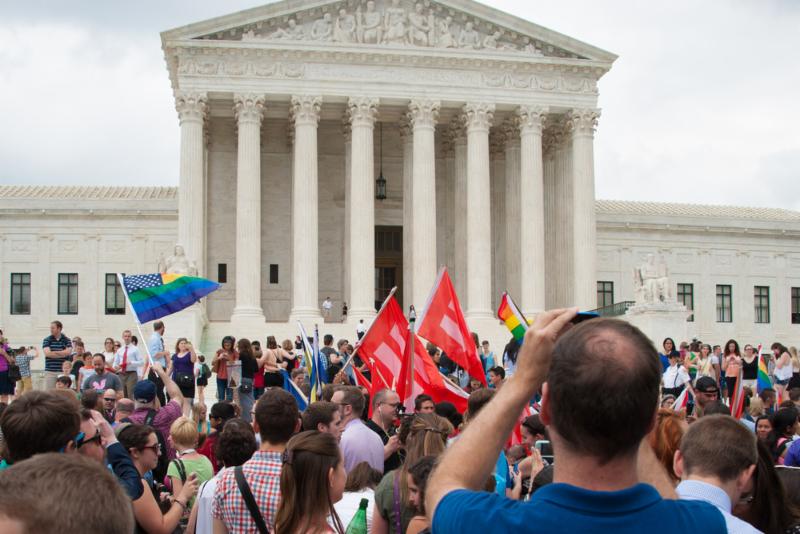 SCOTUS LGBT Nondiscrimination Ruling Could Have 2020 Consequences
The nine justices of the U.S. Supreme Court will face several cases during the current term that could have broader ramifications on the 2020 presidential election. Among the current slate of cases include ones that could decide the future of LGBT nondiscrimination protections. In a recent piece for Roll Call, Todd Ruger cites PRRI data that shows that 70% of Americans favor laws that would provide nondiscrimination protections for LGBT citizens. Ruger writes, "The case will be the first time the Supreme Court will decide an LGBT rights case since the retirement of Justice Anthony M. Kennedy, who wrote a series of opinions such as the legalization of same-sex marriage in 2015 that helped usher in a new era of civil rights." In a recent analysis, PRRI's Molly Igoe notes that some Americans believe these protections are already in place. "Although there are no federal nondiscrimination protections for LGBT individuals, PRRI's report 'America's Growing Support for Transgender Rights' demonstrates that a large majority of Americans believe that there are protections in place. Clear majorities believe it is illegal at the federal level for a doctor or health care professional to refuse treatment (79%), for a business to fire or deny someone a job (67%), for a property owner to refuse to rent a house or apartment (60%), or for a business owner to refuse to provide products or services to someone (55%) because the individual is lesbian, gay, bisexual, or transgender," Igoe writes. 
Conservative Justices to Hear Their First Abortion Rights Case
Among the cases that will appear before the U.S. Supreme Court in the coming months is an abortion case in Louisiana that could have a long-term impact. The case will be the first abortion case argued before the newest, conservative members of the court, Justices Brett Kavanaugh and Neil Gorsuch. The Supreme Court will consider a Louisiana law mandating that doctors must have admitting privileges at a hospital within 30 miles of the facility where the abortion is performed. CNN reports, "The Center for Reproductive Rights, representing an abortion clinic and two Louisiana physicians, argues that if the law is allowed to go into effect will leave 'only one doctor to care for every woman seeking an abortion in the state.'" Recent PRRI data shows that Louisiana has the lowest level of support in the region for abortion legality, with just 34% who say abortion should be legal in most or all cases, while 60% say it should be illegal in most or all cases, and 23% say it should be illegal in all cases.
Correction
Friday's edition of The Morning Buzz contained an improper connection between the anniversary of the Hyde Amendment and American's views on birth control coverage. PRRI would like to note that data shows that more than three-quarters of Americans (77%) across all demographic groups support government health insurance programs like Medicaid covering birth control costs for low-income women. There is widespread support among all partisans on this issue. A majority of Democrats (89%), independents (78%), and Republicans (64%) agree that these programs should cover birth control costs for low-income women.
We regret the error.