SCOTUS at Odds With 'Emergence of Kaleidoscopically Diverse Generations'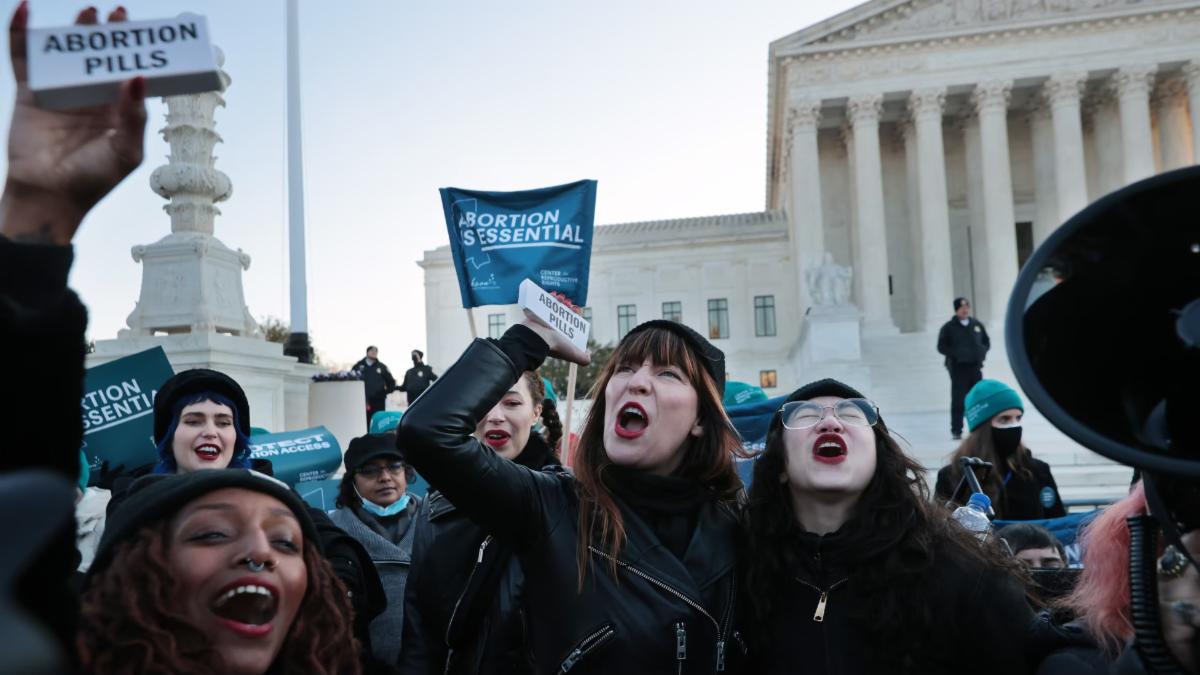 SCOTUS at Odds With 'Emergence of Kaleidoscopically Diverse Generations'
Ronald Brownstein for The Atlantic reports on the inevitable impact of the draft U.S. Supreme Court decision overturning Roe v. Wade, which he says will cause even further division and contention between red and blue states, and possibly lead to the rollback of rights such as same-sex and interracial marriage. He describes Republicans as working deliberately to restore the priorities of the country's older, white, Christian population at a moment of unprecedented demographic change. If finalized, Associate Justice Samuel Alito Jr.'s draft would "place the GOP-appointed Supreme Court majority firmly on a collision course" with younger pro-choice generations born since 1980, a group that now constitutes a majority of all Americans. The decision as written stands to "amplify the already accelerating divergence in the basic civil rights and liberties available to red-state versus blue-state Americans—and not just regarding abortion." PRRI research shows that 64% of respondents said abortion should remain legal in all (28%) or most (36%) circumstances.
According to Elizabeth Nash who tracks state policy for the Guttmacher Institute, of the 12 states that have passed new abortion restrictions since 2021, nine have denied any exceptions for rape and incest. PerryUndem, a nonpartisan research firm, found that more than three-fourths of people opposed to abortion rights say that most women interpret "innocent remarks or acts as being sexist;" people who want to make abortion illegal are "far less likely" to either support the #MeToo movement or to agree that "systems in society are set up to give men more opportunities than women." Additionally, 2021 PRRI polling found that abortion opponents are far more likely than supporters to say that immigrants in the country threaten American society. Brownstein concludes: "As the Republican-appointed Supreme Court majority flexes its power, it will continue to find itself at odds with the priorities of America's kaleidoscopically diverse generations born since 1980."
---
What the Shrinking Religious Right Means for the Future of the Anti-Abortion Movement
Maggie Severns and Anna Deen for Grid News recently interviewed PRRI CEO and founder Robert P. Jones about four decades of the religious right railing against legalized abortion and the simultaneous decline of the nation's white evangelical population "faster than other religious groups in America." A U.S. Supreme Court strike down of Roe v. Wade "could represent a high watermark of political influence for a conservative movement that is otherwise on the decline," Jones said.
White evangelical Protestants are the lone major religious group strongly opposed to abortion, Jones said, while even Latino Protestants, 60% of whom voted for former President Donald Trump, are divided. He discussed how the Trump administration opened the door to power in a way that was wildly out of step with the size and proportion of the evangelical population. Jones notes that former presidents George W. Bush and Barack Obama had formal interfaith councils that Trump did not renew, instead pulling together an informal evangelical advisory board.
With regard to how evangelicals differ from the U.S. population overall, the views of white evangelical Protestants on a range of issues are 30% to 40% different from the rest of the country. For example, Jones noted that 69% believe abortion should be illegal in most or all cases which is nearly the opposite of the country (Americans support legal abortion by a margin of 2 to 1.) In addition, 59% of white evangelical Protestants oppose same-sex marriage, 70% disagree with the idea that past discrimination against African Americans affects outcomes today, and 68% believe being a Christian is important to being "truly American." Jones also pointed out that white evangelicals have moved to the right on some of these issues as the country moved left, and the gap is now bigger than ever.
---
Opinion: The Supreme Court Must Be Accountable to the American Public
Jennifer Rubin for The Washington Post describes the leak of a draft U.S. Supreme Court decision in Dobbs v. Jackson Women's Health Organization as "a step too far," with conservative justices seeking to "impose a specific version of Christianity on the rest of America." Rubin cites recent polling indicating that only 14% of Americans say they have "a lot of confidence" in the court, while 44% express strong or somewhat favorable support for expanding the court. Rubin states, "The tighter the GOP holds on to an imperious court bent on imposing its religious biases on an increasingly secular country, the clearer that message will be."
PRRI CEO and founder Robert P. Jones provides context: "White evangelical Protestants (whose median age is now 56) are living in what could be fairly described as a cultural world that is detached not only from Americans under the age of 40 but from the growing number of Christians of color and nonreligious Americans." Rubin writes that no branch of government can hold out forever when it positions itself opposite the deeply held values of a "supermajority of Americans" and that the court must accept "330 million Americans of all races, religions, ages, etc." Rubin argues that the court has a choice to "end its play for theocratic supremacy, or face a seriously reimagined court in which many of its current occupants won't be there as long as they imagined."