Sanders: Dems Will Lose the Election if They Are Consumed by Trump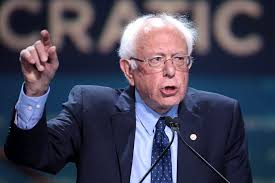 Sanders: Dems Will Lose the Election if They Are Consumed by Trump
After one recent poll showed Sen. Bernie Sanders (I-VT) tied with former Vice President Joe Biden among likely Democratic primary voters, the self-described democratic socialist declared on Twitter that he would win the nomination. Sanders' tweet came less than 24 hours after he warned his fellow Democrats about focusing too much on Trump in the build up to the election. "We cannot simply be consumed by Donald Trump because if we are, you know what? We're going to lose the election. Right now, you've got 87 million people who have no health insurance or are underinsured. We're facing the great existential crisis of our time in terms of climate change. You got 500,000 people sleeping out on the street and you got 18 million people paying half of their limited income for housing. What the American people understand is that the Congress can walk and chew bubblegum at the same time," Sanders told Rachel Maddow during Wednesday's Democratic debate. Sanders' comment on health insurance will resonate with many Americans. Recent PRRI data shows that 65% of Americans cite health care as the most critical issue facing the country, including 77% of Democrats—the most for either category. Additional polling shows that almost two-thirds (65%) of Americans say they are certain about the candidate they will support in November 2020. Nearly four in ten (37%) say they will support the Democratic candidate over President Donald Trump no matter who the Democrat is, and nearly three in ten (28%) say they will support Donald Trump no matter who becomes the Democratic nominee. 
The Making of a New Kind of Gig Economy Revolt
Li Zilles, a 29-year-old former graduate student from Seattle, never imagined that he would be the leader of the newest gig economy revolt. This is what happened when the start-up transcription company that he worked for, Rev.com, told contractors they would start taking more of the money that clients paid for basic jobs, leaving them with 30 cents of every dollar paid. Zilles tweeted that this would result in the average Rev worker making $4.50 an hour, approximately $2.75 below the federal minimum wage. While gig economy revolts are not new, this revolt is unique because its contractors don't have a presence in the physical world, like the drivers and couriers who have championed past revolts. These so-called "cloudworkers" are even more intimately aware of the threat that artificial intelligence poses in their line of work. The revolt has gained even more momentum because of Rev's client base, which is primarily made up of journalists. Jelani Cobb from The New Yorker helped amplify Zilles' message and said he would stop using Rev, and a spokeswoman for The New York Times, which Rev lists as a client, said on Friday that they were aware of the concerns and were reviewing the use of Rev. These findings are consistent with PRRI's 2018 California Workers Survey, which shows that gig economy workers in California are more likely to report conditions consistent with wage theft than non-gig economy workers, including being paid less than the minimum wage (29% vs. 7%), having their tips taken by another employee or employer (18% vs. 5%), or having their wages withheld without cause in the last year (18% vs. 5%). Zilles is creating a website to connect unhappy Rev workers with some of the better-paying clients and transcription companies that have reached out over the past week.
The History Behind Asian American Pacific Islanders Working and Struggling with Poverty
A new analysis by AAPI Data founder Karthick Ramakrishnan, AAPI Data researcher Sunny Shao, and PRRI Public Fellow Janelle Wong sheds light on the "persistent economic challenges faced by certain AAPI groups, which reflect historical migration and settlement patterns" from PRRI's latest survey on AAPI workers in California. According to the survey, Hmong (44%) and Native Hawaiian Pacific Islanders (36%) have the highest proportions of those working and struggling with poverty. Almost eight in ten (82%) Native Hawaiian Pacific Islanders report experiencing at least one of ten possible economic hardships, like being unable to pay a monthly bill or having to use food stamps, as do similar numbers of Hmong (76%), Cambodians (71%), and Vietnamese (70). Japanese (55%), Chinese (53%), and Korean Californians (52%) are significantly less likely to report experiencing at least one economic hardship. The authors explain that these group differences can be traced back to patterns of war, migration, and colonization. They write that since the 1990s, immigrants from China (including Taiwan), India, South Korea, and Japan were much more likely to migrate as part of high-skilled labor recruitment, while the growth of Vietnamese, Hmong, and Cambodian communities in America is largely a result of U.S. wars in Southeast Asia and U.S. refugee policies. Additionally, colonial, territorial, and military expansion has impacted Native Hawaiian Pacific Islanders the most. However, they point out that even groups that have benefited most from selective immigration recruitment still have large swaths of struggling workers. "Chinese make-up almost a third of the AAPI working and struggling with poverty population (30%), followed by Filipinos (24%), Vietnamese (14%), and  Indians (11%)." Ramakrishnan, Shao, and Wong conclude by calling for "policies and investments that address the challenges of AAPIs who are working and struggling with poverty."